Chicago's controversial new gun proposal
Will other cities adapt some version of a tax on bullets and firearms? Voters should be leery of simple solutions to complex problems.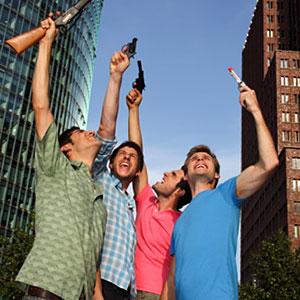 More than a decade ago, the late
Sen. Daniel Patrick Moynihan
figured that the best way to combat rising gun violence was to slap a 10,000% tax on some types of ammunition, such as hollow-point bullets, linked to violent crime. The gun lobby hated the idea then, and hates a similar idea that has emerged, though to a lesser extent, in Chicago, the nation's murder capital.
Officials in Cook County, Ill., which includes Chicago, have proposed a tax of 5 cents per bullet and $25 on each firearm sold to defray the medical costs of victims of gun violence, which average $52,000. Taxpayers wound up footing the medical bill
for 670 victims
last year who didn't have insurance. The proposal is sure to generate legal challenges by gun rights advocates.
"There would be a solid legal argument against it," John Frazer, the National Rifle Association's director of research and information, said in an interview, adding that courts have struck down "discriminatory taxes that are aimed at the exercise of a fundamental right."
The Law Center to Prevent Gun Violence rejects this argument.
"My response is that gun deaths and injuries hurt every member of society in multiple ways," writes Laura Cutilletta, a senior attorney with the organization, in an email.
"This tax isn't discriminatory and it doesn't prevent the exercise of any right. It merely seeks to compensate the residents of Cook County for a minor part of the enormous toll gun violence takes every day." 
There are a few issues to consider here.
For one thing, the tax proposed by County Board President Toni Preckwinkle is only expected to raise about $1 million, a drop in the bucket considering the medical bills being paid for by taxpayers is about $40 million. The other issue is one of fairness.
Some might argue that Cook County is punishing law-abiding gun owners for the actions of criminals who probably don't buy their weapons legally. The NRA says that Chicago's high murder rate is due to many reasons, including a lack of prosecutions for gun crimes.
Officials in six other states have tried and failed to institute similar taxes. Whether officials in other cities such as New York, Los Angeles and Miami will embrace the idea remains to be seen. It isn't even clear whether Preckwinkle has the votes to pass the measure through her board. 
"The statutory environment here is complicated," said Mark McDonald, a spokesman for Philadelphia Mayor Michael Nutter, in an email. "There are questions about state pre-emption that would need to be examined, and so, we don't want to wade into the issue at this time."
In an interview with a local PBS station, Preckwinkle said she was motivated by the principle of the tax rather than its monetary consequences. She estimates that 29% of the guns used in crimes in Chicago were legally acquired in the suburbs of Cook County. "We have had terrible problems in this county with gun violence," she said.
It's hard to argue with that point. In one particularly heart-breaking case, 7-year-old Heaven Sutton was gunned down by a stray bullet shot by a
reputed gang member
in front of her mother's candy stand.
Whether it's gun violence or obesity, politicians like to hone in on simple solutions to solve complicated problems. In the case of guns, it is an issue that is better addressed at the federal level. Unfortunately, in hyper-partisan Washington, the odds of it being addressed are slim to none.

--Follow Jonathan Berr on Twitter@jdberr.
More on MSN Money
DATA PROVIDERS
Copyright © 2014 Microsoft. All rights reserved.
Fundamental company data and historical chart data provided by Morningstar Inc. Real-time index quotes and delayed quotes supplied by Morningstar Inc. Quotes delayed by up to 15 minutes, except where indicated otherwise. Fund summary, fund performance and dividend data provided by Morningstar Inc. Analyst recommendations provided by Zacks Investment Research. StockScouter data provided by Verus Analytics. IPO data provided by Hoover's Inc. Index membership data provided by Morningstar Inc.
LATEST POSTS
The case for breaking up the big banks
Breaking up big banks is an untested solution to the too big to fail problem that attempts to isolate and dismantle large, troubled institutions while protecting the rest of the economy.
MARKET UPDATE
NAME
LAST
CHANGE
% CHANGE
There's a problem getting this information right now. Please try again later.
NAME
LAST
CHANGE
% CHANGE
There's a problem getting this information right now. Please try again later.
Market index data delayed by 15 minutes
[BRIEFING.COM] The stock market began the new trading week on the defensive note with small-cap stocks pacing the retreat. The Russell 2000 (-1.4%) and Nasdaq Composite (-1.1%) displayed relative weakness, while the S&P 500 lost 0.8% with all ten sectors ending in the red.

Global equities began showing some cracks overnight after China's Finance Minister Lou Jiwei poured cold water on hopes for new stimulus measures. Specifically, Mr. Lou said the government has no plans to change ... More
More Market News
Currencies
NAME
LAST
CHANGE
% CHANGE
There's a problem getting this information right now. Please try again later.