Make way for messy budget talks
Tax rates for the wealthy move into focus as congressional leaders meet next week to tackle the fiscal cliff.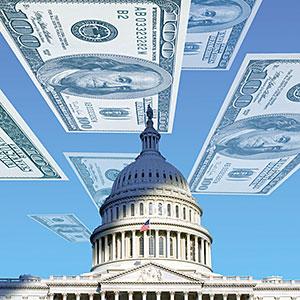 Now that the election is over, how will Democrats and Republicans move forward in the face of major economic turbulence ahead?
We don't exactly know yet. But both sides are dancing, dropping hints about their strategy. The real work will get started next week, when President Obama is set to begin talks with Senate Majority Leader Harry Reid and House Speaker John Boehner.
The most immediate issue on the table? Whether to raise taxes on the wealthiest Americans, either by hiking the 35% top-tier rate or finding another way, such as closing some tax loopholes.
The dealmaking is going to be messy, no doubt, and most of it will probably be kept out of the spotlight. Obama and Boehner have already agreed to speak carefully in public in order to leave plenty of room for private negotiations, CNN
reports
. But something must happen, because no deal means that come January, Bush-era tax cuts will expire and massive spending cuts will also kick in.
Lawmakers don't have much time to figure out how to resolve the so-called fiscal cliff. And that's why Obama and Boehner staked out some starting positions Friday, but also pledged to work together to find common ground.
For Obama, that meant insisting on tax hikes for the wealthy, defined as families making $250,000 or more. "We have to combine spending cuts with revenue, and that means asking the wealthiest Americans to pay a little more in taxes," he said Friday at the White House.
He stressed that the results of Tuesday's election mean he has somewhat of a green light from the American people. "Tuesday night, we found out that the majority of Americans agreed with my approach," he said.
But Boehner argued that raising taxes on the wealthiest Americans will hurt, because more than half of them own small businesses. "Raising tax rates will slow down our ability to create the jobs that everyone says they want," he said.
So are we in for more fruitless head-butting and pointless histrionics? Maybe not. The New York Times
sees
three reasons that good compromise might actually be reached:
Some retiring lawmakers and recently defeated Republicans may be more willing to reach a deal, since they're headed out of office anyway.
After getting thumped in this week's elections, Republicans may be open to compromise.
Democrats sense a window of opportunity on immigration, and want to close this economic issue quickly to move to that hot potato.
And so far, Obama and Boehner have emphasized a willingness to deal. "I'm not wedded to every detail of my plan," Obama said. "I'm open to compromise. I'm open to new ideas."
That was encouraging to some Republicans. "I think he did extend the olive branch, if you will," said Rep. Scott Garrett (R-N.J.), on CNBC Friday.
Boehner struck a conciliatory tone as well. "I don't want to box myself in," he said. "I don't want to box anybody else in. I think it's important for us to come to an agreement with the president. But this is his opportunity to lead."
Kent Conrad, a retiring Democratic senator from North Dakota, said on Bloomberg Television Friday that he could see a basic budget framework laid out over the rest of the year in Congress' lame-duck session.
"I'm absolutely confident that working together, we could put together a platform, a strategy, a plan, during this lame duck," he said. "I really am quite optimistic."
More on Top Stocks
LATEST POSTS
The case for breaking up the big banks
Breaking up big banks is an untested solution to the too big to fail problem that attempts to isolate and dismantle large, troubled institutions while protecting the rest of the economy.
MARKET UPDATE
NAME
LAST
CHANGE
% CHANGE
There's a problem getting this information right now. Please try again later.
NAME
LAST
CHANGE
% CHANGE
There's a problem getting this information right now. Please try again later.
Market index data delayed by 15 minutes
[BRIEFING.COM] A solid November employment report translated into a solid day of gains for the major averages. While there was some talk that the encouraging job growth raised the odds of the Fed announcing a tapering at its December meeting, the message of the markets today was either that it didn't believe there would be a tapering this month or that it doesn't fear a tapering this month.

It was just one day, yet there was ample meaning wrapped up in the connection that the 10-yr ... More
More Market News
Currencies
NAME
LAST
CHANGE
% CHANGE
There's a problem getting this information right now. Please try again later.