University of Denver students critique debate
Economic concerns resonate on campus, where deficit and unemployment remain major issues.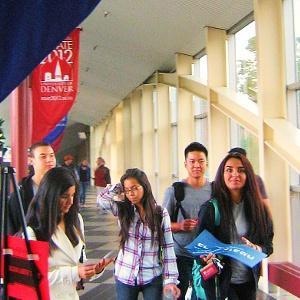 Life is returning to normal at the University of Denver after Wednesday's presidential debate there. The media crews have packed up, concrete roadblocks are being removed, and students are returning to regular class schedules. But the on-campus buzz surrounding the event has yet to go away.
"I thought it was a really great debate," said Lauren Conrad, a sophomore from Evergreen, Colo. "I thought both candidates brought forward a lot of interesting ideas, and I thought it was one of the better (debates) we've seen."
Kyle Vanderkooi, a freshman business major from Breckenridge, Colo., thinks President Barack Obama and GOP candidate Mitt Romney were very different in their economic positions. "I actually don't know who I'm going to vote for yet or which one I agree with quite yet," he said. "I'm waiting to hear the rest of the debates and make up my mind."
Other students were frustrated by what they saw as a lack of clear economic answers offered by either candidate. "To be honest," said freshman Emily Krebs of Littleton, Colo., "it just felt like two guys arguing with each other, and they were just not really getting anywhere."
Chris Udofia, a junior from Dallas, felt Romney won the debate. But he said he's still uncertain about either candidate's economic stance, "because everything that they brought up, their opponent would counter --  saying, 'That's not exactly what our plan was.' So I'm still a little confused about that."
Emmit Hoyl of Rollinsville, Colo., also felt Romney came out on top in the debate. Hoyl, 26, is a sophomore at DU studying business and has an unusual perspective on the economy.
"I was in the workforce for a while," he says, "doing manufacturing, metalwork, ornamental ironwork. And my market dried up substantially after the 2008 market drop. Housing sales were decreasing and people just didn't have much discretionary income, so I decided to come back to school."
Hoyl describes himself as a moderate Republican. He feels the national debt is one of the biggest economic issues, "especially being that my generation is going to be the one that's footing the bill for it and paying interest. I agree with Romney's assertion that it was morally irresponsible for their generation to be putting us in debt like this. And I think it's something that we're really going to struggle with as a generation to overcome."
"Just the fact that we were involved in two wars -- we're still involved in one war -- and the financial crisis of (2008) led to quite the deficit," said Sam Jay, a third-year doctoral student from Iowa City, Iowa. "We're in a very deep hole, for sure."
The stubborn national unemployment rate is also a concern on campus. One student who works at a local restaurant pointed out that several of his fellow waiters have master's degrees. And a post-college job is definitely on Conrad's mind. "I'll be graduating at a time (when) I don't know if I'm going to have to work much harder to even get a job," she says. "It just makes it that much more difficult."

But there is some optimism that the economy is recovering.
"I do believe in the market cycles," said Eric Williamson, a freshman from Blaine County, Idaho. "I feel sorry for (college) seniors right now. But I've got four years. So I'm assuming that the economy will bounce back a lot more than it already has."

Dr. Kildeheart what an interesting comment, in fact fascinating.  A very complex statement but are you bias?  Will you please explain what lies did you find  in Mr. Romney's statements and please will you also for the benefit of teaching us all, review videos of previous President Obama speeches and compare?  I happen to like President Obama quite a bit and I can't swear that he was truthful either.
I will be looking forward to your reply which I hope will be straight forward and simple so that a 5 y/o may understand it.
Thanks in advance

You are right deeeeman in some ways.  Politicians target college students for most of them are idealist and full of passion.  Some are rebels and think for themselves but the majority go with peer pressure and if on top of everything, the professors's who are let's say mostly liberal are going to grade them, then...........!!    I was  glad to see in some programs young people "dare" to search for the truth, compare speeches and undesrtand that they are being used like pawns in a chess game.
I dare not critize them as such for until I had to retire I didn't pay so much attention to politics.  Once I started paying attention to the House (both Congress and Senate's interaction) I started watching C-Span ( didn't want to get news second hand with bias interpretation)  it was easier for me to understand the difference and was shocked at what I heard. It was not what the nwespaper reported or the politicians themselves claimed, I guess we are quite naive or have become too complascent in our country. 
  I am not who te tell anyone how to vote or what to believe but now that the veil dropped from my eyes in my humble opinion I would advice people to tape these interactions and then find out who is truthful, who says anything that they think we want to hear and to carefully read  whatever law they propose and measure the consequences of that law at every level of society.  Not just to believe what they say.

College students feel free to speak their minds at a liberal university? Suuurrrre! I bet they don't care what their teachers think. Suuurrrre! I bet they are looking at the candidates on the issues that will effect their country for decades to come and not just whether one promises more money to colleges and teachers over the next four years. Suuurrrre! I bet none of their teachers are activists that show PowerPoint presentations that are geared to influence their students' voting like the teachers at  the University of California have done. Suuurrrre!

Saturday, October 6, 2012 12:20 PM
We are very fortunate to live in a Democratic society. Every four years we go through the this inexplicable, unnecessary political exercise called a "Presidential debate" This creates an personality, ideas problem, that later emanates in forms and facts, pointing that the whole exercise is full of human sociological flows where the contenders without signing any paper to unduly promised to adhere to the laws of honesty, truth, and highest levels of human relation, and decency embarked into this areas of unknown darkness. Lies, and un-factual virtues fuels psychological detrimental flow of human egotism, political gains of name, money, and  power, with no basic considerations, respect, care for the middle class and poor people that unaware listening to the lies, vulgarities, bully encounter, and ambiguities of the challenging parties, whomever  may win the in a final  vote the right to the White House by enacting profane laws will unduly harm millions of cities that not being able to understand, and intelligently separate the truth from the lies selected the wrong g party to guide, and rule the country. Wet got an extraordinary sample in the duel of Obama vs Romney, "Presidential debate", on October 3, 2012 at 9.00 Pm .EST
The winners scored tellers, soon declared Romney the winner of the debate. Under what socio-political guidelines was the winner selected. The first stage of control for resolving the winner, is "How many in percent of the articulated political statements weighted against the regulatory fact sheet were considered to be factual, practical and honest" in this case a very large percent of articulated statements from Romney later were found to be lies!! So, here we go, we declared the winner the liar, with an open failure of honesty, and truth!! The second statement falls in the realm of highest level of human behavior. This consists in stating the facts, the advantages of their political position, and leave to be a bully, or demanding, or defamatory out of the encounter. Unfortunately Romney fails these second criteria by pushing his weight and wishes over the Moderator and by consistently demerits the opponent with lies!! The last and third failure, Romney presented many lies to an audience of over sixty million viewers; this is again is a failure of honesty, truth, and failure of the highest levels of human relations, because he contradicted himself from previous political plans in the total plan to serve his people of the USA. Finally a winner was named, that by no mends it was a winner, and the whole USA citizens, has been smeared with untruth till the confused citizen may select the wrong leader in the White House! For all the rest of the USA, the ways of selecting a winner from a "Presidential debate" will have no meaning until the laws of truth and decency are respected by the contenders signing the proper 'Honesty declarations"!!
Are you sure you want to delete this comment?
DATA PROVIDERS
Copyright © 2014 Microsoft. All rights reserved.
Fundamental company data and historical chart data provided by Morningstar Inc. Real-time index quotes and delayed quotes supplied by Morningstar Inc. Quotes delayed by up to 15 minutes, except where indicated otherwise. Fund summary, fund performance and dividend data provided by Morningstar Inc. Analyst recommendations provided by Zacks Investment Research. StockScouter data provided by Verus Analytics. IPO data provided by Hoover's Inc. Index membership data provided by Morningstar Inc.
LATEST POSTS
The case for breaking up the big banks
Breaking up big banks is an untested solution to the too big to fail problem that attempts to isolate and dismantle large, troubled institutions while protecting the rest of the economy.
MARKET UPDATE
NAME
LAST
CHANGE
% CHANGE
There's a problem getting this information right now. Please try again later.
NAME
LAST
CHANGE
% CHANGE
There's a problem getting this information right now. Please try again later.
Market index data delayed by 15 minutes
[BRIEFING.COM] The stock market began the new week on a cautious note. The S&P 500 lost 0.3%, but managed to erase more than half of its opening decline. Thanks to the rebound, the benchmark index reclaimed its 50-day moving average (1976.78) after slipping below that level in the morning.

Equities slumped at the open amid a couple global developments that dampened the overall risk appetite. Continued student protests in Hong Kong and a potential response from China weighed on the ... More
More Market News
Currencies
NAME
LAST
CHANGE
% CHANGE
There's a problem getting this information right now. Please try again later.