Both parties missing economy's bigger picture
The gap between rich and poor is growing sharply in America. Whoever is elected president must take steps to address the issue.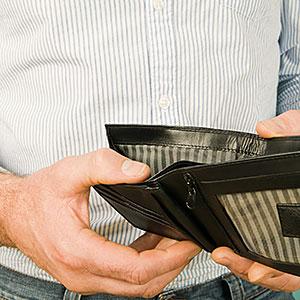 Vice President Joe Biden and Rep. Paul Ryan (R-Wis.) traded barbs about the economy during Thursday's debate that voters have heard many times before. Both Democrats and Republicans, though, are missing the bigger picture.
Republican Mitt Romney got into hot water recently for telling a closed-door fundraiser that 47% of Americans believe they are victims and entitled to government assistance. Though the former Massachusetts governor subsequently said he cares about 100% of Americans and that his comment was poorly articulated, his views are not of the conservative mainstream.  Conservatives often argue that taxes are not too high, given that 40% of all income taxes come from the top 1% of taxpayers. Liberals counter that the tax code is too easy on the rich given its enormous numbers of loopholes. An interesting report released Friday by
The Economist
argues that both sides are wrong.
"Because America relies mainly on (progressive) income taxes, whereas other rich countries raise a bigger share of their revenue from (regressive) consumption taxes, its tax system is, in fact, one of the most progressive in the rich world," the magazine says. "But it is riddled with deductions and loopholes, most of which favor the wealthy, so it is both less progressive and much less efficient than it could be."

According to the
Organisation for Economic Cooperation and Development, income inequality is at its highest levels in 50 years. The richest 10% of the population has about nine times the income of the poorest 10%. This issue is worrisome in places such as China where workers are demanding higher wages as they try to achieve living standards seen in the West. Policymakers in the U.S., where income inequality is growing sharply, must approach it in a thoughtful manner.
Any overhaul of the tax system should be geared toward solving the economy's No. 1 problem, which is jobs. Both President Barack Obama and Romney back lowering the corporate tax rate, which The Economist argues needs to be coupled with reforms that narrow the gap between individuals' tax rates on capital and labor income. Perhaps, the rules allowing investment income to be taxed at lower rates than ordinary income should be revised. The inheritance tax, which detractors have labeled the "death tax," could be improved so that it affects individuals and not the whole estate.
Income inequality in OECD's 34 member countries is at its highest level for the past half century. The average income of the richest 10% of the population is about nine times that of the poorest 10% across the OECD, up from seven times 25 years ago.  
Income inequality is on the rise in the U.S., fueled by an increase in single-parent families, among other issues. Not only are the rich getting richer but the ultra-wealthy are becoming even more secure financially. The consequence of this trend will be felt for years, if not decades. That's why it's imperative for whomever is elected president to make the issue one of his top priorities.

--Follow Jonathan Berr on Twitter @jdberr
DATA PROVIDERS
Copyright © 2014 Microsoft. All rights reserved.
Fundamental company data and historical chart data provided by Morningstar Inc. Real-time index quotes and delayed quotes supplied by Morningstar Inc. Quotes delayed by up to 15 minutes, except where indicated otherwise. Fund summary, fund performance and dividend data provided by Morningstar Inc. Analyst recommendations provided by Zacks Investment Research. StockScouter data provided by Verus Analytics. IPO data provided by Hoover's Inc. Index membership data provided by Morningstar Inc.
LATEST POSTS
The case for breaking up the big banks
Breaking up big banks is an untested solution to the too big to fail problem that attempts to isolate and dismantle large, troubled institutions while protecting the rest of the economy.
MARKET UPDATE
NAME
LAST
CHANGE
% CHANGE
There's a problem getting this information right now. Please try again later.
NAME
LAST
CHANGE
% CHANGE
There's a problem getting this information right now. Please try again later.
Market index data delayed by 15 minutes
[BRIEFING.COM] The headlines generally favored Tuesday being another good day for the stock market. Instead, it was just a mixed day with modest point changes on either side of the unchanged mark for the major indices.

For the most part, the stock market was a sideshow. The main trading events were seen in the commodity and Treasury markets, both of which saw some decent-sized losses within their respective complex.

Dollar strength was at the heart of the weakness in ... More
More Market News
Currencies
NAME
LAST
CHANGE
% CHANGE
There's a problem getting this information right now. Please try again later.