New York cancels marathon
Organizers said the event would help post-hurricane reconstruction efforts, but the controversy grew too large.
While New York continues to tally personal and economic losses in the wake of Superstorm Sandy, the city finally put an end Friday to what was literally a running controversy: Should the the New York City Marathon continue as scheduled on Sunday?
After a day of
would-they-or-wouldn​'t-they
speculation, city officials decided late Friday to cancel the event. The decision directly addressed very vocal outrage about whether New York should divert essential funds and resources to a race when parts of the city remain torn apart, without power and other essential utilities. There was also the issue of holding what's usually a festive event in the midst of an ongoing tragedy.
New York Mayor Michael Bloomberg said earlier Friday that he understood the backlash over his decision to go ahead with the event. But he said he's also considered the city's financial future.
"I think some people said you shouldn't run the marathon," Bloomberg said at a news conference earlier this week. "There's an awful lot of small businesses that depend on these people. We have to have an economy. There's lots of people that have come here. It's a great event for New York, and I think for those who were lost, you've got to believe they would want us to have an economy and have a city go on for those that they left behind."
Bloomberg later cited the controversy and division in explaining why he changed his mind. "We would not want a cloud to hang over the race or its participants, and so we have decided to cancel it," he said in a statement. "We cannot allow a controversy over an athletic event -- even one as meaningful as this -- to distract attention away from all the critically important work that is being done to recover from the storm and get our city back on track."
The New York Road Runners organization says the race generated a record $340 million for the city in 2011, "significantly impacting tourism, tax revenues, and the economy."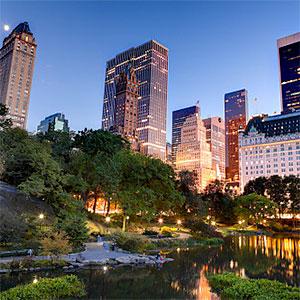 Event organizers had planned to use the marathon to raise money for hurricane relief efforts by donating $1 million and securing more than $1.5 million from the event's sponsors, which include ING as the title sponsor, Foot Locker (FL), Tiffany & Co. (TIF), United Airlines, UPS (UPS), Time Warner Cable (TWC) and The New York Times (NYT).

But some analysts had their doubts about whether the marathon will be the money generator some people expect. "Most of these events, their impact is dramatically overstated," says William Kern, an economics professor at Western Michigan University who has researched the economics of sports. "We often find that these mega-events, as they're called, produce economic impacts that are a small fraction of what's originally claimed."

Kern says that while television and media coverage of the marathon are important for New York's image and tourism industry, the bottom line economically is whether the event actually brings people into the city -- people who will spend money while taking part in marathon-related events.
And he notes, there's more going on than just economics regarding the decision to hold the marathon. "There's some question, is this a trivial event relative to the suffering and hardship," he says, adding that one main question is about the cost of the resources that the city commits to the event. "Presumably there's police protection and traffic control and a variety of things that are very pressing issues for the city otherwise. So the question really is what are the relative benefit-cost ratios of these different uses of those scarce resources?"
The Road Runners' Wittenberg said the issue wasn't about running anymore, but about helping the city. "This is one of those decisions that I think in the end really came from a place of how can we pro-active help rebuild and help this city?" she said. "So if we can raise money through relief efforts, if we can help give the city a positive lift and help turn the corner to rebuilding, then that's really the purpose of the marathon this year."

More from MSN Money

DATA PROVIDERS
Copyright © 2014 Microsoft. All rights reserved.
Fundamental company data and historical chart data provided by Morningstar Inc. Real-time index quotes and delayed quotes supplied by Morningstar Inc. Quotes delayed by up to 15 minutes, except where indicated otherwise. Fund summary, fund performance and dividend data provided by Morningstar Inc. Analyst recommendations provided by Zacks Investment Research. StockScouter data provided by Verus Analytics. IPO data provided by Hoover's Inc. Index membership data provided by Morningstar Inc.
LATEST POSTS
The case for breaking up the big banks
Breaking up big banks is an untested solution to the too big to fail problem that attempts to isolate and dismantle large, troubled institutions while protecting the rest of the economy.
MARKET UPDATE
NAME
LAST
CHANGE
% CHANGE
There's a problem getting this information right now. Please try again later.
NAME
LAST
CHANGE
% CHANGE
There's a problem getting this information right now. Please try again later.
Market index data delayed by 15 minutes
[BRIEFING.COM] The stock market finished the Thursday session on a higher note with the S&P 500 climbing 0.5%. The benchmark index registered an early high within the first 90 minutes and inched to a new session best during the final hour of the action.

Equities rallied out of the gate with the financial sector (+1.1%) providing noteworthy support for the second day in a row. The growth-oriented sector extended its September gain to 1.9% versus a more modest uptick of 0.4% for the ... More
More Market News
Currencies
NAME
LAST
CHANGE
% CHANGE
There's a problem getting this information right now. Please try again later.