Presidential campaign ads set record
The Obama camp spent the most in topping 1 million advertisements aired, but Romney's supporters did their part, too.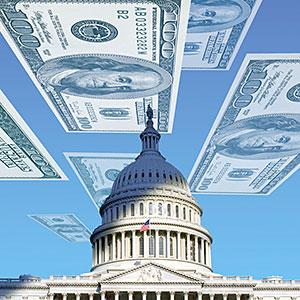 A new study confirms what most of us felt during this year's presidential campaign: that far, far more campaign ads aired this year than in previous elections.
According to the Wesleyan Media Project, the two major candidates, along with their respective party organizations and supporting interest groups, sponsored 1,015,615 presidential ad airings on local broadcast and national cable between June 1 and Oct. 29. That's an increase of more than 39% over the 2008 election and a 41% rise compared with 2004's.

"This is, by far, the most advertising we've seen in a presidential election," says project co-director Erika Franklin Fowler. "Everyone expected ads to be more abundant this election than in 2008, especially with super PAC involvement and both candidates opting out of public funding, but passing the 1 million mark is a real milestone."
And as anyone watching television during the past month can tell you, about one-third of those 1 million-plus campaign ads were aired in October.
President Barack Obama led the tally in the total number of ads aired this election season, with more than 503,000 in 63 media markets at a cost of nearly $266 million. That's about half of all the total ads aired. It also leads the Romney campaign by a 2.6-1 margin in both estimated costs and ads aired.

Romney's supporters helped him bring up his ad numbers, too. More than 60,000 pro-Romney ads were aired in 64 markets by the super PAC Restore Our Future, for an estimated $57.6 million. There were also more than 180,000 ads aired by American Crossroads, Crossroads GPS and Americans for Prosperity, at a collective cost of more than $138 million.
Thanks to that support from outside groups, Romney "out-advertised the candidate and party committees," notes project co-director Michael Franz. "That is unprecedented in a presidential election."
Not surprisingly, the TV markets most saturated by the ads were in key election battleground states. According to the report, Denver led the nation in the most campaign advertising from Oct. 22 to 29, with nearly 4,700 ads aired for both presidential candidates. Las Vegas was No. 2 on the list, with more than 4,400, followed by Orlando, Fla., Cleveland and Tampa, Fla.
And these ads haven't been cheap for the outside groups. They're ineligible for lower unit rates on ads, which may lead to different campaign advertising approaches in the next presidential election cycle.
"Given the stiff competition for airtime in battleground states and the resulting rise in the prices that outside group sponsors are paying, it is starting to dawn on political contributors that sending their money to these groups may not be the most efficient way to get their favored candidates elected," said Travis Ridout, another co-director of the Wesleyan Media Project.  "I suspect that contributors may re-evaluate their giving patterns before 2016 rolls around."
DATA PROVIDERS
Copyright © 2014 Microsoft. All rights reserved.
Fundamental company data and historical chart data provided by Morningstar Inc. Real-time index quotes and delayed quotes supplied by Morningstar Inc. Quotes delayed by up to 15 minutes, except where indicated otherwise. Fund summary, fund performance and dividend data provided by Morningstar Inc. Analyst recommendations provided by Zacks Investment Research. StockScouter data provided by Verus Analytics. IPO data provided by Hoover's Inc. Index membership data provided by Morningstar Inc.
LATEST POSTS
The case for breaking up the big banks
Breaking up big banks is an untested solution to the too big to fail problem that attempts to isolate and dismantle large, troubled institutions while protecting the rest of the economy.
MARKET UPDATE
NAME
LAST
CHANGE
% CHANGE
There's a problem getting this information right now. Please try again later.
NAME
LAST
CHANGE
% CHANGE
There's a problem getting this information right now. Please try again later.
Market index data delayed by 15 minutes
[BRIEFING.COM] Not much change in the major averages as they continue hovering near their lowest levels of the day. The S&P 500 (-0.8%) notched its session low around 12:00 ET and has maintained a seven-point range since then. Meanwhile, the price-weighted Dow Jones Industrial Average (-0.5%) continues trading a little ahead of the benchmark index.

Six Dow components remain in the green, but the leading performer, DuPont (DD 71.75, +0.50), is the only stock showing an increase ... More
More Market News
Currencies
NAME
LAST
CHANGE
% CHANGE
There's a problem getting this information right now. Please try again later.