What's it take to feel rich around here?
The standard view of what makes an American 'wealthy' has evolved in the last half-decade or so.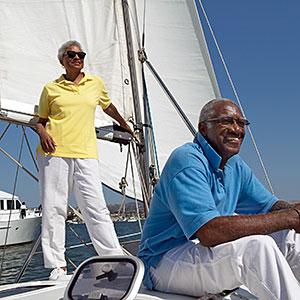 By
Jason Notte
Regardless of who they're supporting in this year's presidential election, even wealthy Americans aren't feeling nearly as rich as they were in the jumbo mortgaging, BMW-leasing, cell-phone bedazzling, debt-fueled good ol' days of the mid-2000s.
Ipsos Mendelsohn earlier this year asked affluent Americans earning $100,000 or more annually to define who they felt was in the "1%" targeted by Occupy Wall Street. On average, they cited people making at least $1.4 million a year. The bourgeois protests too much.
According to Ipsos, those $100,000 households are in the top 20% to 25% of earners, but think they're in the 38th percentile. Meanwhile, super-affluent households making $250,000 a year or more are in the top 2% to 3% of earners, but think they're in the 16th percentile. The federal government says it takes only $325,000 a year to make that elusive 1%, with only individuals and couples with income of $379,000 or more qualifying for the Internal Revenue Service's top 35% tax bracket.
"That's a big difference from 2006 or 2007, when everyone kind of overestimated how wealthy they were, or at least they felt like they were going to get rich, so started spending according to their perceptions," Steve Kraus, chief insights officer in the Audience Measurement Group at IpsosCT,
told
Ad Age. "Today, I think it's more the opposite pattern."
The standard view of what makes an American "rich" has also evolved in the last half decade or so. Forget the sprawling celebrity mansions on MTV or the free-spending "reality" of a Paris Hilton show: According to a
Gallup poll
released in late 2011, it would take a median of just $150,000 a year in income for them to consider themselves rich. Those making less than $50,000 a year, the Census Bureau's median annual household income, would make do with $100,000 a year.
College graduates, city dwellers, inner suburbanites and those already making $100,000 a year have a somewhat differing view of richness, setting the bar between $200,000 and $250,000 a year. That's more in line with the folks Congress was debating an extended tax cut for for last year, but still well shy of what the actual 1% needs to feel comfortable. Back in June, Fidelity
surveyed
1,000 millionaires with an average of $3 million in worth and asked them what it would take to make them wealthy. The answer? About $5 million in investable assets, which is down roughly a third from the $7.5 million they felt they needed a few years back.
Aspirations may have been tempered a bit, but there's little indication that politics have had anything to do with it. According to the Ipsos poll, 49% don't expect their saving or investment plans to change in 2013 no matter who occupies the White House. That's compared to 14% actually who plan to spend or invest more if Mr. Obama wins and 37% who'll open the wallets a bit if Mitt Romney wins.
Then again, maybe that lower bar isn't so bad. A whopping 55% of folks who make $250,000 or more a year expect taxes to go up if President Obama is reelected, but 24% think they'll rise even if Romney wins. Limbo under that, and you'll fit cozily among the 99% without sleeping a single night in a public park.
More from MSN Money
DATA PROVIDERS
Copyright © 2014 Microsoft. All rights reserved.
Fundamental company data and historical chart data provided by Morningstar Inc. Real-time index quotes and delayed quotes supplied by Morningstar Inc. Quotes delayed by up to 15 minutes, except where indicated otherwise. Fund summary, fund performance and dividend data provided by Morningstar Inc. Analyst recommendations provided by Zacks Investment Research. StockScouter data provided by Verus Analytics. IPO data provided by Hoover's Inc. Index membership data provided by Morningstar Inc.
LATEST POSTS
The case for breaking up the big banks
Breaking up big banks is an untested solution to the too big to fail problem that attempts to isolate and dismantle large, troubled institutions while protecting the rest of the economy.
MARKET UPDATE
NAME
LAST
CHANGE
% CHANGE
There's a problem getting this information right now. Please try again later.
NAME
LAST
CHANGE
% CHANGE
There's a problem getting this information right now. Please try again later.
Market index data delayed by 15 minutes
[BRIEFING.COM] The major averages posted solid gains ahead of tomorrow's policy directive from the Federal Open Market Committee. The S&P 500 rallied 0.8%, while the Russell 2000 (+0.3%) could not keep pace with the benchmark index.

Equity indices hovered near their flat lines during the first two hours of action, but surged in reaction to reports from the Wall Street Journal concerning tomorrow's FOMC statement. Specifically, Fed watcher Jon Hilsenrath indicated that the statement ... More
More Market News
Currencies
NAME
LAST
CHANGE
% CHANGE
There's a problem getting this information right now. Please try again later.