3 things to watch for after Election Day
The time for promises is almost over, and soon the work will begin. Here are the key economic points to keep any eye on.
It's a full-on sprint to the finish for President Barack Obama and GOP challenger Mitt Romney as polling in battleground states remains within the margin of error. It's going to be a photo finish after months of negative attack ads, heated political discourse on the direction of the country and wildcards like curiously strong jobs numbers and the aftermath of Sandy.
Here are three things to watch for starting Wednesday morning after the president for the next four years -- save some unforeseen Election Day fracas or contentious recount -- is unveiled. 
The fiscal cliff
The first order of business will be for Obama, lame duck or not, to start negotiating with the lame-duck session of Congress on the fiscal cliff of tax hikes and spending cuts worth 5% of GDP that will hit Jan. 1 unless action is taken. Adding to the drama is the fact that the U.S. Treasury will hit its $16.4 trillion debt ceiling limit sometime in January or February.
Failure is not an option. Going over the cliff would result in a new recession, financial turmoil and more credit rating downgrades of the type that sent stocks careening last summer. But there are no easy answers, especially with the kill-or-be-killed blood sport that passes for bipartisanship these days. 
As I explored in a recent column, the most likely outcome -- regardless of the election -- will be a "mini-cliff" package of budget cuts. Merrill Lynch is looking for a little more than $300 billion, with the makeup of the cuts dependent upon the victor next Tuesday.
Simply getting rid of the fiscal cliff by reversing planned tax hikes and spending cuts, would cause our national debt to explode. The bipartisan Committee for a Responsible Federal Budget believes the nation's debt held by the public would grow by an additional $7.5 trillion through 2022 -- an increase of nearly 70% over the next 10 years.
And because of the way more government debt damages the ability of an economy to grow, the longer we wait the harder it will be to create the wealth and prosperity needed to solve the problem.
Business confidence
Next on the to-do list will be reversing the pessimism being felt by our CEOs and small business owners that's causing them to cut back sharply on capital expenditures and new hiring. The data suggests they're worried about things like the fiscal cliff, Europe's ongoing sovereign debt crisis, a pullback in China's growth rate and a rising tide of regulatory burdens.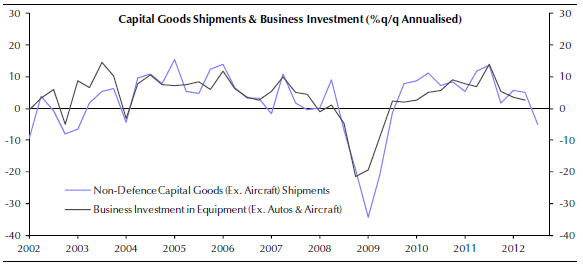 While consumers are ebullient right now, with one measure of consumer confidence rising to a post-recession high, unless CEOs start feeling better and making capital investments and headcount expansions again, the economy's growth rate will continue to stall and the unemployment rate will pop back over the 8% level.
Consider how executives from Cummins (CMI) to JPMorgan (JPM) are slashing headcounts. Consider how core capital goods orders are collapsing. Consider that, without a one-off surge in government spending last quarter, GDP growth would've been much, much weaker.
The jobs deficit
And finally, the next president will have to deal with the economy's most intractable problem: Putting the millions of people who have lost their job and/or left the workforce back on the clock. Until we get more jobs, and rising incomes, the economy will continue to spin its wheels in the muck despite the trillions of stimulus dollars -- from the federal government and the Federal Reserve -- that have been put in.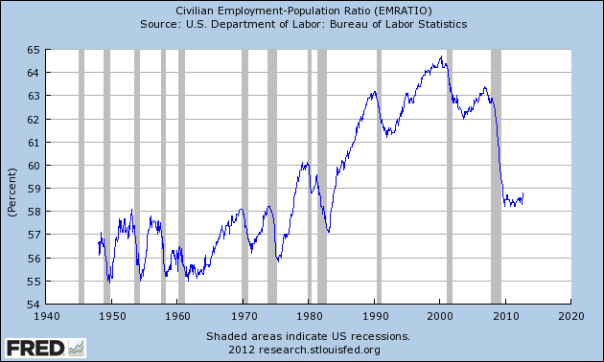 Not an easy task. But no one said being the leader of the free world was easy.
For now, I continue to recommend my clients and readers maintain a defensive posture with a focus on safe havens like Treasury bonds and the U.S. dollar -- both of which should perform well if the fiscal cliff negotiations turn ugly, as I expect. Examples include the Direxion 3x Treasury Bull (TMF) and the US Dollar Bullish Fund (UUP). This may seem counter intuitive, buying the assets and the currency of a country that can't fix big problems. But that's just the way things are.
Disclosure: Anthony has recommended TMF and UUP to his clients.

Be sure to check out Anthony's new investment newsletter, the Edge, and his money management service, Mirhaydari Capital Management. A two-week free trial has been extended to MSN Money readers. Click the link above to sign up. Mirhaydari can be contacted at anthony@edgeletter.c​​om and followed on Twitter at @EdgeLetter. You can view his current stock picks here. Feel free to comment below.

DATA PROVIDERS
Copyright © 2014 Microsoft. All rights reserved.
Fundamental company data and historical chart data provided by Morningstar Inc. Real-time index quotes and delayed quotes supplied by Morningstar Inc. Quotes delayed by up to 15 minutes, except where indicated otherwise. Fund summary, fund performance and dividend data provided by Morningstar Inc. Analyst recommendations provided by Zacks Investment Research. StockScouter data provided by Verus Analytics. IPO data provided by Hoover's Inc. Index membership data provided by Morningstar Inc.
LATEST POSTS
The case for breaking up the big banks
Breaking up big banks is an untested solution to the too big to fail problem that attempts to isolate and dismantle large, troubled institutions while protecting the rest of the economy.
MARKET UPDATE
NAME
LAST
CHANGE
% CHANGE
There's a problem getting this information right now. Please try again later.
NAME
LAST
CHANGE
% CHANGE
There's a problem getting this information right now. Please try again later.
Market index data delayed by 15 minutes
[BRIEFING.COM] S&P futures vs fair value: flat. Nasdaq futures vs fair value: flat. Nasdaq at... NYSE Adv/Dec 0/0... Nasdaq Adv/Dec 0/0.
More Market News
Currencies
NAME
LAST
CHANGE
% CHANGE
There's a problem getting this information right now. Please try again later.