The best reason to save money
This valuable lesson can change the way you and your children look at money and vastly improve your life, now and in later years.
This post comes from Rob Berger at partner blog The Dough Roller.

I charge both of my children rent to live in our home. Even our daughter, who's a senior in high school, pays rent. But it's probably not what you think. I "charge" them rent by requiring them to save 50% of the gross income they make from their jobs. It's still their money; they just can't spend it.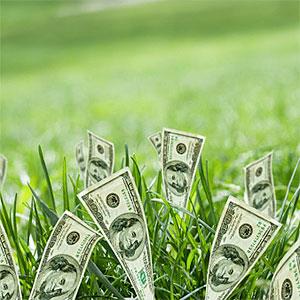 The other day my son asked me why I was making them save money. He wanted to understand if he was saving to buy something specific in the future -- perhaps a car. My response to him was simple: You're not saving to spend, you are saving to save.
In other words, your goal is not to save money so that you can spend it on something later. You are saving at a very young age to build wealth.
This concept is so fundamental to everything that I and my blog stand for that I had to write about it today. It's fine to save for specific goals, like an emergency fund, a down payment on a home, or a nice vacation. But you also should be saving to build wealth.
The problem
Most people think of money in terms of what it can buy. That's why, for example, most people believe they can afford a car if they make enough money to cover the monthly payment. We do the same thing when we buy a home. Have you ever calculated how much home you can afford? If you're like most people, if you're like I was when I bought my first home, what you're really asking is how large of a monthly mortgage payment can you afford based on your income.
It's the wrong way to think about money.
Of course we have to be concerned with how much things cost. If for no other reason, the cost of stuff is important to make sure we get the best deal. Understanding whether you can afford a monthly payment on a car or home is also an important consideration to keep us from biting off more than we can chew. But it shouldn't be the consideration.
A different way to think about money
Rather than thinking about money in terms of what it can buy, let's take a different approach.
Imagine that you created a robot you could send out into the workforce. The robot would earn a salary and give it all to you. Nice!
Now imagine you could take the money this robot was making for you and use it to make more robots. Over time you will have created thousands of robots working around the world making you money. Build enough robots working at the right jobs, and you can stop working. (Some call that retirement.)
That's exactly what I've done.
Think of every dollar that comes into your possession as a potential robot. You can do one of two things with the robot. You can either put it to work for you, or you can fire it. When you spend that dollar on stuff, you're firing the robot. While you may get something of value, that dollar is gone from your life forever.
In contrast, when you save and invest that dollar, it's like having a robot that works for you and earns money. Whether it's as simple as saving the dollar in a bank account or investing it in a mutual fund, that dollar is going out and earning more dollars for you. Given enough time, that dollar will earn more dollars that in turn go out and work for you. That's the magic of compound interest.
A perfect example of this is reinvesting dividends. Recently, I've been purchasing dividend-paying stocks. These stocks include shares of McDonald's, Pepsi, Ford, and Verizon. Each quarter these companies declare a dividend. Last year I made $3,393 in dividends from these companies.
Now I have a choice. I can fire these 3,393 robots by spending the money, or I can put them back to work to earn even more money. I put them back to work by reinvesting those dividends. And the result is that I own more shares of each of those companies than I did at the start of the year. More robots.
You've heard that the rich keep getting richer. It's true. But it's nothing magical. It's just another way of describing compound interest. The rich get richer because they save and invest a larger share of their income.
And we are not just talking about high-income individuals. This works every bit as much for a teacher as it does a doctor. In fact, there are plenty of doctors and lawyers who have no wealth. Why? Because they fire all of their robots by spending their money on expensive cars, homes, and club memberships rather than putting their money to work. They look rich, but it's smoke and mirrors.
What's the point of saving money if you never spend it?
The point of all this is freedom. Freedom to do what you want with your life. Or even better, freedom to do something meaningful and lasting with your life.
Do you need a lot of money to lead a fulfilling life? I don't think so. But if you are scraping by month to month, worrying about how you'll pay the rent, life seems hopeless. So take the road less traveled and start putting your robots to work.
More on The Dough Roller and MSN Money:

My philosophy has always been need comes before want. Saving is a number one priority and we have always done that and instilled it in our children.
I am thankful to say that they have indeed followed the philosophy.
Saving for retirement and emergencies is also a priority. Monies can be deducted before you get paid using your company's retirement plan (401K). A savings account at the bank can help with emergencies (though small return at this time), it is still money that can be used in a crisis.
Are you sure you want to delete this comment?
DATA PROVIDERS
Copyright © 2014 Microsoft. All rights reserved.
Fundamental company data and historical chart data provided by Morningstar Inc. Real-time index quotes and delayed quotes supplied by Morningstar Inc. Quotes delayed by up to 15 minutes, except where indicated otherwise. Fund summary, fund performance and dividend data provided by Morningstar Inc. Analyst recommendations provided by Zacks Investment Research. StockScouter data provided by Verus Analytics. IPO data provided by Hoover's Inc. Index membership data provided by Morningstar Inc.