Bribing the grandkids to visit
Some grandparents spend tens of thousands to create kid-friendly spaces. Shopping is a preferred activity. Is this wise?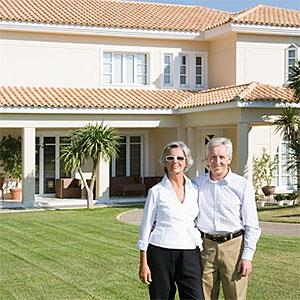 Would you have enjoyed visits to your grandparents' house more if they'd spent a hundred grand to get you there?

A recent Wall Street Journal article, "The ultimate play room . . . at Grandma's house," says that some grandparents are redecorating and even remodeling certain areas of their homes to entice their grandkids over.

Some shop on their own and some hire designers to create rooms full of things like electronics, trampolines, pingpong tables, personalized tents, whimsical furniture and even cosmetics. One designer said her clients spend from $40,000 to $100,000 to get the right kid-friendly vibe.

The article featured a Texas grandma and grandpa who'd remodeled the spare room in the style of a cowboy bunkhouse, added special low counters in the kitchen, and accessorized the yard with scooters and a jungle gym. Now they're mulling over "what attention-grabbing toy to buy next." (Odds are it will be an all-terrain vehicle.)

The average grandparent doesn't drop tens of thousands of dollars to create the ultimate playroom. But elders of ordinary means do spend quite a bit, according to a 2012 AARP survey. 

Just how much are they spending?

Of the just over 1,900 grandparents interviewed, 24% had spent less than $250 in the previous 12 months -- but 25% shelled out more than $1,000. There's not much middle ground: Only 4% spent between $750 and $999.

The spending isn't limited to personalized tents, however. More than one-third of grandparents are helping out with everyday necessities like groceries, and 23% are chipping in for medical or dental insurance. About half are contributing to education expenses.

The desire to improve their grandchildren's lives, whether through orthodontics or trips to the mall, is natural and even laudable. But grandparents could be putting their own finances at risk.

Covering basic expenses
In an article she wrote for Time magazine's Healthland blog, Suzanne de Baca of Ameriprise Financial noted:
"The current economy makes it harder for grandparents -- many of whom are retirees -- than when I was growing up, and the dollars left in their retirement accounts may be a bit more precious.





"But even though unexpected expenses like rising health care costs may already be straining grandparents' budgets, more than half of those surveyed in the AARP study said that the economy has not affected how much they lavish on grandkids."
Some of those elders cut their own budgets in order to spend on the children. That's troubling, de Baca says: "Whether grandma and grandpa are helping because they love to or because they feel they have to, it can jeopardize their financial health."

This is especially true if Social Security constitutes the bulk of post-retirement income. Two-fifths of retirees can't cover even basic expenses, according to the Employee Benefit Research Institute, requiring them to seek part-time jobs.
Other reasons to throttle back
That AARP survey also found that "shopping" was the second-favorite grandparent/child activity. (No. 1: watching TV or movies together.) While this can be a budget booster -- new shoes, school supplies, etc. -- it can also wreak havoc with your finances and your adult children's peace of mind.

Advice columns, parenting blogs and message boards are rife with stories of overindulgence. Some parents literally don't have room for all the toys and clothes their children accumulate during visits with grandma and grandpa.

Additionally, some of these treats run counter to the parents' values. The About.com article "Do grandparents have the right to spoil grandchildren?" mentioned a grandma who showed up with seven Christmas gifts even though the family's four-gift rule had been communicated in advance.

Parents trying to instill healthy habits are dismayed when the children talk of the sugary cereal and fast food meals they had at Grandma's, or how late they sat up watching movies that Mom and Dad would never have let them view.

And yes, some parents privately despair over the money spent on costly, soon-to-be-outgrown toys and clothing, wishing some of it had been set aside for future education expenses. The dollars devoted to toy-store trips could also have been used for, say, music lessons or sports fees.

Even a non-overbearing grandparent's generosity can backfire. Suppose when the first grandbaby arrives you promise to put her through college. Can you really predict where your finances will be in 18 years?

Many elders don't realize how expensive college has become, according to this Minneapolis Star-Tribune article. Financial adviser Mick Endersbe told the newspaper that well-meaning grandparents "haven't analyzed their retirement situation and in many cases they don't have a disciplined plan for helping the kids."

Incidentally: What if you're blessed with three more grandchildren? If you can't afford to foot the bill for four degrees, you'll appear to be playing favorites.

Other ways to dote
One of my closest friends just became a grandfather. He figures the little one will get all the toys, games and clothes she needs from others. Instead of showering her with physical gifts for holidays and birthdays, he'll add money to an education fund.

Here's what else he plans to do: read her stories, sing to her, go for walks with her, let her help in the garden and teach her to cook. He won't be a Disneyland grandpa who takes her to the toy store or the movies every Saturday. But when she turns 18 she'll need fewer (if any) loans for college or trade school.

Want to increase involvement without overdoing it? Try these tips:

Remember that "love" isn't spelled "ATM." Restrict gifts or special treats to once a month or less and spend most visits, well, just visiting. "Read to them, or teach them something they could never learn from anyone else, like the tap dance you learned at age 6 or your old school song," advises Georgia Witkin in this article on Grandparents.com.

Give experiences and memories. A growing trend is the multi-generation family vacation, according to "Boomers spoiling grandchildren" on The Huffington Post. Cousins get to play together, moms and dads get to kick back a little, and grandparents get to see everyone. Shorter is probably better, i.e., a long weekend versus a month at the beach house: "A command appearance for a longer trip might consume more vacation time than (families) could afford to give up and could make them feel less indulged than controlled."

Save for their futures. You don't know if that newborn bundle of joy will want to go to college, attend trade school or join the military. No matter which route he takes, a cash cushion would be nice. Talk to a financial advisor about making the smartest choice, e.g., a 529 plan vs. a trust.
You could also . . .
Craft a pay-as-you-go college fund. Don't make rash promises to teenaged grandkids currently looking at schools. Leave it at "I'll help if I can" and then contribute to expenses semester by semester, paid directly to the institution. Of course, slipping the occasional bit of cash into a letter is a nice surprise. (So is getting letters.)
Encourage a Roth IRA. As soon as your grandkids get their first paying jobs, offer to match whatever dollars they put in. If Johnny or Susie can squeeze even $25 out of each paycheck and you add another $25, that will be $2,600 a year. Compound interest is the friend of youth, and instituting budgetary discipline at a young age might mean they'll continue to save on their own.
Use technology. When you're tempted to overspend on the grandkids, transfer the amount you would have spent to their someday funds. (The ImpulseSave app lets you do this right there in the mall, by instantly shifting that money to an online bank account.) If you live far away, Skype a weekly chat with your grands. Text them if they have cellphones. And remember, it's nothing personal if they don't want you to friend them on Facebook. You can still use social media to brag to the rest of us about their latest doings.

Readers: How do you make your grandkids feel special without overindulging them?

More from MSN Money:

DATA PROVIDERS
Copyright © 2014 Microsoft. All rights reserved.
Fundamental company data and historical chart data provided by Morningstar Inc. Real-time index quotes and delayed quotes supplied by Morningstar Inc. Quotes delayed by up to 15 minutes, except where indicated otherwise. Fund summary, fund performance and dividend data provided by Morningstar Inc. Analyst recommendations provided by Zacks Investment Research. StockScouter data provided by Verus Analytics. IPO data provided by Hoover's Inc. Index membership data provided by Morningstar Inc.