6 simple tips to grow your nest egg
You know you should be setting aside money for your later years. Here are ways to make the task less daunting.
This post comes from Rob Berger at partner blog The Dough Roller.

In his letter to the church in Rome, the Apostle Paul lamented that the things he wanted to do he doesn't, and the things he hates to do, he does. My mom had her interpretation of Paul's missive: The road to hell is paved with good intentions.
For my part, I've often wondered if Paul was as bad at saving for retirement as the rest of us.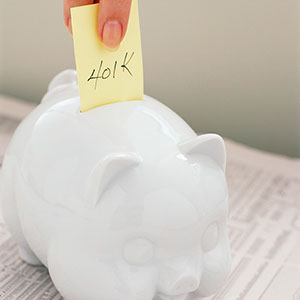 In my 12-month plan to revitalize your finances, I listed maxing out your retirement accounts as the goal for January. Of course, everyone knows they should max out their retirement savings, but knowing we should do something and actually doing it are two different things. I guess not much has changed in the 2,000 years since Paul wrote his famous epistle.
So, today we are going to look at six practical tips and tricks to help you do what you already know you should -- contribute the maximum amount to your 401k, IRA and other retirement accounts.
1. Start.
Starting to save for retirement is like jumping into a cold pool for a morning swim: Just do it. Once you're in, the water warms quickly. With a 401k, you can save very small amounts each month to start. Even if you can afford only $25 a month, start right now. Not tomorrow. Not next week. Today.
2. Keep it simple.
I've talked to a lot of people who are afraid of investing in the stock market, and their fear keeps them from contributing to a 401k. Don't let your fear be the cause your inaction. Every 401k plan I've ever seen offers well-diversified options, including mutual funds. Most offer funds designed to be a complete solution to retirement savings called target-date funds. You can pick a fund based on when you'll retire, and the fund mix will be more or less aggressive based on that date. It's that simple. If you have any questions, the company that manages your 401k plan can help.
3. Avoid Roth 401k's and IRAs.
Let me first say that Roth retirement accounts can be a great way to save for retirement. But if you are really stretching your money to save for retirement, they may not be the best choice. With a Roth 401k or Roth IRA, you don't get an immediate tax benefit. With a traditional 401k or deductible IRA, taxes on your contributions are deferred until you take out the money. The tax savings you'll enjoy can really help if you are on a tight budget. And you can always convert to a Roth 401k later.
4. Save 50% of raises.
Each time you get a raise, increase the amount of your retirement savings. An increase equal to 50% of your raise is a good place to start. If you are contributing to a traditional 401k, remember that you get a tax break on the contribution, so it won't hurt as much as you may think.
5. Automate.
All 401k plans that I've ever seen automatically take your contribution out of your paycheck. Not all IRA accounts, however, are automated. I've automated my investment account with Betterment, an online investment account that automatically takes $100 from my savings account every month. If you use a service that offers automated savings, soon you won't even miss the money.
6. Get help.
If your employer matches some or all of your contributions, be sure to take advantage of this help. Employer contributions, however, kick in only if you are contributing to your 401k. So don't turn this help away. It may take you some time to maximize your contributions to take full advantage of your employer's match, but use this benefit as motivation to save as much as you can.
More on The Dough Roller and MSN Money:
DATA PROVIDERS
Copyright © 2014 Microsoft. All rights reserved.
Fundamental company data and historical chart data provided by Morningstar Inc. Real-time index quotes and delayed quotes supplied by Morningstar Inc. Quotes delayed by up to 15 minutes, except where indicated otherwise. Fund summary, fund performance and dividend data provided by Morningstar Inc. Analyst recommendations provided by Zacks Investment Research. StockScouter data provided by Verus Analytics. IPO data provided by Hoover's Inc. Index membership data provided by Morningstar Inc.