Pope Benedict's pension plan
How much will the first pope to retire from the job in nearly 600 years collect each month?
This post comes from Matthew Heimer at partner site MarketWatch.

What kind of retirement package do you give to someone who's spent 60-plus years on the job, including almost eight as chief executive? If you're the Roman Catholic Church, and that someone is Pope Benedict XVI (the once and future Joseph Ratzinger), you give him a monthly pension worth 2,500 euros, or about $3,340.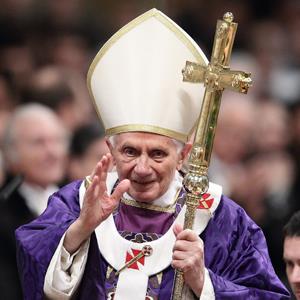 The Italian newspaper La Stampa broke the story this week, reporting that the 85-year-old Benedict -- the first pope in nearly 600 years to retire from office -- will receive the pension that the church typically offers to retired bishops. (Don't speak Italian? Neither do I: Britain's Independent has the story here.)
Coincidentally, the pope's pension is almost identical to the maximum Social Security benefit a U.S. retiree could earn if she retired this year -- $3,350 a month, according to the Social Security Administration's benefits calculator. To receive a check that size, that hypothetical retiree would need to retire at age 70 or later after having earned the taxable maximum salary throughout her career -- the equivalent of $113,700 this year.
Of course, most of Benedict's personal expenses, from food to gardening, will be covered by the Vatican for the rest of his life, so his pension is mostly play money. (Alas: no grandkids to visit.)
The pot could get sweeter, too, according to La Stampa: If Benedict's successor awards him the status of emeritus cardinal -- not out of the question, since Ratzinger held various cardinal titles before being elected pope -- his pension could double.
More on MarketWatch and MSN Money:
DATA PROVIDERS
Copyright © 2014 Microsoft. All rights reserved.
Fundamental company data and historical chart data provided by Morningstar Inc. Real-time index quotes and delayed quotes supplied by Morningstar Inc. Quotes delayed by up to 15 minutes, except where indicated otherwise. Fund summary, fund performance and dividend data provided by Morningstar Inc. Analyst recommendations provided by Zacks Investment Research. StockScouter data provided by Verus Analytics. IPO data provided by Hoover's Inc. Index membership data provided by Morningstar Inc.