Prepare to pay more for gas as summer approaches
Gasoline prices have experienced an uptick recently and will continue to edge up slightly as summer approaches.
This post comes from Ellen Chang at partner site MainStreet.

Gasoline prices have experienced an uptick recently but will continue to edge up slightly as summer approaches, industry experts said.
Prices at gas pumps across the country are averaging $3.60 a gallon as temperatures rose slightly in some regions.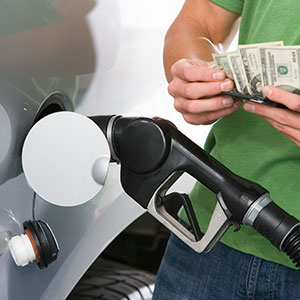 Gasbuddy.com found that gas reached $3.60 a gallon in many states. Marked exceptions on the low-end were Montana, where gasoline prices were $3.27 a gallon, and Texas, where gas was $3.47 a gallon. By contrast, California had gas as high as $4.17 in California, and Hawaii hit $4.28 a gallon.
Regular gasoline retail prices will continue to stay within this range and is projected to reach an average of $3.57 per gallon overall during the period of April through September, the Energy Information Administration said. The annual average regular gasoline retail price was $3.58 per gallon in 2013.
The projected national average regular retail gasoline price falls from $3.66 per gallon in May to $3.46 per gallon in September. The EIA expects regular gasoline retail prices to average $3.45 per gallon in 2014 and $3.37 per gallon in 2015, compared with $3.51 per gallon in 2013.
"After rising into May, the retail price is expected to fall through the remainder of the summer because both crude oil prices and gasoline crack spreads (the difference between wholesale product price and the price of crude oil) decline," the EIA said in its report.  "Daily and weekly national average prices can differ significantly from monthly and seasonal averages and there are also significant regional differences, with prices in some areas exceeding the national average by 25 cents per gallon or more."
"We've seen oil prices move up," he said. "That is the main reason. If they calm down, we could see oil prices move lower and impact gasoline prices. There is nothing artificially keeping them high or low. They're pretty close to where they should be."
Most consumers are paying an average of $3.60 a gallon, which breaks down to include an average of $2.60 for crude oil, $0.60 for the refiners and distributors and $0.40 for taxes, Desai said.
"There is some risk built into the price," he said. "The perception of risk is a driver in gasoline prices and that is why we are feeling it at the pump. It doesn't really affect the U.S. since it is such a global commodity."
The U.S. generally produces 7 percent of the world's crude oil, while Saudi Arabia produces 12 percent, followed by Russia which generated 10 percent to 11 percent, Desai said. While those amounts vary each month, that has been the typical average.
"We have a lot of production in the U.S.," he said. "If nothing changes, this is a reasonable range. Prices could come down if risk declines."
Since the U.S. has ramped up its production of oil because of the increased drilling in the shale regions of the Bakken, Eagle Ford and Permian basins, less oil is being imported.
Gasoline prices will rise moderately during the next couple of months by 3 percent to 5 percent, said Kurt Rankin, an assistant vice president and economist for The PNC Financial Services Group, the Pittsburgh financial institution.
"I think we've gotten some mild upward movement in store for the next couple of months," he said.
The two-fold increase is because refining capacity has been low, but is expected to rise as summer approaches, Rankin said. As the economy rebounds and job recovering increases, gasoline prices should also rise.
Refineries boosted utilization rates to 86.7 percent in the week ended April 4, the EIA said April 2. The rate had declined to an almost 11-month low of 86.2 percent on March 28.
Prices will rise in the near term by 10 cents to 20 cents per gallon at the pump through the next two months, said Mark Zupan, an economist and dean of the Simon Business School at the University of Rochester in New York.
"My gut tells me that it will go higher in the near term and there will be no downward adjustment," he said.
The first quarter of 2014 presented "significant cold weather challenges to refineries which impacted prices to an extent, but now as many major refineries are in the midst of a production comeback, prices are rising," said Bob Kenyon, executive vice president of Atlas Oil, the Taylor, Mich. national fuel supplier.
"The national gas price average has been increasing for the last eight weeks straight and reached a seven-month high as of March 31," Kenyon added. "The average is predicted to be $3.57 per gallon through September, which is slightly lower than the past few summers but is still fairly strong."
While prices will increase in the summer because demand ramps up, some of the increase is now dampened by more fuel efficient vehicles and some changed driving habits, said Maclyn Clouse, a professor of finance at the University of Denver's Daniels College of Business.
"That is ultimately why we are not facing prices in the high $4 dollar range," he said.
More from MainStreet
DATA PROVIDERS
Copyright © 2014 Microsoft. All rights reserved.
Fundamental company data and historical chart data provided by Morningstar Inc. Real-time index quotes and delayed quotes supplied by Morningstar Inc. Quotes delayed by up to 15 minutes, except where indicated otherwise. Fund summary, fund performance and dividend data provided by Morningstar Inc. Analyst recommendations provided by Zacks Investment Research. StockScouter data provided by Verus Analytics. IPO data provided by Hoover's Inc. Index membership data provided by Morningstar Inc.