Being a family caregiver can cost you big time
Nearly half of family caregivers spend more than $5,000 a year, plus caregiving affects their jobs and retirement plans.
This post comes from Krystal Steinmetz at partner site Money Talks News.


Caring for an aging loved one can take a toll physically and emotionally. But it also has a significant impact on your pocketbook, employment and retirement plans.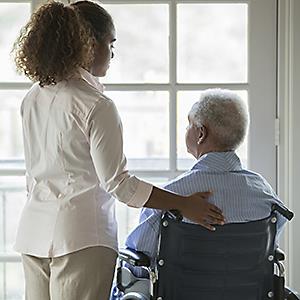 According to a new survey from Caring.com, 46 percent of family caregivers (people who take care of a friend or relative for free) spend more than $5,000 a year to care for a loved one, and many people spend much more. Caregiving costs, including medical bills, medications, in-home care and sometimes nursing homes, really add up. Caring.com wrote:
"Caregiving can be a startlingly expensive endeavor that most people aren't financially prepared for," said Caring.com CEO Andy Cohen. "But yet only 3 in 10 caregivers have spoken to their loved ones about how to pay for care. Having an open and honest conversation about finances is a sensitive, but necessary discussion to have."
Caregiving can also impact current employment and future retirement plans. Because of the amount of time required to take care of their loved one, one-third of those surveyed said they devote at least 30 hours per week to caregiving, and 50 percent of caregivers said they had to change their work schedule, they miss work or they often show up late or leave early. Sixty percent of survey respondents said their caregiving duties have a negative effect on their job.
The financial strain of caregiving can put a dent in the money caregivers are able to save for retirement, leading some to work longer or invest less for retirement. Cohen said:
Family caregivers, especially baby boomers, run the risk of derailing their retirement plans if they don't prepare for the costs associated with caregiving. Almost half of caregivers spend $25,000 on caregiving in just five years -- that's a significant chunk of money that could delay retirement by a couple of years.
If the financial burden isn't difficult enough, many caregivers end up dealing with health issues of their own. "Many also struggled with health problems related to their caregiving, ranging from increased blood pressure to depression," Forbes said.
Caring.com's report was based on surveys of more than 1,300 caregivers.
When I was in high school, I remember my dad and his sisters struggling to figure out how to care for their aging father, whose health was beginning to fail. My grandpa lived on his own, and his closest family was five hours away. They discussed caring for him themselves or moving him into an assisted-living center.
In the end, my grandpa ended up passing away before any decision was made.
There are so many factors to consider beyond money when planning how to take care of a loved one.
More from Money Talks News

I cared for my dad for 10 years.  The first seven I was able to work but that ended when it became evident that he needed someone to be with him full-time.  Altho I did not have to be responsible for him financially, I opted to take my social security early.  Yes, this put a dent in my retirement funds and yes, it was extremely hard (there were many times I just wanted to put my hands around his neck and wring it), but I can now look back and see how really lucky I was.  He has been gone almost four years now and I miss him still - to the point of tears.  My dad was always there for me when I was growing up and his sweet, gentle ways surround me still. 
Don't look at it as a chore but a new path that will perhaps teach you compassion.  You, too, will be there someday and wouldn't it be nice to know that your children will be there for you, trying to follow the example you set for them! 

While I was able to do so, I added on a modest addition to my home. I have it ready for my old age and or declining health.  The younger folks can live in the bigger house without house payments, and I can still be there too in my own living space.  Separate, yet together.  Hopefully this will be less strain on all of us.
To meathead:  If you have dementia or a stroke it is not the free space you provide relatives that will  be helpful, but financing your 24 hr a day care which will be an overriding  emotional and time burden to them.  That is so difficult if not impossible for probably one person to do. There is a reason that care facilities cost many thousands of dollars a month to stay in. 

I will never take care of anyone at the expense of myself and my own family, they knew they were going to get old,  its their responsibility to take care  and make arrangements for themselves, just like its your responsibility to take care of yourself and not  burden your kids, they have their own family  to worry about. My mother is 88 and  home aids come in to take care of her, she still can do some things on her own but when that day comes she cant its off to a home, just like she did when her mother, my grandmother,  was too  old to care for herself.
Are you sure you want to delete this comment?
DATA PROVIDERS
Copyright © 2014 Microsoft. All rights reserved.
Fundamental company data and historical chart data provided by Morningstar Inc. Real-time index quotes and delayed quotes supplied by Morningstar Inc. Quotes delayed by up to 15 minutes, except where indicated otherwise. Fund summary, fund performance and dividend data provided by Morningstar Inc. Analyst recommendations provided by Zacks Investment Research. StockScouter data provided by Verus Analytics. IPO data provided by Hoover's Inc. Index membership data provided by Morningstar Inc.