Should you pick a traditional or Roth retirement plan?
A reader wants to know whether she's better off converting her existing retirement plan to a Roth. Maybe you've wondered the same thing.
This post comes from Stacy Johnson at partner site Money Talks News.


This week's reader question is one that's practically as old as the Roth retirement plan. Namely, when it comes to retirement plans, which is better: Roth or regular?
Should I convert my TSP traditional to a Roth TSP? -- Carole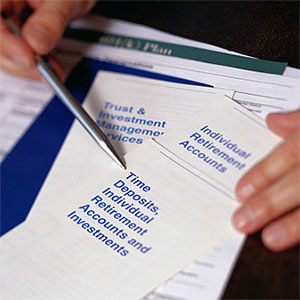 If you're confused about "TSP," that stands for Thrift Savings Plan, a federal government plan that functions much like a private company 401k or the nonprofit version, the 403b. For the purposes of this discussion, they're all interchangeable, but if you're curious about TSPs, you can read about them here.
The difference between regular and Roth
Both Roth and regular retirement plans provide tax deferral on investment earnings. But when it comes to contributions and withdrawals, a Roth is the mirror image of a traditional plan.
With a traditional retirement plan, you deduct the money you put in, but you pay taxes on withdrawals as ordinary income when you take it out in retirement. With a Roth, you don't get to deduct your deposits, but when you take the money out, it's tax-free.
So when you're asking whether a traditional or Roth is better, what you're really asking is whether it's better to get a deduction now or get tax-free income after retirement.
Which is better?
While many financial writers sing the praises of the Roth and recommend it almost universally, which is best isn't really that cut and dried.
That's because the answer ultimately depends on factors you can't know. For example, if you're in a high tax bracket now but expect to be in a zero tax bracket when you retire, you'd obviously be better off avoiding the Roth and deducting your retirement contributions.
If you're going to be in the same tax bracket when you retire or a higher one, it would be best to use a Roth and pay no taxes when you take the money out.
Unfortunately, there's no way to know what the tax tables will look like when you retire, especially if it's far in the future. And as one of my tax professors was fond of saying, "In the long term, we're all dead."
In other words, some might argue that today's bird in hand -- a deduction on contributions -- is better than tax-free withdrawals at some future date. After all, while it's unlikely, Congress could theoretically change the rules and start taxing Roth IRA withdrawals.

Then, of course, there's also the possibility you may not live to see your golden years.
There are calculators online that are supposed to help you decide. Here's one from Money Chimp, here's  one from Bankrate, and here's one specifically for those in TSP plans. But all require you to know the unknowable: how much you're going to earn on your investments, and your tax bracket after retirement.
After fooling around with a few calculators, you'll probably decide that a Roth is the way to go, especially if you believe taxes will be higher in your golden years. But here's the answer I most often give: Since you're not required to fund only one type or the other, why not have both? That way you can get some deductions now, and you'll have a tax-free source of retirement income, too.
Doing a Roth rollover
Thanks to new rules, more and more employers are allowing plan participants to convert existing 401k balances from regular to Roth. The basics are simple. You simply designate all or part of your existing 401k to Roth and pay the income taxes on the amount you convert.
Not all employers allow for these conversions. According to this recent Forbes article, about half currently do and more are expected to add the feature this year.
As for TSPs, according to the Federal Retirement Thrift Investment Board, you can't convert existing TSP balances to Roth. You can, however, designate future contributions as Roth, either in whole or in part.
More on Money Talks News:

Ideally, you want to have both.  Review your income tax bracket.  Your taxable income is initially taxed at 10% up to a certain level (depending on if your married, single or head of household).  The next bracket of income is taxed at 15%.  Then 25%, 28% etc.  You would want to withdraw from the traditional IRA/401k at the initial 10% rate and 15% rate.  Once you get to the 25% income tax rate, switch your withdrawals to the tax-free Roth IRA/401k.  This way you won't pay more than 15% tax on your distributions, with an overall effective tax rate of about 13% or so.  This is called tax diversification and can help you avoid the higher tax rates of 25%+.


For the vast majority of people, traditional is really the way to go.  Don't forget the difference between effective and marginal rates.  When you pay taxes now, you pay your marginal rate.  When you withdrawal the money down the road, you'll pay an effective rate that spans lower brackets, too.  If you plan on using retirement savings to delay taking social security, you wouldn't pay any tax at all on income equal to your personal exemption(s) and deductions, and only 10% on the lowest bracket. That gets most people up to about $20k per year that would be pointless to pull from a Roth vs a traditional.  Plus, a traditional allows you to dodge some state income taxes completely whereas you pay them up front with a Roth.

"More and more employers are allowing plan participants to convert existing 401k balances from regular to Roth."

Why can't they allow the original contributions to be to a Roth?

With a traditional 401-K, you're building up years and years of long-term capital gains which get taxed at the higher regular tax rate when you withdraw.  That doesn't seem fair.

Are you sure you want to delete this comment?
DATA PROVIDERS
Copyright © 2014 Microsoft. All rights reserved.
Fundamental company data and historical chart data provided by Morningstar Inc. Real-time index quotes and delayed quotes supplied by Morningstar Inc. Quotes delayed by up to 15 minutes, except where indicated otherwise. Fund summary, fund performance and dividend data provided by Morningstar Inc. Analyst recommendations provided by Zacks Investment Research. StockScouter data provided by Verus Analytics. IPO data provided by Hoover's Inc. Index membership data provided by Morningstar Inc.