How to review your retirement accounts in 15 minutes
Checking the performance, fees and asset allocation of your IRA, 401k and other investments can be done fairly quickly if you use these 3 steps.
This post comes from Maryalene LaPonsie at partner site Money Talks News.

Do you know how hard your money worked for you in 2013?
If not, it's time to do a 15-minute checkup of your investments and make some plans for 2014.
Step 1: Check your performance
The first thing to do is pull out recent statements for all your investments, including retirement plans such as IRAs and 401k's, or check them online. If you don't have a recent paper statement or online access to your accounts, you may have to wait until the year-end statement arrives in the mail.
But let's assume you have your statements in front of you. The important number you are searching for is your fund performance. Once you find that number, your next question should be "Is that good?"
To find an answer, you'll need to compare your funds with indexes that include similar investments.
For example, if your funds are invested in large-company stocks, you might compare your performance with the S&P 500.

If you have a small cap fund, look to the Russell 2000 for guidance. For more tech-heavy investments, the Nasdaq might be the best comparison.
I know it would be easier if I could simply tell you that if you hit a certain percentage, your investments had a great year. However, anyone who boils your fund performance down to such basic terms is doing you a disservice. You need to have an apples-to-apples comparison. That means comparing bond funds to bond funds, balanced funds to balanced funds and so on.
In addition to indexes, you can also see how your funds performed by comparing them with funds offered by well-established fund companies like Vanguard, American Funds or Fidelity.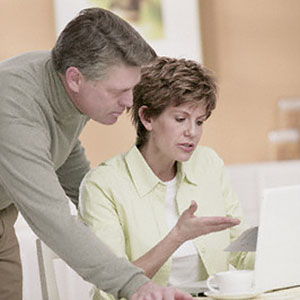 Don't freak if your fund is a few percentage points off the returns offered by indexes or similar funds, but if your large-cap fund earned 5 percent this year when the S&P 500 earned 28 percent, that should be a red flag.

Step 2: Review the fees
After you check out fund performance, the next step is checking what you paid to achieve it. In other words, fees. If you're investing in mutual funds, this should be listed on your statements as the expense ratio. If for some reason you don't find it on your 401k paperwork, you may need to call your employer's HR office and ask.
Obviously, lower fees are better. Some mutual funds have expense ratios as low as 0.10 percent. Others might have combined fees that top 3 percent. Look at the fund families in the links above for comparisons. With so many excellent, low-cost investment choices available today, there is little reason to have a fund with more than a 1 percent expense ratio.
Step 3: Rebalance your assets
The final step is to rebalance your portfolio. Over time, as certain funds underperform or outperform, your asset allocation may become skewed. For example, because stocks did so well in 2013, you may have more of your savings in stocks than you're now comfortable with.
Why is that important?
Because the type of investments you have is directly related to the amount of risk you're taking. Stocks often earn more than bonds or money market funds -- they certainly have this year -- but if the market crashes, you could lose big.
Ideally, you should have a balance of stocks, bonds and other investments that are based upon your individual goals. If you are 22 and saving for retirement, you can probably be stock-heavy since you have time to weather the market's ups and downs. But if you're 60, you'll want more of your money in bonds and money market funds so you don't risk wiping out your life savings as you approach retirement.
When you opened your investment account, you may have gotten guidance on the right asset allocation for your situation. Now is the time to rebalance your investments so they reflect that advice.
If you didn't get guidance, read our advice on how to "Manage Your 401k in 1 Minute" or consult with a fee-only investment professional.
Bottom line? Make an investment review part of your year-end planning. Set 15 minutes aside, follow these three easy steps and you'll feel a lot more confident that your money is ready to meet the new year.


More on Money Talks News:
The fact people buy this articles premise that you can review your retirement accounts in 15 minutes is one of the reasons the National Institute on Retirement Security, in it's testimony to the Senate, said that Defined Benefit Pensions require only half the contributions of 401k's to produce the same payout (Senate report here:
http://www.nirsonlin​e.org/index.php?opti​on=content&task=view​&id=621,
analysis article here:
http://www.nystrs.or​g/main/library/ADM/n​irs.pdf).
People read a 4-page brochure and assume they know all about investing.  So how well do they evaluate their "asset allocation."  When there are so many hidden fees in 401k's that Vanguard's John Bogel -confirmed by others- said that Wall St. ends up wih 60% of all gains despite not contributing one cent to the money risked in 401k's, how does the average person evaluate fees?  And how well does he/she understand how 401k managed fund fees compare with the 0.8% typical of companies like T. Rowe Price and Vanguard.
Spend some HOURS reading books, informed web pages, etc. so that you can make decisions more intelligently.

Beyond your portfolio you should also check out your retirement plan an adjust as needed. If you don't have a plan create one that addresses the lifestyle you plan to lead once retired and the associated costs. Plan to travel, retire overseas, take up expensive hobbies, volunteer, work part time then plan for it. Your plan should include a health component to assure that you will be physically active, stay mentally sharp and follow a healthy diet. all these topics are covered in posts and pages on the retirement site Retirement And Good Living. Very useful site with information on many retirement issues.

That was one of the dumbest video's I've seen.
step 1 the fund you own sucks what did the video say to do?
step 2 check the fees ok your paying to much what did the video say to do?
step 3 Review and maybe rebalance your portfolio what did the video say to do?
My suggestion
Go to the library once a week learn to invest. do paper trading and try to review your assets monthly

 You clueless degenerate freaks called baby boomers just go away you morons. After spending a life time destroying a perfectly good nation what are you thinking about? Why what else would the me generation be concerned with? The massive debt? Corruption? You bunch of spoiled weak lazy twats created a enormous corrupt government because you losers cant deal with life. Here is how you morons will retire with your hand out waiting for big daddy nazi government to solve your problems.

Are you sure you want to delete this comment?
DATA PROVIDERS
Copyright © 2014 Microsoft. All rights reserved.
Fundamental company data and historical chart data provided by Morningstar Inc. Real-time index quotes and delayed quotes supplied by Morningstar Inc. Quotes delayed by up to 15 minutes, except where indicated otherwise. Fund summary, fund performance and dividend data provided by Morningstar Inc. Analyst recommendations provided by Zacks Investment Research. StockScouter data provided by Verus Analytics. IPO data provided by Hoover's Inc. Index membership data provided by Morningstar Inc.