You've inherited an IRA -- now what?
The rules governing inherited IRAs are likely more complicated than you thought.
This post comes from Rob Berger at partner blog The Dough Roller.

As part of my ongoing series on handling the estate of a loved one, today I want to look at inherited IRAs.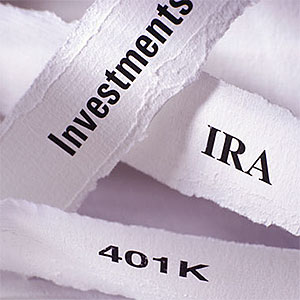 My stepmother had a couple of IRA accounts. As you may know, with an IRA you can select the beneficiaries who will inherit the account when you die. As such, the funds do not transfer through a will or the estate. Instead, the account transfers directly to the beneficiaries you select.
Tip: Select both primary and secondary beneficiaries for your IRAs, such as a spouse as the primary and your children as the secondary. This gives your spouse the option of disclaiming the IRA account and having it pass directly to your children.
The rules of inherited IRAs, however, are really complicated. So before I get to five things you should know about these types of accounts, Rule No. 1 is: Seek professional advice.
In my case, Vanguard was extremely helpful. Because they do this for a living, so to speak, they can walk you through the required steps. So wherever you open your inherited IRA account, let the pros walk you through the process.
Spouse vs. non-spouse
The rules of an inherited IRA are different for a spouse than for everybody else. A spouse can elect to be treated as the owner of the IRA, rather than a beneficiary. That means, among other things, that you may be able to continue contributing to the IRA, and your required distributions are different from those for non-spouse beneficiaries. IRS Publication 590 has some helpful information on the differences between a spouse and non-spouse beneficiary.
Forget the 60-day rule
Remember the 60-day rule that allows you to take money out of an IRA penalty- and tax-free, as long as you put it back into the same type of IRA within 60 days? It doesn't apply to inherited IRAs. And that means, among other things, that if you want to move the IRA to a new custodian, it needs to be through a direct transfer.
Understand your distribution options
For non-spouse beneficiaries, you have two options when it comes to distributions. You can choose to withdrawal money from the IRA each year, the amount determined based on your life expectancy. This is referred to as the "stretch option." Or you can take all of the money out within five years of the original owner's death.
Those are your options. The good news is that there are no penalties for these withdrawals, even if you haven't reached 59 1/2. The bad news is the distributions will be subject to income tax.
Make up your mind
If you are going to select the stretch option, you must take your first required minimum distribution no later than Dec. 31 in the year following the year the original owner died. If you miss this deadline, you'll be forced to follow the five-year rule on distributions.
Remember mandatory distributions
If the original owner was 70 1/2 or older, he or she was required to take mandatory distributions each year. As a result, you need to find out if the owner made the required withdrawal during the year of his or her death.
As I said at the start, inherited IRAs are really tricky. So I can't stress enough the importance of working with a professional to guide you through the process.
More from The Dough Roller and MSN Money:

Since there are issues with naming who gets the IRA on the IRA are there similar consequences with naming that same person in your will? What are the pro and con issues with each option. And why the crazy rules anyway. The wealthy have all kinds of ways to pass through untaxed assets but Joe Sixpack can't do the same thing with his 401-k. Time to level the playing field.
It is money well spent to have a good tax specialist CPA explain the regulations in a language that average people can understand so you can make better choices, NOT some "advisor" who wants to sell you whatever they make the most commission on that day. The regulations will change again and again, about the time us average folks half way figure it out the rules all will be changed again, do you really think the IRS etc wants us to do it right? Silly thought. When you have a family member pass on the tax man will be first in the line with their hand out.  When my husband was terminally ill, my CPA was a great help to explain regulations so hub & I could make better choices, yes he charged me an hourly rate but he was not in a  commissioned job & half the price of an attorney (and remember all attorneys are not experts on estates and taxes etc). When my husband died I was an emotional mess sure not thinking straight but it was a lot easier to go thru the probate process as I had it all in good order, all total I estimate my CPA saved me $20K in legal fees, taxes and other costs. There ain't no free lunch out there, but maybe a more cost effective one. always remember the old saying that a gold mine is a hole in the ground with a damn fool at the bottom.


Why have they made something so simple so complicated? What the hell should you have to spend money on so-called "PROFESSIONAL HELP"??????
If the corrupt Republican corporate MONARCHY wouldn't have STOLEN OUR PENSIONS & gave us their INSURANCE IRA account that says if they fail so do you and I fail, we wouldn't have to be concerned about ALL THIS PROFESSIONAL 
HELP!!!!!!!!!!!!!!!!​!!!!!!!!!!!!!!!!!
Are you sure you want to delete this comment?
DATA PROVIDERS
Copyright © 2014 Microsoft. All rights reserved.
Fundamental company data and historical chart data provided by Morningstar Inc. Real-time index quotes and delayed quotes supplied by Morningstar Inc. Quotes delayed by up to 15 minutes, except where indicated otherwise. Fund summary, fund performance and dividend data provided by Morningstar Inc. Analyst recommendations provided by Zacks Investment Research. StockScouter data provided by Verus Analytics. IPO data provided by Hoover's Inc. Index membership data provided by Morningstar Inc.