Should you let your boss make your 401k picks?
Some companies are seizing control of employees' 401k investment choices. If yours does, watch out for these five mistakes.
This post comes from Marilyn Lewis at partner site Money Talks News. 

How would you like it if your company started overriding your 401k investment choices? Well, your employer may be doing just that.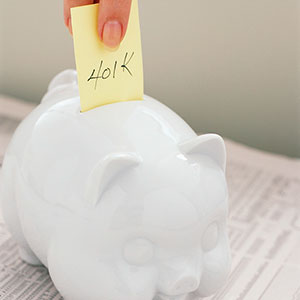 A number of companies, concerned that their employees' retirement investments are too risky or not risky enough, are overriding some employees' investment picks and substituting the company's choices.

The ease of letting an employer take the wheel appeals to some investors who feel they haven't got the nerve or knowledge to make investment decisions or can't find the time.
But there are downsides.

Why the boss steps in
A company's substitute choice, typically, is a target date fund -- a portfolio of stocks and bonds whose investments become increasingly conservative as the employee's retirement target date draws nearer.
The employer tactic of substitutions, called re-enrollment, helps boost the safety and growth of employees' investments and can ward off lawsuits over 401k plans' performance or fund choices, says the Journal of Pension Benefits (.pdf file).

With re-enrollment, an employer can even change the size of the contribution from your paycheck to your retirement fund.
A company is most likely to re-enroll employees when it selects a new 401k plan provider or changes its lineup of investing options. If your employer is about to change your investments, you'll get a couple of notices of the impending change and a time window -- 30 days, for example -- to make new choices. If you don't respond, your money is put in a default investment option chosen by the company.
Big Brother invests for you
Re-enrollment can sound paternalistic, but employees generally seem OK with it. The Journal of Pension Benefits writes: "When the motivation for the change is carefully explained to the employees, for example, to help them and their teammates save more, usually benefiting the lower income, young, and less educated employees, it can result in a big win."
But maybe they should worry more. Companies can make five mistakes when they impose investment choices on employees, either through re-enrollment or by automatic enrollment of new plan participants. They may:
1. Set your savings rate too low
Depending on when you started saving and how much you've amassed, you may need to put aside 10 to 15 percent of your monthly salary or more to prepare for a decent retirement. If you let your company make decisions for you, the company could set a much lower savings rate than you need, meaning that you'll come up way short in retirement. Better to choose your own savings rate based on your individual needs.

The IRS lets you save $17,500 a year tax-free in a 401k. If you're 50 or older, you can add $5,500 more to a 401k. Here are IRS contribution limits for 401ks and other plans.
2. Make you miss out on free money
If your employer doesn't set your savings rate to earn all of the company's matching contributions, you're losing out on free money.
Say your employer matches employee contributions up to 5 percent but it sets your 401k contribution at 3 percent: You'll lose company contributions worth 2 percent of your salary. If you make $4,000 a month, that's an extra $80 a month -- $960 a year -- in matching contributions, or nearly $10,000 you'd miss out on over a decade, not counting the growth you'd enjoy from investing it.
Check with your human resources department to learn your company's maximum match and set your savings rate to capture every penny of it.
3. Select expensive funds
Most companies' default options are target date funds (also called life cycle funds). Their fees may be steep.
The fees charged on 401ks may look small, but they can add up to a substantial loss. Try to keep fees at or below 0.5 percent.
Index funds -- baskets of stocks or bonds programmed to represent a broad share of a market -- are a cheaper way to earn returns that generally beat stock funds managed by stock pickers.
4. Select the wrong target date for you
Your financial situation may require you to work longer than the target date the company selects for you, especially if your balance is low from getting a late start saving or if you've borrowed from your retirement plan.
Women, especially, with their longer life expectancies and lower earnings, need to choose target dates with care. Don't let the company make this choice automatically for you.
5. Select the wrong investments for you
Some target date funds invest heavily in bonds. That may be fine when you're older. Younger investors, however, need the growth that stocks offer and have time to recover if their investments lose money. They should put a larger proportion of their portfolio in stocks.
Here's an easy, rough guide: Subtract your age from 100. That's the highest percentage you should have in stocks. If you're 40, for example, put 60 percent of your portfolio in stocks. If you're nervous, reduce your stock exposure a bit. Or crank it up a little if you want more growth and can handle more risk. But not so far up or down that you take on too much or too little risk.
If you decide to let the company drive
If you nevertheless want to sit back and let the company drive, protect yourself:
Talk with your HR department to learn your target date and the maximum company match.
Contribute at the very least 6 percent of your monthly paycheck.
Set your savings contribution to automatically grow by 1 or 2 percent a year until at least 10 percent of your paycheck goes into your 401k.
Hire a fee-only certified financial planner for a few hours to review your investment plan and your target date and make certain they meet your particular needs.
Has your company re-enrolled your 401k plan to take charge of your investments? Do you think it's OK if the boss does take charge?

More from Money Talks News
DATA PROVIDERS
Copyright © 2014 Microsoft. All rights reserved.
Fundamental company data and historical chart data provided by Morningstar Inc. Real-time index quotes and delayed quotes supplied by Morningstar Inc. Quotes delayed by up to 15 minutes, except where indicated otherwise. Fund summary, fund performance and dividend data provided by Morningstar Inc. Analyst recommendations provided by Zacks Investment Research. StockScouter data provided by Verus Analytics. IPO data provided by Hoover's Inc. Index membership data provided by Morningstar Inc.