15 best kids' books about money
Recommended by editors and parents, these books can help you start the conversation with your kids about Dad's unemployment or family budgeting.
This post comes from Kimberly Palmer at partner site U.S. News & World Report.

Beverly Cleary's "Ramona," who was first introduced to readers in the 1950s, watches her father lose his job, find another one as a checkout clerk at a supermarket and decide to go back to school in order to eventually land a better job to support his family. It's a lesson in recession economics that still resonates today.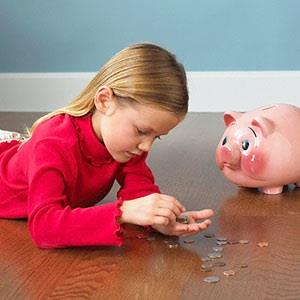 The easy-to-grasp message -- that families can grapple with financial setbacks and find a way to overcome them -- gives parents a way to help kids understand financial struggles. The books, which otherwise revolve around Ramona's school days and tiffs with her sister, offer parents a starting point to talk about their own challenges or make it easier to understand what friends might be experiencing.
"Books help parents and teachers start the conversation," says Francie Alexander, senior vice president and chief academic officer of Scholastic Inc. She says talking about money is especially important now, with more children experiencing poverty, hunger and homelessness because of the economy. "You have the opportunity to say, 'You're not entirely alone, other children experience these things, and they find ways of coping and ways of being resilient," she says. It's an important conversation even for children of families who aren't struggling economically, she says, because they can learn to be more empathetic toward their classmates.
Even when children's books feature difficult topics, they often do so with humor and other plot points, so the books don't feel overly heavy or pedantic.
"Good children's books aren't overtly written to 'teach a lesson,' and if a book does teach a lesson, it should come out in a subtle way," says Seattle-based children's book editor and writer Nina Hess. And in children's books, the child needs to be the driver of the story, not his or her parents, even though they are the ones directly dealing with the family's finances, she adds.
"The sustained trend over time is … to explore [money and other tough topics] in very light ways for the youngest readers" and to get more complex as the age level goes up, says children's book editor Monique Stephens, founder of
kidsbookeditor.com
. For example, a novel geared to middle school-age kids might feature a character from a family struggling to make ends meet, and a chapter book for 7-year-olds could feature a character learning how to earn and save money. "Kids can understand and handle a lot more than we give them credit for," she adds.
Here are 15 books recommended by children's book editors and parents for talking to kids about money:
1. "The Money We'll Save," by Brock Cole. A 19th century family has to get creative about keeping costs down, including raising a turkey in their small home. (Ages 4 to 8)
2. "A Chair for My Mother," by Vera B. Williams. After the protagonist's family loses their home in a fire, all the family members work hard to save money so they can buy a new chair. "It's great for discussing the everyday trials of the people who work minimum wage jobs," says Elizabeth Bird, youth materials specialist and author of the School Library Journal children's literary blog A Fuse #8 Production. (Ages 4 to 8)
3. "Coat of Many Colors," by Dolly Parton. The singer writes about a young girl's mother making her a coat out of rags and the reaction of her peers at school. (Ages 4 to 8)
4. "How I Learned Geography," by Uri Shulevitz. A boy, along with his family, are forced to flee their country and start over in a new country (present-day Kazakhstan).(Ages 4 to 8)
5. "Fancy Nancy and the Fabulous Fashion Boutique," by Jane O'Connor. Fancy Nancy, a girl who enjoys turning even the most ordinary events into fabulous occasions, figures out how to earn money – and spend it. (Ages 4 to 7)
6. "Those Shoes," by Maribeth Boelts. This book features a young boy learning the difference between needs and wants with a pair of shoes. (Ages 5 to 8)
7. "When Times are Tough," by Yanitzia Canetti. A little boy learns why he can't have more new toys or go out to restaurants more. (Ages 6 through 9)
8. "Amelia Bedelia Means Business," by Herman Parish. The adored (and often befuddled) heroine figures out how to earn money. (Ages 6 to 10)
9. "How to Steal a Dog," by Barbara O'Connor. The title might raise a few eyebrows, Alexander says, but the book, which features a homeless child, offers a valuable lesson on hardship and ethics, and it does so with humor. (Ages 8 and up)
10. "Hothead," by Cal Ripken Jr. The protagonist, whose father was recently laid off, has to learn about anger management, both at home and on the field. (Ages 8 and up)
11. "Becoming Naomi Leon," by Pam Munoz Ryan. A young girl deals with multiple hardships, including a very tight budget. Ann Neely, an associate professor with a focus on children's literature at Vanderbilt University's College of Education and Human Development, calls it a "marvelous" book. (Ages 8 and up)
12. "Where the Mountain Meets the Moon," by Grace Lin. Chinese folklore inspire this story about a girl who tries to change her family's fortune. (Ages 8 and up)
13. "The Mighty Miss Malone," by Christopher Paul Curtis. An African American family in Gary, Ind. deals with the tough economy of the Great Depression in the 1930s. (Ages 9 and up)
14. "Okay for Now," by Gary D. Schmidt. A young boy has to learn how to rise above a series of adverse events, including the financial troubles of his family. (Ages 10 and up)
Got any favorite kids books that teach money lessons? Share them in the comments below.

More from U.S. News & World Report:
DATA PROVIDERS
Copyright © 2014 Microsoft. All rights reserved.
Fundamental company data and historical chart data provided by Morningstar Inc. Real-time index quotes and delayed quotes supplied by Morningstar Inc. Quotes delayed by up to 15 minutes, except where indicated otherwise. Fund summary, fund performance and dividend data provided by Morningstar Inc. Analyst recommendations provided by Zacks Investment Research. StockScouter data provided by Verus Analytics. IPO data provided by Hoover's Inc. Index membership data provided by Morningstar Inc.