4 tips to improve an electric car's range when it's freezing
With these tips, you can stretch your electric vehicle's range during extremely cold weather. You don't want to get stuck out there.
This post comes from Allison Martin at partner site Money Talks News.


With very cold temperatures comes a number of challenges for the owners of electric vehicles.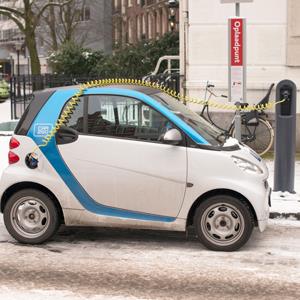 Says MIT Technology Review:
… cold air limits battery performance, and running the heater drains the battery. As temperatures go below freezing, some drivers accustomed to traveling 250 miles on a single charge have seen their car's range drop to 180 miles.
Conditions vary depending on the make and model you drive. But you'll want to maximize your ca''s range for winter driving as much as possible. So, what's the solution?
Green Car Reports recommends that you keep the battery plugged in, even once the vehicle is fully charged, to stabilize the temperature of the battery pack while the car is sitting at home.
Also:
Use seat heaters in lieu of cabin heaters since they tend to drain the battery quickly.
Preheat the cabin prior to departure to preserve your battery while on the road.
Store your vehicle in the garage because it tends to be a few degrees warmer than outdoors.
Whether you choose to plug the car in for a few hours or the entire day, keep in mind the minimal charging times so you won't get stuck with a drained battery.
Do you have any other tips for maximizing the miles between charges of your electric vehicle?

More on Money Talks News:
DATA PROVIDERS
Copyright © 2014 Microsoft. All rights reserved.
Fundamental company data and historical chart data provided by Morningstar Inc. Real-time index quotes and delayed quotes supplied by Morningstar Inc. Quotes delayed by up to 15 minutes, except where indicated otherwise. Fund summary, fund performance and dividend data provided by Morningstar Inc. Analyst recommendations provided by Zacks Investment Research. StockScouter data provided by Verus Analytics. IPO data provided by Hoover's Inc. Index membership data provided by Morningstar Inc.