4 top LED TVs under $500 for Super Bowl fans on a budget
Get ready for the Seahawks and Broncos with one of our top picks for the best cheap LCD TVs.
This post comes from Louis DeNicola at partner site Cheapism.com.
This time of year, TVs on offer tend toward the humongous: big screens with big price tags for the big game.
A high-definition projector can splash the Super Bowl across an entire wall. Consumers who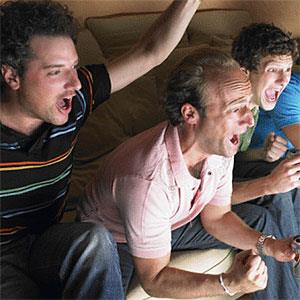 aren't inclined to spend thousands of dollars on such a setup can also find good deals on HDTVs this month.
An LCD TV under $500 may not elicit gasps from Super Bowl party guests, but the top picks from Cheapism.com promise to shine all year round. They display high-quality, 1080p images (a.k.a. "full HD") and earn positive reviews from consumers and experts alike. Some are even so-called smart TVs that can stream content over the Internet via apps such as Netflix. 

The screens on these LCD TVs are backlit with LED lights, which use less energy than the fluorescents that used to light most LCD screens. All four recommended TVs have Energy Star certification from the government. Based on the program's estimates, they won't add more than $15 per year to a utility bill with normal usage. 
One thing to keep in mind, especially if you watch a lot of sports: A high refresh rate (the number of images shown on the screen per second) helps reduce motion blur when a TV processes fast-moving content. As CNET reports, many models that claim to have 120 Hz refresh rates, including those featured here, use "creative" ways to reach that number. Some do help reduce motion blur, but others don't. In Cheapism's analysis, the Vizio M401i-A3 received the best feedback from experts who put it to the test. 
The Vizio M401i-A3 (starting at $498) is a 40-inch smart TV with built-in wireless Internet capabilities and a slim body. Reviewers say the entire M-Series has the deep black levels, sharp shadow detail, and spot-on colors to match its high-quality look. An edge-lit LED screen enables the thin profile and Vizio's Smart Dimming technology helps produce those dark blacks. Overall this 1080p TV provides superior value for the money.
The Vizio E390i-A1 (starting at $390) comes from the brand's entry-level E-Series. The picture quality doesn't quite match the pricier M-Series, reviewers say. The colors are slightly dull, for example, and the LED panel is bulky compared with the slim M401i-A3. Still, this 39-inch TV measures up well against others in its class and beyond. The low price even includes Wi-Fi-enabled smart features. The TV uses Vizio's local dimming technology to create better contrast and experts confirm that this model delivers top-notch black levels. 
The Samsung UN40F5000 (starting at $455) is a highly regarded set that retailers have marked down to nearly $300 below the suggested retail price. This 40-inch HDTV lacks the smart TV capabilities of the previous two picks, but that appeals to consumers who already have a set-top box such as Apple TV or Roku. Reviewers agree the colors are bright and accurate and the picture is crisp. They identify this as a good choice for buyers who prize performance over features.
The Toshiba 39L1350U (starting at $369) is a basic TV without Internet connectivity, but we've seen the price drop as low as $300. Although experts quibble with the color accuracy and point out motion blur, hundreds of satisfied consumer reviewers don't see any problem with the picture quality. They say they have no need for fancy features and consider this HDTV a great buy. 
More from Cheapism:
DATA PROVIDERS
Copyright © 2014 Microsoft. All rights reserved.
Fundamental company data and historical chart data provided by Morningstar Inc. Real-time index quotes and delayed quotes supplied by Morningstar Inc. Quotes delayed by up to 15 minutes, except where indicated otherwise. Fund summary, fund performance and dividend data provided by Morningstar Inc. Analyst recommendations provided by Zacks Investment Research. StockScouter data provided by Verus Analytics. IPO data provided by Hoover's Inc. Index membership data provided by Morningstar Inc.