6 ways to save on school supplies
The cost of school supplies quickly mounts. Here are six strategies that can help you save.
This post comes from Emily Lugg at partner site Cheapism.com.

The list of required school supplies varies by grade and school, but there are staples that nearly every child needs. Costs quickly add up.
With a few sharp tactics and a savvy attitude, shopping for school supplies can be less of a financial strain.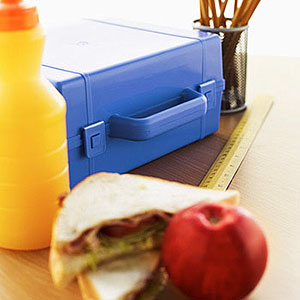 We identified six ways to save and also compared a shopping cart of back-to-school supplies at Costco, Wal-Mart, Target, and Amazon to point you to the greatest savings.
Don't buy everything at one time
August is the most popular month for purchasing school supplies but isn't necessarily the best.
Time Magazine
 suggests buying big-ticket supplies such as laptops in August and fulfilling the rest of the list in September, when a lot of school-related items go on sale.
Moreover, coupons for school supplies often trickle out, so wait to pick up items until the relevant coupon appears. If your timing is right, you can combine them with store sales to save even more. On the other hand, if you plan to order school supplies online, don't wait until the last minute. Expedited shipping fees can wipe out any savings on prices.
Buy this year's supplies for next year
This definitely requires a certain amount of forward thinking while offering the potential for a big pay off. Because September is the best time to buy school essentials, including clothing, you'll miss the best sales for the current year but not for the next. Stock up on things you know for sure your children will need (and won't expire in the meantime), and store them in a safe place. It can't hurt to check with your child's school for guidance about things required for the following school year.
Raid your house before you buy
This is particularly important if you have several school-aged children. Perhaps there are leftover pencils from last year, or the particular pencil box the second-grade teacher requested for your first child can be recycled for your second. To make the sorting-out easier, combine new items with leftover supplies in a designated tote or cabinet.
Stick to the plan
Teachers provide a detailed list of required supplies for the school year, complete with unit counts and sometimes even specific colors. Take the list to the store and don't deviate from it, or you risk blowing your budget. There are plenty of items that would be "nice" to have or your child "might" need, but if they aren't on the list, don't open your wallet.
Buy in bulk
Our list of essential classroom supplies included five basic items (pencils, paper, glue sticks, three-ring binder, and crayons). We found identical brands across all four vendors but for loose leaf paper and binders, while package sizes differed. On a per unit basis, the best savings on a basket of back-to-school supplies can be had at Costco. Shopping cart totals for the items "as sold," however, pushed Costco to second most expensive behind Amazon.
The reason behind the surprising results given these vendors' reputations for low prices: Costco specializes in bulk packaging, and for this small sample, two items sold by Amazon (pencils and binders) were also bulk buys. Maybe 96 pencils or 12 binders sound like overkill, but saving up to 11 cents per pencil or more than $1 per binder when shopping at Costco is an enticing deal. Split the pencils among everyone in the family, or split a bulk buy with a neighbor or friend.
Wait for your state's sales tax holiday
Several
states
 declare tax-free holidays throughout the year for particular items, sometimes including school supplies. The states that help budget-strained parents save on school essentials (and clothing) generally hold sales tax holidays in mid-summer, just in time for the back-to-school rush. Be sure to put a note in next year's calendar to check on the specific dates for your locale.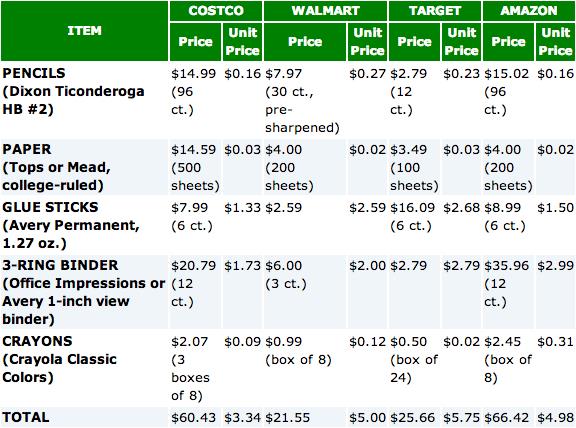 * Does not include shipping
More from Cheapism.com
DATA PROVIDERS
Copyright © 2014 Microsoft. All rights reserved.
Fundamental company data and historical chart data provided by Morningstar Inc. Real-time index quotes and delayed quotes supplied by Morningstar Inc. Quotes delayed by up to 15 minutes, except where indicated otherwise. Fund summary, fund performance and dividend data provided by Morningstar Inc. Analyst recommendations provided by Zacks Investment Research. StockScouter data provided by Verus Analytics. IPO data provided by Hoover's Inc. Index membership data provided by Morningstar Inc.