9 money lessons from 'The Wolverine'
Feeling less-than-heroic when it comes to your finances? Use these tips to claw your way to the top -- or at least out of a hole.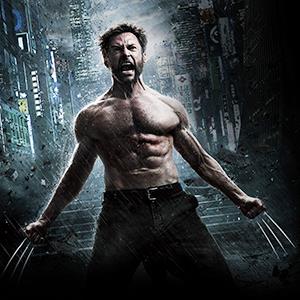 Why draw personal finance lessons from pop culture? Because so many people identify with characters in superhero comics and movies. (Also because it's fun.)

As the title character in "The Wolverine," Hugh Jackman combines physical toughness with personal angst, and evinces both a sense of justice and a dislike for much of mankind. He also takes his shirt off a lot, which makes many ladies sigh and many dudes feel somewhat inadequate.

This time around he's summoned to Japan by a man whose life he once saved. The film bristles with visual and actual references to duty, family loyalty, the atom bomb, yakuza, samurai, hara-kiri, repressed sexuality, anime, technology and ninjas. (What's a film about modern Japan without a few ninjas?)

Where Superman is invulnerable, the Wolverine (aka "Logan") is actually indestructible: He is a mutant who cannot die. A.O. Scott of The New York Times describes him as "a shaggy, soulful, perpetually roughed-up character."
(About that shaggy stuff: Sure wish that Jackman would lose the sideburns. In a movie with so many swords, daggers and even ordinary razors you'd think he could get a complete shave.

There's a lot of lucre in this movie: a tech-company fortune that could be increased or squandered depending on what's in the will and whether Mr. Yashida can persuade the Wolverine to play along.

Logan doesn't seem to care much about money, but that didn't stop me from teasing a few money lessons from the action.

Live simply, be ready for change
1. Pare down. In the opening scenes we see the disaffected Logan existing under a lean-to in the wilderness. If you lose your job or some other emergency occurs, scale back. Nobody's saying you have to camp in the woods, but maintaining the lifestyle to which you and/or your family have become accustomed is like digging your own grave with a credit card.

2. Don't dwell in the past. The Wolverine is haunted by visions of his deceased former love. Spending too much time mourning what you once had -- a nice house, a great job, an intact marriage -- can keep you stuck indefinitely. Yes, it's hard not to feel bitter or persecuted. But you can't reach out to new options unless you let go of old sorrows. On a similar note . . .

3. Reinvent yourself as needed. When offered a shot at mortality Logan flatly dismisses it as impossible. Suppose you get laid off, or you find that your money isn't stretching after retirement? Change -- a new career, continuing education, a part-time job -- may be the answer. Some people embrace change, and others have it thrust upon them; it isn't always easy but it may be necessary. You might be very, very surprised at what is possible.

4. Watch for hidden agendas. This is the corollary to tip No. 3: When other people suggest change they may not always be thinking about what's best for you. Maybe your cousin the stockbroker gives you an "inside" tip on a company but is hazy on the details. Or perhaps a  financial planner you met at the health club urges unmarried, child-free you to buy life insurance. Do your homework before you sink a lot of dough into something you don't fully understand.

Take charge of your life
5. Don't go it alone. The Wolverine may be the ultimate loner and tough guy, but this time around he has to accept help (and unorthodox help at that). Carrying more than your share at work means you're in a constant state of stress and anxiety. That goes double for your personal life. I once interviewed a guy who didn't want to "burden" his wife with details of their finances and who wanted his family to have the best of everything. They wound up tens of thousands of dollars in the hole when she found out, the first thing she said was, "Why didn't you tell me?" Now they're working together to pay it all off -- but they could have worked together to prevent it.

6. Break it down.
One of the movie's bad guys seems indestructible. (Really tall, too.) The Wolverine can't knock him down all at once so he has to take him apart piece by piece. Looking at a formidable challenge like consumer debt or major home improvement? Break it down into manageable chunks.
7. Your future belongs to you.
A major character lets her dad determine the course of her life, in part because saying "no" would affect his political career. Sometimes you have to go against what's expected: attending college in another state, say, or delaying parenthood until firmly established in a career. You may pay dearly, either literally or figuratively, if you live your life based on other people's expectations.


8. Slash ruthlessly.
At a crucial moment Logan injures himself in order to save the day. Desperate times call for desperate measures. If your books won't  balance it's time to cut some of the fat and frills. Your family might be able to adjust to life with just one car, and may not even miss the cable.


9. Soldier on.
At one point Logan is shot full of arrows attached to cables. He is slowed down and ultimately toppled by the strength and sheer weight of the enemy archers. Plenty of us feel dragged down by elements like inflation, debt, office politics (or, worse, unemployment), family needs and other life challenges. Keep at it. Even though some days are two steps forward and one step back, you'll be giving up even small chances at progress if you quit trying.


More on MSN Money
:
'
DATA PROVIDERS
Copyright © 2014 Microsoft. All rights reserved.
Fundamental company data and historical chart data provided by Morningstar Inc. Real-time index quotes and delayed quotes supplied by Morningstar Inc. Quotes delayed by up to 15 minutes, except where indicated otherwise. Fund summary, fund performance and dividend data provided by Morningstar Inc. Analyst recommendations provided by Zacks Investment Research. StockScouter data provided by Verus Analytics. IPO data provided by Hoover's Inc. Index membership data provided by Morningstar Inc.