Airline ticket prices will rise on July 21
TSA security screening fees will more than double this month, and increases in other fees may follow.
This post comes from Krystal Steinmetz at partner site Money Talks News.


If you're looking to save some money on your next flight, you need to book your ticket quickly.
On July 21, the Transportation Security Administration passenger screening fee -- also known as the Sept. 11 security fee -- will more than double to $5.60 per flight leg, with no cap, The Wall Street Journal said.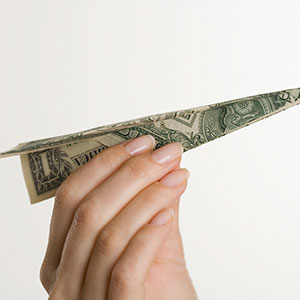 The current fee is $2.50 per flight segment, with a $10 per-ticket cap.
"So a trip with multiple stops that last longer than four hours could see a whopping TSA fee multiplying with each additional leg of the itinerary," the WSJ said.
What's more, it appears that more fee hikes are on the horizon for airline passengers. In addition to the TSA fee increase, airports want to boost their facility fee from its current limit of $4.50 per boarding to $8 per boarding. Plus, Customs and Border Protection is pushing for a $2 boost in its immigration fee on international tickets (from $7 to $9). The WSJ said:
"It seems like a little bit of an onslaught right now," said Sharon Pinkerton, senior vice president for legislative and regulatory policy at Airlines for America, the airline industry's Washington, D.C., lobbying group. "Policymakers see air passengers as an ATM."
According to The New York Times, the TSA increase will raise an additional $16.91 billion over the next decade. About 65 percent of the collected fees will fund security screenings. The remaining funds will go to the general fund.
What do you think of the increase in TSA fees?
More from Money Talks News
DATA PROVIDERS
Copyright © 2014 Microsoft. All rights reserved.
Fundamental company data and historical chart data provided by Morningstar Inc. Real-time index quotes and delayed quotes supplied by Morningstar Inc. Quotes delayed by up to 15 minutes, except where indicated otherwise. Fund summary, fund performance and dividend data provided by Morningstar Inc. Analyst recommendations provided by Zacks Investment Research. StockScouter data provided by Verus Analytics. IPO data provided by Hoover's Inc. Index membership data provided by Morningstar Inc.
LATEST BLOG POSTS
What does your credit report say about you?
A WisePiggy.com poll found that many Americans, especially older ones, do little or nothing to protect their credit scores and reports. See why you should check your credit history.