Americans have gotten smarter about credit cards
A Gallup poll indicates that Americans are relying less on credit cards than they have in the past.
This post comes from Krystal Steinmetz at partner site Money Talks News. 

Many Americans are taking the scissors to their credit cards or paying off their balances in full each month. It's a recent trend that indicates people may be getting smarter when it comes to credit cards.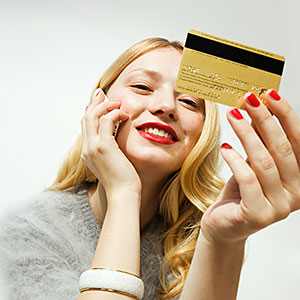 A new Gallup poll found that 64 percent of Americans said they always or usually pay the full balance on their credit cards each month.
That's a record number since Gallup first started tracking people's credit card habits in 2001.
The Gallup survey also includes these refreshing statistics:
No, thank you. Nearly a third of Americans reported not having a credit card at all. That's the most since Gallup started tracking the info. That number was at 22 percent in 2008.
Card count at all-time low. Gallup said Americans average 2.6 cards, which includes those people with no credit cards. "The figure among all Americans is the lowest Gallup has recorded," the survey report said. The average is 3.7 cards for credit card owners. Just 7 percent of Americans have seven or more credit cards.
Less debt. On average, Americans carry $2,426 in credit card debt, which is $500 less than 2008. But if you count only the credit card owners, the balance is a bit higher -- $3,573, which is $300 less than 2008, but $150 more than in 2006. "This suggests that the amount of overall debt for credit card owners has not changed much compared with 2006, and the decline among all Americans is mainly because fewer Americans own credit cards," Gallup said.
If you put all this information together, the message is clear: Americans are less reliant on credit cards now than in the past. Gallup said:
This suggests that credit cards -- a staple of American consumer life for decades -- might not be as vital a financial tool to individuals as they had been in the 1990s and 2000s, when Americans often used their credit cards to make ends meet.
Have your credit card habits changed since the Great Recession?

More from Money Talks News
DATA PROVIDERS
Copyright © 2014 Microsoft. All rights reserved.
Fundamental company data and historical chart data provided by Morningstar Inc. Real-time index quotes and delayed quotes supplied by Morningstar Inc. Quotes delayed by up to 15 minutes, except where indicated otherwise. Fund summary, fund performance and dividend data provided by Morningstar Inc. Analyst recommendations provided by Zacks Investment Research. StockScouter data provided by Verus Analytics. IPO data provided by Hoover's Inc. Index membership data provided by Morningstar Inc.