Experts' forecasts of rising rates: Just hot air?
Feeling hoodwinked because you panicked and got a mortgage at 4.5%? Rates jumped this summer, but the mini-bubble wasn't sustainable and rates fell.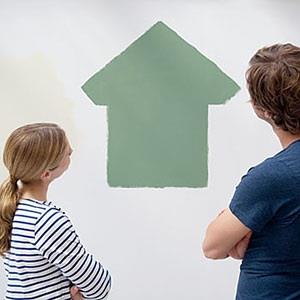 Did you succumb to the panic this summer over rising rates and get a mortgage at 4.5%?
I know I did, and I'm not happy about it. Borrowers this week paid an average of 4.32% for a 30-year fixed rate mortgage, according to Freddie Mac. The drop this week, from 4.5% last week, was "the biggest one-week mortgage rate improvement since June 2009," according to mortgage blogger Dan Green.
Zillow's survey found rates at 4.17%. Grrr. Was I suckered into panicking and buying high by all the experts predicting rates would just keep on rising? In just one week last summer, June 20 to June 27, the average rate on a 30-year loan shot up a half percentage point, from 3.93% to 4.46%. Wouldn't you know it? That was the week I signed on the dotted line.
What happened?
Experts are saying that rates fell this week because of the Federal Reserve's Open Market Committee's announcement, Sept. 18, that it will keep on stimulating the economy -- and keeping rates low -- by buying billions of dollars more in mortgage-backed securities and Treasury securities.
"The Committee decided to await more evidence that progress will be sustained before adjusting the pace of its purchases," the committee said. The plan is to continue pumping up the housing market until it's better able to stand on its own.
I'm happy for the few remaining Americans who can refinance and have not done it yet. And for the relatively small numbers of people buying homes right now. But knowing that I'd succumbed to fear that rates would keep rising and that I'd bought into a small bubble made me want to know more.
The summer's mini-bubble
I phoned Richard Booth, a certified mortgage banker whom I'd talked with when I was making the refinance decision. He had told me then that there was a good chance the sudden rise in rates was temporary. If I could hang on, he'd said, rates might fall back. But I felt nervous and wanted to move ahead with my refi.
Booth and I talked by phone this week. "Here's your chance to say, 'I told you so,'" I told him. He kindly declined to rub it in. "A lot of folks got caught in the same pinch you did."
He explained what he'd been thinking back in July. "The housing mini bubble was a result of pent-up demand, not a true recovery," he said. "There was a lot of favorable news coming out about the housing market's recovery, that home prices were going back up again.
"My thought, which was shared by a lot of other people in the industry was, 'This is all speculation. When you look at the employment numbers, consumer confidence and housing sales, the numbers aren't there.'"
The media, weary of bad economic news and looking for good news about housing, got too excited about the summer's rising home sales and prices than was justified. Great. The enemy turns out to be me, or at least my colleagues.
In Booth's opinion, it's too soon to call the housing slump over. To him, rising home prices mostly reflect a scarcity of homes for sale in the hottest markets and pent-up demand from the recession. Exciting, but not sustainable.

MIA: First-time buyers
What's needed is lower unemployment, bringing the national rate from the current 7.3% to between 5% and 6%, which the Federal Reserve considers normal. We've made strong progress from the sickening high of 10% unemployment reported by the Bureau of Labor Statistics in October 2009. But it's not time to party yet.
The crucial plays in the recovery are first-time homebuyers. The economy won't be OK until they're OK, Booth says. First-time buyers have historically made about 40% of home purchases, on average, over the past 30 years. Today, they're just 30% of the market, The Wall Street Journal reports.
"They can't find jobs. They're saddled with huge student loan debt. They're postponing their first home purchases, which is extremely alarming for anyone in the (housing) business," Booth says.
Without those first-time buyers, "you just get stuck at a marginal recovery environment," Steven Ricchiuto, chief economist with Mizuho Securities USA Inc., told The Journal.
More from MSN Money:
DATA PROVIDERS
Copyright © 2013 Microsoft. All rights reserved.
Fundamental company data and historical chart data provided by Morningstar Inc. Real-time index quotes and delayed quotes supplied by Morningstar Inc. Quotes delayed by up to 15 minutes, except where indicated otherwise. Fund summary, fund performance and dividend data provided by Morningstar Inc. Analyst recommendations provided by Zacks Investment Research. StockScouter data provided by Verus Analytics. IPO data provided by Hoover's Inc. Index membership data provided by Morningstar Inc.
LATEST BLOG POSTS
10 great kid gifts for less than $10
If your wallet is running on empty but you still have more shopping to do, we've got you covered. Here are 10 cool kid gifts that won't break the bank.