Are you ready for the next disaster?
Emergency preparedness doesn't have to cost a fortune. Right now, while the coast is clear, is the time to get ready.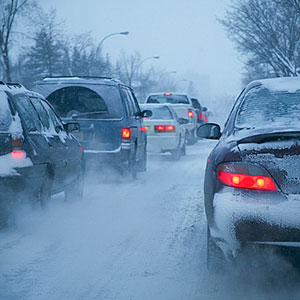 If the Old Farmers Almanac is to be believed, we're heading for a seriously cold and snowy winter. In addition, the National Oceanic and Atmospheric Administration has forecast an active hurricane season.

You can't do much about the weather except be ready for it. That's why the American Red Cross designates September as National Preparedness Month.
Not that preparedness is just about weather: The Red Cross urges being ready for floods, fire, earthquake and other dangerous situations.
How prepared are you? If you lost power and/or water for three days, would you be able to stay warm, fed, hydrated and reasonably clean?

The good news is that preparedness doesn't have to cost a fortune. The bad news? Plenty of us don't seem to bother, at least when it comes to natural disasters. Experts say that people view those differently than they do dangers created by humans (e.g., radiation or terrorist attacks).
"People are in the habit of just accepting whatever nature sends our way," says Paul Slovic, a psychologist at the University of Oregon.

The Department of Homeland Security recommends having enough supplies to survive for at least three days after an emergency. Right now, while the coast is clear, is the time to get ready for it, versus stumbling around in the suddenly dark apartment wondering if you still have a flashlight.

Fed and housed
The Red Cross suggests having two weeks' worth of supplies at home. A well-stocked pantry should suffice, provided you store food that can be eaten as-is or with minimal preparation -- stuff like peanut butter, crackers, canned foods, nuts, dried fruit, bouillon cubes, protein bars, instant or freeze-dried products.

Don't have much food on hand? From now on, buy at least one extra item (preferably on sale and with a coupon) every time you shop. If you're flush, ask the store manager for a discount if you buy nonperishables by the case. Make sure you have a manual can opener, too.

You also need to store water: one gallon per person per day. Either buy gallon jugs on sale or fill existing containers (lidded pitchers, two-litter soda bottles) with tap water, rinsing and refilling them every few months. Factor in water (and food!) for any pets you have.

Hot drinks are comforting but they aren't enough to keep you warm. You'll need sleeping bags for each member of the household; look for these at yard sales or thrift shops. Comforters or blankets could fill the bill until you get enough sleep sacks for everyone.
Inventory the household's supply of warm gear: hats, long underwear, wool socks. Don't have enough? Buy it gradually, either secondhand (I scored a fleece-lined Carhartt coat that way for about $4) or retail-but-on-sale. Or get creative: I bought wool socks and long-handles by cashing in rewards points. (See "
Get paid to do online searches
.")


Other must-haves
Stash some alcohol-based hand sanitizer; you might luck out at the dollar store. Discount shops are also a good place to look for baby wipes (just don't
flush them
) and disposable dishes and utensils (if you lose your water you can't wash dishes).
You'll need at least one bucket and preferably more than one, in case the city's sewer system is compromised or a power failure nixes your well pump. Should you live near a creek or pond you can carry water to flush your toilet.
If not? Use the buckets as your toilets. You'll want sturdy pails for this; look for free ones from delis, housepainters or anyone who buys laundry soap from warehouse club stores. They pop up on The Freecycle Network and the "free" section of Craigslist, too.
Another thing you'll want is money. Keep small bills and some coins on hand, because a widespread outage could affect credit/debit sales at places that do manage to open up.
It can be a little daunting to prepare for bad times, especially if you're already living on a tight budget. A good way to start is to remind yourself that (a) you don't have to pay for it all at once and (b) you probably already have some of this stuff.
Check cupboards, garage and closets and make a list, then make a second list of what you need. Be on the lookout via rummage sales, clearance racks, Freecycle and "curb mart," i.e., those piles of stuff people put out for general scavenging. You might find the sleeping bag or battery-powered radio you need for free or for very little money.


Readers:
Are you prepared? How did you keep costs reasonable? 


More on MSN Money:

DATA PROVIDERS
Copyright © 2013 Microsoft. All rights reserved.
Fundamental company data and historical chart data provided by Morningstar Inc. Real-time index quotes and delayed quotes supplied by Morningstar Inc. Quotes delayed by up to 15 minutes, except where indicated otherwise. Fund summary, fund performance and dividend data provided by Morningstar Inc. Analyst recommendations provided by Zacks Investment Research. StockScouter data provided by Verus Analytics. IPO data provided by Hoover's Inc. Index membership data provided by Morningstar Inc.