Best credit cards for overseas spending
Traveling abroad this summer? Here are the best cards to have in your wallet.
This post is by Curtis Arnold of partner site CardRatings.com.

Traveling abroad can be an eye-opening experience: the culture, the food, the architecture ... the credit card bill! Using a credit card when traveling can be a very convenient and useful practice, however, despite advances in international payment processing speed and security, many American banks still charge foreign transaction fees of 3% to 5% for purchases made outside the United States.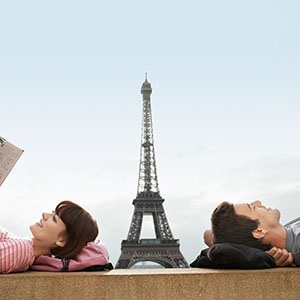 If you're planning your next trip overseas, the cards on this list can save you a significant amount of cash, since none of these cards charge a foreign transaction fee.

Capital One Venture Card
Capital One doesn't charge foreign transaction fees on any of its credit cards. That makes this bank's entire lineup of cash back cards and no annual fee accounts available for overseas use at no extra charge. If you prefer tracking down deals on discount booking sites instead of building status with a single airline or hotel chain, the Venture Card offers a consistent, 2% rebate good toward "erasing" travel purchases regardless of brand. With consistent use, you can earn much more per year in rebates than the cost of this card's modest annual fee.
Chase Sapphire Preferred
Chase's flagship rewards credit card ties your spending into the bank's Ultimate Rewards program, doubling points for travel and dining purchases while tripling points on airline tickets bought through the bank's booking system. Comprehensive roadside assistance and "global lifeline" benefits can help you survive major problems away from home. Chase waives this card's moderate annual fee for the first year, while adding a 7% bonus reward dividend on your account's anniversary date. Although Chase offers other travel rewards cards with no foreign transaction fees, the Chase Sapphire Preferred® card provides the most flexibility for rewards redemption throughout the year.
Citi Hilton HHonors Reserve Card
The Citi® Hilton HHonors™ Reserve Card lets Hilton HHonors members enjoy automatic Gold status and all of its associated perks. Complimentary internet access, late checkout privileges, and space-available upgrades can shave hundreds of dollars from your annual travel budget. Hilton's 10 hotel brands include everything from roadside lodges to luxury resorts, making it easy to earn and redeem bonus points. In addition to generous bonus reward point offers, you can cut down trip planning time with help from Visa Signature's concierge and dining programs. Plus, with an embedded EMV chip, you'll enjoy added security and convenience when traveling in Europe.
PenFed Platinum Rewards Visa
Pentagon Federal designed this card with military families in mind, but the Platinum Rewards Visa makes sense for anyone who really likes to hit the road. PenFed rebates a full 5% of your purchase price whenever you pay for gas at the pump. With no annual fee, no foreign transaction fee, and some strong travel insurance benefits, this card offers excellent value if you only make occasional trips outside the country. A relatively low variable APR and money-saving balance transfer offers make this a great addition to your portfolio.
American Express Platinum Card
Although the American Express Platinum Card's annual fee could give you some sticker shock, you'll enjoy some significant benefits when you charge reimbursable business expenses to this premium charge card. AmEx's online tools can easily separate your work-related charges from your personal purchases, although you'll earn Membership Rewards points on all your transactions. You'll gain access to an extensive network of airport lounges, regardless of the carrier you're flying or the status you've earned. Baggage credits can give you an excuse to bring even more souvenirs home to your family, while AmEx's expert travel advisers and personal concierges can help inject exciting side excursions into an otherwise boring business trip.
Discover it Card
Discover consistently wins awards for customer service and fraud detection, two important concerns for overseas travelers. Over the years, customers and competitors have noted that fewer merchants accept Discover outside the United States, compared to Visa and MasterCard. However, Discover's partnerships with JCB and China UnionPay have expanded the brand's footprint throughout Asia. Strong outreach campaigns have likewise brought Discover to more merchants in major cities across Europe and South America. With a consistent cash back rebate, some compelling quarterly bonus opportunities, and a growing acceptance rate outside the United States, Discover it™ could win its way into your travel wallet.
Regardless of which
no-foreign-transacti​on-fee
credit card you choose, you can maximize your travel experience by following a few key suggestions. First, concentrate your overseas expenses on a single card to maximize your card's fraud protection program. A mix of domestic and foreign charges on the same account while you're traveling can trigger a "false positive" and temporarily suspend your purchasing privileges.

Smart Spending on the go: Get our app for Android or iPhone
Next, alert your bank of your itinerary in advance, so they can watch for potential fraudulent activity. A "skimmer" in Europe can quickly sell your card's details to accomplices back in the U.S. If your bank knows where you're really at, they can defend you from abuse. Finally, carry a backup credit card from another issuer with you, but not in with your primary card. That way, if you're pickpocketed or if your wallet gets damaged, you can still make purchases while waiting for your primary card's replacement.
More from CardRatings.com:
DATA PROVIDERS
Copyright © 2014 Microsoft. All rights reserved.
Fundamental company data and historical chart data provided by Morningstar Inc. Real-time index quotes and delayed quotes supplied by Morningstar Inc. Quotes delayed by up to 15 minutes, except where indicated otherwise. Fund summary, fund performance and dividend data provided by Morningstar Inc. Analyst recommendations provided by Zacks Investment Research. StockScouter data provided by Verus Analytics. IPO data provided by Hoover's Inc. Index membership data provided by Morningstar Inc.