Chobani yogurt recalled
After handling complaints about the quality of its products on its own, the company, amid widespread criticism, announces an official recall.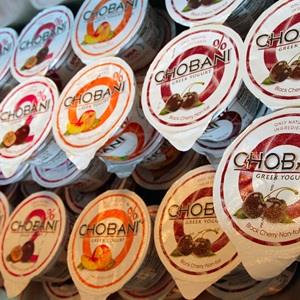 Updated 4:43 p.m. ET Thursday.
The U.S. Food and Drug Administration on Thursday announced the recall of dozens of different types of Chobani yogurt after widespread complaints about foul tastes, smells and bloated foil lids.


"The company has ceased the distribution of the product due to reports of product bloating and swelling and some claims of illness as the company continues its investigation to identify the root cause," the FDA said in a brief statement attached to the recall notice.

A full list of recalled items can be found here. The company claims most of the affected yogurt -- mold has been blamed for the problems -- is off of store shelves.

Chobani, the top-selling Greek yogurt on the market, had been quietly pulling its product from store shelves around the country after complaints came raining in about the obvious problems with the dairy product.

Nearly a week after the company acknowledged a problem on both its Facebook page and blog, Chobani finally announced a recall through the FDA.

Chobani, on its blog, had already identified the specific lots at issue.


The company wrote:
We've been diligently working with our retail partners and have voluntarily and proactively removed and replaced the majority of potentially affected cups with the code 16-012, expiration dates 9/11/2013 – 10/7/ 2013 (emphasis added) to ensure our fans are met with only the best experience when enjoying our products. In order to deliver upon our very rigid quality standards, we ask that if you've purchased cups with these code dates to contact our Customer Loyalty Team directly at

http://chobani.com/w​ho-we-are/contact

 so we can coordinate replacements.
But the FDA announcement is far more specific, detailing the flavors and types of yogurt involved.
On its Facebook page, Chobani had also acknowledged the problems that caused alarm among its customers, but fans pushed back and questioned the effectiveness of how the company has handled the situation.

"There is nothing more important to us than the quality of our products," Chobani posted to its
Facebook page
. "We're currently in the process of voluntarily removing some from shelves that simply weren't up to snuff."
Dozens of comments from consumers follow, many expressing disappointment. Some complained that the yogurt looked odd, tasted foul, or actually made them sick. But Chobani, which responded to many of the posts, indicated that the issue was quality control not health safety.
That posture, while perhaps intended to be reassuring, irked many customers, including many who said they had been brand loyal to the company that has led the Greek yogurt craze.
Here's one comment: "I have purchased yogurts, had them puff up, blow up, or just taste ugly a whole week, extra trips back to store, two days of being ill, and I have serious health issues...and your (sic) saying this isn't a food safety issue?"
Another self-professed fan was unhappy the company hasn't been more aggressive letting both consumers and stores know that there's a problem with some of its yogurt.
I have decided to not buy anymore (sic) until all of the consumers get some better information about what's really happening. I don't understand why there hasn't been a recall. Chobani states that they are working with their retail partners to remove the cups from the shelves that have gone bad, but I've been to about 5 different grocery stores over the past week that have about 20 completely bloated, ready to explode cups still on their shelves-even as late as today.


More from MSN Money:
DATA PROVIDERS
Copyright © 2014 Microsoft. All rights reserved.
Fundamental company data and historical chart data provided by Morningstar Inc. Real-time index quotes and delayed quotes supplied by Morningstar Inc. Quotes delayed by up to 15 minutes, except where indicated otherwise. Fund summary, fund performance and dividend data provided by Morningstar Inc. Analyst recommendations provided by Zacks Investment Research. StockScouter data provided by Verus Analytics. IPO data provided by Hoover's Inc. Index membership data provided by Morningstar Inc.