Expect the unexpected: Tips for better budgeting
Budgeting doesn't have to be more painful than a trip to the dentist. Here are 7 ways to make your budget effective and stress-free.
This post comes from Rob Berger at partner site the Dough Roller.

The cornerstone of financial freedom is spending less than you make.  While the concept is simple, achieving the goal is far from easy.  Most experts recommend keeping a monthly budget in order to gain control over spending.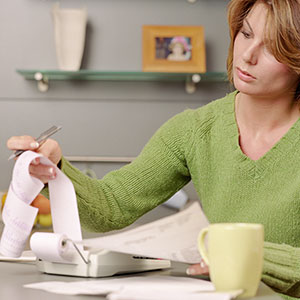 Budgeting, however, can often turn into a stressful exercise with little results.  Clinging to out-dated notions of budgeting, we become exhausted trying to track every dime we spend.  In some cases, we enlist online tools that track expenses automatically, but we don't use the tools to effective changes in our spending habits.
To tackle these issues and to transform our budget into an effective and stress-free tool, here are seven tips.
Tip No. 1: Understand why you are budgeting

Budgeting without purpose is a waste of time. There are several important reasons to budget, but keep in mind that everybody's financial circumstances are different. Some may budget to make sure they can pay all of their bills. Others budget to make sure they have extra money to fund retirement or pay down debt. The key is to identify why you are budgeting.
One approach is to ask the following question: "If my budget is successful, I will be able to _________." Your answer to that question will tell you why you are budgeting and how to know when you're budget is meeting your financial needs.
Tip No. 2: Budgets are useless without execution
How many times have you set up a budget in Excel or your favorite budgeting tool and then completely forgotten about it? Many times setting up the budget makes us feel like we are doing the right thing, but it doesn't have any meaningful effect on how we spend our money. Budgets alone are useless; we need to execute on the plan.

Tip No. 3: Pay yourself first
A very effective budgeting strategy is to set aside savings as soon as you get paid. By doing so, you avoid the temptation to spend that money later in the month. You also aren't fooled into thinking you have more money available to spend than you really do.
The pay yourself first strategy can also be used to tackle debt. If you plan to have extra money to put toward credit card debt, for example, don't let that money sit in your checking account until your payment is due. Make the payment immediately.
Tip No. 4: Budget monthly for periodic expenses

There was a day when our car insurance bill drove me up a wall. Even though it came at the same time twice a year, it took me by surprise every time. It also put me in a bad mood for a day or two.
There are a lot of expenses in most budgets that aren't monthly. In addition to car insurance there's life insurance, vacations, gifts, property tax, and estimated taxes for some. The way to handle periodic expenses is simple.
Add up the annual cost for all of your periodic expenses. Then divide by 12 and set this amount aside each and every month. We put our cash for periodic expenses in a high yield savings account. Others keep the money in their checking account. Whatever you choose, you'll have the money the next time the car insurance bill surprises you.
Tip No. 5: Expect the unexpected (emergency fund)
There are some expenses you know are coming, but you don't know when or how much. Home and car repairs are a perfect example. Here there is some guess work involved: We make the best estimate we can of how much to set aside each month. With enough experience, you'll be able to make reasonable estimates for these expenses. And even if you come up short, at least you'll have some of the cash you'll need to handle these unexpected costs.
Tip No. 6: Budget for big items
Budgets often neglect the big purchases, like a car, that we know will eventually hit us. It's a great feeling when you can pay cash for car. While some may view this as unrealistic, with a little planning it's possible.
The last car I purchased was a used Toyota Camry. We paid cash. The trick is to start setting aside money for your next car now. Even if it's years away, setting aside just a little bit of money each month now will enable you to pay cash when the day comes. The same is true with any other big purchase you plan to make.
Also:  Learn other personal finance tips during the 31-Day Money Challenge
Tip No. 7: Try the 3-category budget
Many people avoid budgets for one reason -- the thought of tracking every dime they spend is just unbearable. If that's you there is a simple solution: Don't. For many, there is no need to track every category of spending.
Remember to think back on why you are budgeting in the first place. If it's to control your spending, figure out what spending areas cause you the most trouble. If you are like most, you can probably narrow it down to three categories or fewer. Then just track those three categories of spending.
More from the Dough Roller:
DATA PROVIDERS
Copyright © 2014 Microsoft. All rights reserved.
Fundamental company data and historical chart data provided by Morningstar Inc. Real-time index quotes and delayed quotes supplied by Morningstar Inc. Quotes delayed by up to 15 minutes, except where indicated otherwise. Fund summary, fund performance and dividend data provided by Morningstar Inc. Analyst recommendations provided by Zacks Investment Research. StockScouter data provided by Verus Analytics. IPO data provided by Hoover's Inc. Index membership data provided by Morningstar Inc.