Find food that's free for the picking
Boost your budget and tantalize your palate with wild and cultivated fruits, nuts, vegetables, herbs, mushrooms and greens.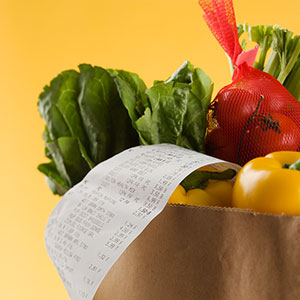 While out walking recently, my partner and I saw an admirable stand of rhubarb. The homeowner happened to be out in the yard, so we complimented him on his green thumb.
"Feel free to take as
much
as you want," he said, with something like desperation in his voice. Seems the rhubarb came with the house, and no one in his family eats the stuff.
We cut 10 pounds' worth of stalks, and you could hardly tell we'd taken any. Right now I'm out of town but when I return I'll knock at that door again. Later this summer he'll get homemade raspberry-rhubarb jam as a thank you.
The raspberries will come from several feral patches I've scoped out in the neighborhood. I also hope to pick wild Alaska blueberries and lowbush cranberries (aka lingonberries). Both of those grow close to the ground and in small quantities -- a far cry from 
the abundant Seattle blackberries
that I used to pick each summer.
But a true forager focuses on the positive: It's still free food. Fresh, too, because you know exactly when it was harvested.  
Foraging/gleaning lets you boost your budget and tantalize your palate with gratis fruits, mushrooms, nuts, herbs, wild greens and maybe even vegetables. Jeff Yeager, who blogs at
The Ultimate Cheapskate
, has found zucchini and asparagus growing in ditches and along roadsides. As a child I found asparagus growing in the field behind our home, either from previous commercial plantings or someone's long-ago kitchen garden.
Gleaning is not only free, it's fun. "Any regular forager can share
the feeling of intense excitement
 you get when you spot something edible that you weren't expecting to come across," says an at-home mom named Penny who blogs at Penniless Parenting.


A network of gleaners
Serendipity is great but keeping your eyes peeled is a much surer bet. Notice which front yards are littered with dropped oranges or plums. Watch for where berries have jumped the fence, where wild greens are plentiful, where mushrooms pop up after heavy rains.
Caution is essential when gathering non-cultivated comestibles. Some people feel confident using field guides to local wild edibles; if that's you, please get an edition with color photos. When you pick close to roadsides consider that chemical runoff (oil, antifreeze) or pesticides spray might affect your pickings.
Myself, I'd look for organized groups that harvest mushrooms or wild plants, on the theory that they're still alive so they must know what they're doing. It would certainly help if a local expert on such plants were leading the expedition.

Or look for a gleaning network.  The Urban Edibles website lists gleanable fruits, berries and nuts in Portland, Ore. A site called Fallen Fruit compiles maps of "food resources" in the Los Angeles area.

A nonprofit called Village Harvest lists gleaning programs in nine U.S. states and one Canadian province. The Toronto-based Not Far From the Tree organizes volunteers to pick fruit that homeowners can't use; some goes to food banks but anyone who picks gets to take home a share.

I've had some luck with The Freecycle Network, both from homeowners putting in "Come get this stuff!" ads but also from putting in ads of my own. (Again, I took jam to the folks who shared.)

Or just put it out in the universe that you'd be happy to take unwanted produce. (Some gardeners, temporarily maddened by the return of spring, put in half a dozen zucchini starts where one or two would have sufficed.) Hint: Offering to weed for half an hour might increase your chances of getting fresh stuff.

The rules of the game
Don't forage from vacant lots or stroll into the woods unless you've gotten specific permission from the landowner. It may also be illegal to glean from city, county, state or federal land. For example, New York City officials actively discourage foraging in city parks.

A tree branch overhanging the alley is technically fair game, but you still might want to ask permission. Rather than knock on the door and put the homeowner on the spot, leave a note asking permission to glean any unused produce. Offering something like homemade jam in return might sweeten the deal, as it were.

You may or may not hear back. A front yard littered with fallen fruit might look like a huge waste. But not every homeowner wants to open himself up to the liability of having a stranger on the property.

Gleaning isn't limited to country dwellers, incidentally. Nut and fruit trees grow on some college campuses and in city yards, parks and rights-of-way. Berry vines can take hold in tiny plots of earth. Again, it's important to find out whether you're allowed to pick and enjoy those cherries, or to make jelly from the crabapples.

A couple of days ago I spotted not-quite-ripe black raspberries in a New York City park. Perhaps some sharp-eyed Manhattanite will have himself a lovely dessert a week from now when the park rangers aren't looking. That is, if the birds don't get them first.

More on MSN Money:

DATA PROVIDERS
Copyright © 2014 Microsoft. All rights reserved.
Fundamental company data and historical chart data provided by Morningstar Inc. Real-time index quotes and delayed quotes supplied by Morningstar Inc. Quotes delayed by up to 15 minutes, except where indicated otherwise. Fund summary, fund performance and dividend data provided by Morningstar Inc. Analyst recommendations provided by Zacks Investment Research. StockScouter data provided by Verus Analytics. IPO data provided by Hoover's Inc. Index membership data provided by Morningstar Inc.