Find or fill a holiday gift basket for less than $25
Give the gift of a holiday basket filled with low-cost items the recipient will enjoy. We have suggestions for shopping online or creating your own.
This post comes from Elizabeth Sheer at partner site Cheapism.com.



Everybody loves getting a gift basket, filled as it is with many small things. At holiday time retailers often bundle together similar products to make gift-giving more efficient and perhaps sell a bit more along the way. Inexpensive gift baskets also are suitable for recipients you don't know very well but must acknowledge with more than a trifle -- think clients, customers, distant relatives, and the like.
But even if intended for those near and dear, it's hard to go wrong with a cheap gift basket. One of the more appealing aspects of such offerings is that they deliver more than a fleeting presence. The basket itself can be re-purposed in a variety of ways and may have contained a bag, tray, mug, or some other item that can be used indefinitely; baskets filled with food can be enjoyed at leisure.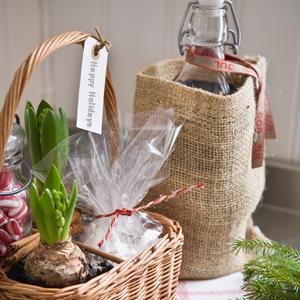 Gift baskets are often food-oriented and tend to be pricey. Locating one that costs less than $25 takes some sleuthing, but it is possible. You'll pay shipping if you buy online, and that ups the price ante -- sometimes by a lot. On a $25 gift basket, shipping might run another $8. 
Gift Baskets
offers a range of frugal choices. At this cheaper end you'll find small boxes (rather than baskets) replete with sweets like Ghirardelli chocolates and apples covered with caramel, chocolate, or other toppers. You'll also see are more inventive options: a pink or blue pail filled with diapers, receiving blanket, and washcloth in the shape of a cupcake ($24.99), for example, or a reindeer tote brimming with Mrs. Fields cookies ($19.99).
For the foodies on your list,
iGourmet
stocks an assortment of treats that can be had for $20 or less. We spotted a collection of Scottish teas ($15.99), a trio of vinegars from Modena ($19.99), and a box with Vermont maple syrup and pancake mix ($19.99).
Even the venerable
Harry & David
, famous for its fruit baskets and "tower" stacks of goodies, sells several holiday gift baskets for less than $25. You can add to the merriment at a cocktail party with a hostess gift of snacks (crackers, salami, cheese, nuts, and Moose Munch popcorn) that pair nicely with wine and costs $19.95, or augment the cheese and crackers concept with a gift box that also includes four jars of pepper and onion relish for $24.95. 
Most of the gift baskets and gift towers at
Fanciful Gift Baskets
cost well over $50. We found one with a $19.95 price tag: the Glitter Snowman Tower with a lemon snowball cake on the bottom, chocolate chip cookies in the middle, and shortbread on top.
There's more to holiday gift baskets than food, of course. Gardeners spend the winter dreaming of spring, so offer up herbs in a pot that grow indoors while perking up the weather-inspired doldrums. For $19.95 you can order three windowsill-size pots with a choice of culinary herbs from
The Urban Farmer
. Other e-commerce sites, like Build-a-Basket and Design It Yourself, let you select a basket and the items to throw in. The attractively-packed result is then shipped, free of charge. The catch: Both services charge hefty fees.
With a little ingenuity and a few minutes of shopping, however, you can prepare a gift basket on your own and keep it cheap. Buy a basket at the dollar store and head over to a local gourmet shop or any retailer that specializes in items the recipient would like. For a movie fan, fill a holiday basket with a gift card from the nearby multiplex, a few bags of microwave popcorn, and a box of Raisinets. Tea lovers will enjoy an old (non-chipped) cup and saucer retrieved from a second-hand store and accompanied by a selection of teas and maybe a scone or two. A spa basket filled scented soaps and candles, a loofah, and some tiny tubes of lotion is especially welcome at holiday time when everyone is so frazzled. Wrap the whole in colorful cellophane, and voila -- a cheap holiday gift basket.
How will you fill gift baskets this year?
More from Cheapism.com:

DATA PROVIDERS
Copyright © 2014 Microsoft. All rights reserved.
Fundamental company data and historical chart data provided by Morningstar Inc. Real-time index quotes and delayed quotes supplied by Morningstar Inc. Quotes delayed by up to 15 minutes, except where indicated otherwise. Fund summary, fund performance and dividend data provided by Morningstar Inc. Analyst recommendations provided by Zacks Investment Research. StockScouter data provided by Verus Analytics. IPO data provided by Hoover's Inc. Index membership data provided by Morningstar Inc.