How to watch sports without cable
The cable companies don't make it easy, but there are a growing number of ways you can get your sports fix without the pricey cable bill.
This post is by Aaron Crowe for partner site Wisebread.

One of the first things I discovered when cutting the cable TV cord -- and something I hadn't planned enough for -- was how to watch live sports without having a cable bill to pay.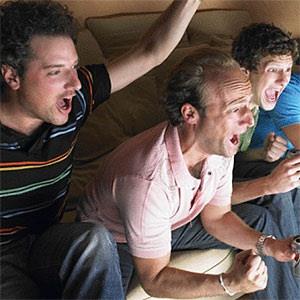 Cutting the cable cord will save you money, but if you're a sports fan, you'll likely spend a month or two of savings on a season package for your favorite sport. For me, it was baseball. But I still couldn't follow my local teams.
The MLB.TV season package that I bought for $100 before the baseball season started worked well on our Roku to stream games to the television, but games of our local teams were blacked out. They were available for streaming after the game, but I'm not excited about having to avoid the final score before watching a game that is long over.
Luckily, I'm also a fan of a team that's far from where I live, so I watch those games live and get my baseball fix that way.
Unless you're going to a friend's house or a bar to watch a game live, you'll likely run into the score; a friend may blab it on Facebook, or you'll see it on your smartphone, hear it on the radio, or see it somewhere. Facebook and Twitter are especially important to avoid if you don't want to know the score before you watch a delayed game. When Matt Cain pitched a perfect game for the San Francisco Giants last year, it was all over the internet and knowing the outcome took away the excitement of watching the game on MLB.TV after it was over.
I'm not about to spend a few hundred dollars on a big outdoor antenna to get free over-the-air broadcasts of games by the local baseball teams, so I'm out of luck if I want to watch games live as they happen. In my area, at least, an indoor antenna didn't work well; the site
AntennaWeb
can help you find what signals are available near you. For now, I either listen to local games on the radio or follow them pitch by pitch online.
While I only have personal experience with with Major League Baseball, several other sports offer non-cable packages, including:
The 2012 NCAA March Madness men's basketball games cost only $4 for all 67 games of the tournament on computers, iPads, and other mobile devices, according to the
Kick Out Cable website
. This year there are some limiting caveats as well. The games were free in previous years, though if it again costs only $4 for the entire tournament, it beats paying a monthly cable bill.
With all of these options, you'll need to pop for a fast internet connection. Without it, watching anything will be difficult.
It's no fun turning around after getting rid of cable TV and giving your money to someone else so you can watch sports, but you'll still save more money by watching exactly what you're paying for instead of paying for a potpourri of sports programming you rarely watch. I'm not an NFL fan, but I'll gladly pay for a season of baseball.
And chances are that if you've cut the cable cord, you're going to cut other related costs to save money and can use some of that extra savings to pay for a sports package or two. A survey by TechBargains.com found that people who have disconnected their home telephone service are twice as likely to also cut the cable cord. One in three who discontinued cable or satellite services said they wouldn't return regardless of the price.
So if you're looking for incentive to cut cable and buy a season of your favorite sport, it's reassuring to know that plenty of people have done the same thing and aren't returning to cable or satellite service.
Smart Spending on the go: Get our app for Android or iPhone
And if that doesn't work, go to your local sports bar whenever a big game is on. Just be prepared to spend some money on other forms of entertainment while you're there.

More from Wisebread:
DATA PROVIDERS
Copyright © 2014 Microsoft. All rights reserved.
Fundamental company data and historical chart data provided by Morningstar Inc. Real-time index quotes and delayed quotes supplied by Morningstar Inc. Quotes delayed by up to 15 minutes, except where indicated otherwise. Fund summary, fund performance and dividend data provided by Morningstar Inc. Analyst recommendations provided by Zacks Investment Research. StockScouter data provided by Verus Analytics. IPO data provided by Hoover's Inc. Index membership data provided by Morningstar Inc.