Is your savings strategy broken?
Often there's a disconnect between what gives us the most joy and what we think we want. Once you've saved up for something, you'll want to spend the money without regret.
This post comes from Gerri Detweiler at partner site Credit.com.


Last year, I extended a business trip to Las Vegas by a couple of days so my husband could join me for a mini-vacation. We had never been to Vegas together and were really looking forward to a few days of sightseeing. But after one show and an afternoon fighting the crowds on the Strip (in record heat, no less), we were done. Fortunately, a friend had recommended we check out some nearby parks, and we ended up spending a couple of days hiking, enjoying some spectacular scenery. It was the least expensive part of our trip, but by far the most memorable.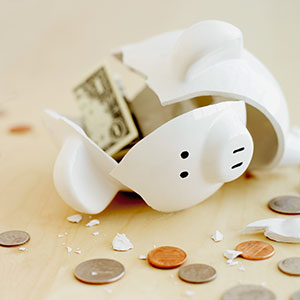 Have you ever had a similar experience? Either something you thought you had to have or do turned out to be a letdown, or something unexpectedly turned out to be the best money you've spent?
It's something to keep in mind as you are setting your goals for 2014.
What do you really want?
A survey by Chase Blueprint and AOL found that consumers often have different spending priorities. Understanding your priorities is the first step to setting goals you're motivated to achieve.

Experiences vs. things
Although 93 percent of Americans agree, "experiences are more important to me than material things," certain things are more important to some consumers than others. For example, the survey found that the majority of respondents (61 percent) said they would rather have a top-of-the-line TV over monthly tickets to a concert of their choosing. Men are much more likely to prefer a cutting-edge TV, whereas women are more evenly split on this tradeoff.
And when given a choice between an everyday luxury like gourmet coffee every day versus a one-time event, like tickets to a premiere event (think the biggest football game of the year, or the annual movie awards program), the majority of Americans (70 percent) chose the bigger-ticket item. Women were somewhat more likely to choose gourmet coffee everyday than men (33 percent versus 27 percent).
And given a choice between a personal improvement and a home improvement, more than three-quarters of Americans (77 percent) chose to have their bathroom remodeled rather than have their teeth whitened.
Certain experiences -- those "once in a lifetime" types of events -- can be worth saving for, provided they are important to you. But purchases that make your day-to-day life more enjoyable can also have a long-term payoff.
Set smaller goals
One goal-setting strategy is to break up big goals into smaller, more achievable ones. In fact, the survey found that most Americans (71 percent) would rather spend their money on multiple cheaper items than fewer, more expensive designer pieces (29 percent). And three-fifths of consumers would rather take multiple weekend getaways as opposed to one longer vacation per year.
Saving for smaller goals throughout the year can be less daunting, and the payoff comes more quickly.
No regrets
One way to set your saving and spending priority goals for the year is to look back. Review your credit card or bank statements from a year ago -- or even two years ago -- and think about which purchases brought you the most pleasure, and which ones were less important.
Saving for goals rather than going into debt also helps. Set a specific time frame and budget, and have money automatically transferred from your checking account to a savings account.
If you wind up financing a purchase, make sure you have a specific plan for paying it off in a reasonable period of time. Chase Blueprint offers a feature cardholders can use to create a plan to pay off their balance in a set period of time. Chase reports that 90% of Blueprint customers stay committed to the plans they set up. If you don't have access to that tool, you can use an online calculator to figure out how much you need to pay each month to pay off your balance in a certain number of months, then set up automatic payments for that amount.
Whether you decide to splurge on something big or go for smaller, more frequent purchases, you will probably feel a lot happier about what you bought if you have saved in advance, and don't have to worry about how you'll pay for it.
The Chase Blueprint-AOL survey is an online survey of a nationally representative, randomly selected sample of 1005 adults ages 25-64. It was conducted September 20-23, 2013. The margin of sample size error is plus or minus 3.1 percentage points at a 95 percent confidence interval.
More from Credit.com:
DATA PROVIDERS
Copyright © 2014 Microsoft. All rights reserved.
Fundamental company data and historical chart data provided by Morningstar Inc. Real-time index quotes and delayed quotes supplied by Morningstar Inc. Quotes delayed by up to 15 minutes, except where indicated otherwise. Fund summary, fund performance and dividend data provided by Morningstar Inc. Analyst recommendations provided by Zacks Investment Research. StockScouter data provided by Verus Analytics. IPO data provided by Hoover's Inc. Index membership data provided by Morningstar Inc.