Love summer's flavors? Enjoy them all year
A live webcast on Saturday will show real-time home food preservation. Trust us: Canning, freezing and dehydrating are easier than they look.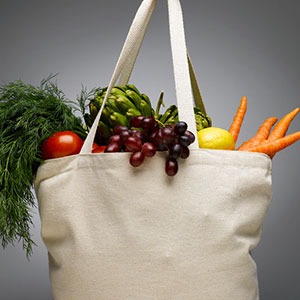 Farmers' markets, produce stands and supermarkets are brimming with fresh produce right now. The flavors of wintertime fruits and vegetables just aren't the same. So why not keep some of summer's flavor by preserving it?

If you weren't raised by parents who presided over vats of preserves or canners full of green beans, you might think home food preservation is some kind of mysterious art. It isn't.

Often it's a simple matter of "getting your food hot and into jars and just simmering for a while," says food writer Ted Allen, who will host "National Can-It-Forward Day," a live Saturday webcast of food preservation techniques and craft activities.

Canning, freezing or dehydrating summer's bounty is a great way to avoid chemical additives and excess sodium. You know exactly what is -- and isn't -- in your food.

But can it save you money?

Almost certainly. Produce is abundant at this time of year, and deals can be had even if you don't live next door to a farmer. (More on that below.)

Extra frugal points if you have a big backyard garden, but even city people can grow their own: Allen just pulled in a bumper crop of tomatoes from the rooftop garden of his Brooklyn home. He'll refresh his preservation techniques in his own kitchen before Saturday, when he'll be demonstrating real-time tomato canning (including a slow-cooked tomato sauce, aka "Sunday gravy").

"It's a great way to preserve seasonality. There's not a time in the year when I don't want tomato flavor," says Allen, a cookbook author and host of "Chopped," the Food Network's chefs-race-the-clock​ program.

Times have changed
"Can it Forward," which can be viewed from 10 a.m. to 2 p.m. ET on Saturday via the above link, is sponsored by Jarden Home Brands, the company that makes Ball® Brand home canning products. Sales have risen 31% since this time last year.

Allen attributes this to several factors: frugality, the move toward eating locally, concern about additives and an appreciation of quality foods. Home preservation has become "quite popular with young food hipsters," he says.

Techniques have changed -- for the better -- since grandma's day. New methods have dramatically reduced the potential for botulism, a rare but potentially fatal form of food poisoning.

Nearly 50 outbreaks of botulism caused by home-canned foods were reported to the Centers for Disease Control between 1996 and 2008. Of those, 38% were from vegetables.
Using boiling water instead of a pressure canner for certain items "
can be deadly
," warns Elizabeth L. Andress, a University of Georgia professor and food safety specialist.
Don't be afraid. Driving a car is pretty dangerous, but most of us manage because we follow basic rules. The same is true for food preservation.


Help for the beginner
Start with a simple product and process, e.g., freezing -- but there are rules for that, too. For example, blanching vegetables will halt enzyme actions that otherwise would make the finished product mushy and unappetizing, and an ascorbic acid solution will keep peaches or nectarines from browning.

Where do you learn all this stuff? Try these sources: 

The Internet is, of course, a terrific resource. Someone recently told my life partner about rhubarb pickles. We found a simple recipe online (balsamic vinegar, kosher salt, sugar, cloves) and were delighted by the result. Tonight we'll be cutting the last of the rhubarb and putting it up in that spicy brine.

I tweaked the recipe by using half balsamic and half white vinegar bought in bulk at Costco. The pickles still taste great and they're considerably cheaper.

Some other frugal hacks for home food preservation: 

Thrift stores and yard sales. I've spent as little as 15 cents per canning jar at thrift stores and found lifters and funnels that way, too. (Frugal tip: Watch for half-price sales at thrift stores.) One yard-sale proprietor offered me eight boxes of canning equipment for $10; it turned out to be 110 half-pint and pint jars, 37 unused lids and 78 rings. But the best deal I ever got was a couple of boxes of gratis jars from The Freecycle Network. 
Recycled pickle brine. When a jar of gherkins is empty, add a sliced cuke to the liquid and you'll soon have pickles. Or add other types of veggies; my young nephew is fond of thinly sliced carrots marinated in garlic dill brine. (I fished out and replaced the garlic cloves and added sprigs of dill from our garden to refresh the flavors.)
Save other jars. When I was a kid we used old peanut-butter or pickle jars for freezer jam (leaving space for the jam to freeze). These days I use the jars to store Asian greens, kale and spinach that we've dehydrated, or for making refrigerator pickles.
Coupons: Each year I see coupons for canning jars and lids. Watch for sugar coupons if you plan to make jam; you'll need a lot of sweetener.
Pectin-free preserving: I make jam without using a product like Sure-Jell. You have to cook the fruit a bit longer, but it saves you a couple of dollars per batch. (The National Center for Home Food Preservation site features pectin-free recipes.)  

How to get the goods

Farmers' markets are great sources but they can be pricey. Fortunately there are other ways to get produce:

Gleaning. Blackberries grow everywhere in Seattle; here in Anchorage we've found patches of raspberries that jumped the fence, and I plan to pick wild lingonberries after the first frost. Some people have more zucchini or plums than they can use and put up "come get this stuff"  ads on Freecycle or Craigslist. Put the word out through friends or social media that you're interested. If you see a tree that's dropping fruit, leave a note to ask for picking privileges. (Offer a jar of whatever you're preserving in exchange for the favor.)

Produce auctions. I once interviewed a very thrifty woman from upstate New York who visits an Amish produce auction to buy items she doesn't grow herself; she has to buy large quantities, but the discounts are quite deep. See if produce auctions (Amish or not) operate in your region. You can always split the take with like-minded friends.

Tail ends. If your local farmers' market sells topped beets, ask if you can have the discarded greens. Dice and freeze them in ice-cube trays to add nutrition and color to winter soups and stews.

Seconds and must-sells. The not-ready-for-prime-​time tomatoes cost less, and peaches that are super-ripe must be sold or lost. A produce store down the street from my Seattle apartment was willing to deal on these imperfect (but still delicious) foodstuffs. Orchardists near my old hometown sell "deer apples" (windfalls) very cheaply; a relative of mine bought them, cut out any bruises and canned a year's worth of applesauce at a considerable discount.

Bargaining. Drop by the farmers' market half an hour before closing. Sellers might not want to pack up and transport unsold produce, so make an offer for all the leftover green beans or cherries. Or try bartering: That woman who goes to the Amish produce auction has successfully traded her home-canned products for unsold produce at her local farmers' market.
You'd be surprised how easy home food preservation can be. Even a simple jar of refrigerator pickles or fruit jam will impress your guests and boost your confidence. Soon you'll be making Sunday gravy with the best of them.

Readers: Do you can, freeze or dry produce -- and if so, is it for the taste or the savings?

More on MSN Money:

DATA PROVIDERS
Copyright © 2014 Microsoft. All rights reserved.
Fundamental company data and historical chart data provided by Morningstar Inc. Real-time index quotes and delayed quotes supplied by Morningstar Inc. Quotes delayed by up to 15 minutes, except where indicated otherwise. Fund summary, fund performance and dividend data provided by Morningstar Inc. Analyst recommendations provided by Zacks Investment Research. StockScouter data provided by Verus Analytics. IPO data provided by Hoover's Inc. Index membership data provided by Morningstar Inc.