Memorial Day road trip? Don't forget your credit card
Here are five smart ways to use your credit card when you hit the open road this holiday weekend.
This post comes from Lucy Lazarony at partner site CardRatings.com.


After a long, cold and stormy winter, most Americans are planning to hit the road for some summer travel adventures.
According to TripAdvisor, 89 percent of Americans are planning a summer leisure trip and 34 percent are planning a Memorial Day weekend getaway.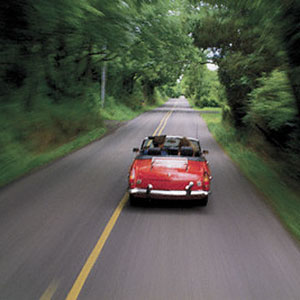 Where are they headed? Beaches and cities top the list, and 71 percent of Americans say they will be traveling somewhere new this summer.
Of Americans kicking off their summers with a travel adventure over Memorial Day weekend, 74 percent will be traveling by car.
Make the most of your credit card benefits this Memorial Day and whenever you are on the road this summer.
Earn rewards. Got a gas rewards card? Take it with you. You'll save money at the pump and earn some nifty cash-back rewards. The longer your road trip, the more you'll be spending on gas so you might as well be rewarded for all your time out on the road this summer.
Get roadside assistance. Nobody wants to think of a breakdown or a flat tire on the road but they happen. Many credit cards offer free roadside assistance. So your summer travel plans won't have to be interrupted for too long with an assist from your credit card issuer. Review the travel benefits of each of your credit cards before you hit the road, and be sure to pack the card that will help you out for free if you get in a jam out on the road.
Get covered at the rental car counter. Worried about physical damage or theft to a rental car or van during a long family road trip? Your credit card may have you covered. Many issuers offer their own auto rental insurance so you can turn down the expensive collision loss/damage waiver being offered by the rental car company. Check out the auto rental insurance coverage of each of your credit cards and choose the card with the most generous auto insurance protection and use it to reserve and pay for your rental car.
Share your travel plans with your card issuers. Don't forget to call your card issuers before you leave. Let them know your travel dates and destinations so they will know that's really you taking in the sights of a faraway city or soaking in the sun on a distant shore. Otherwise, your vacation may be interrupted by a phone call from the fraud department from your bank. And some issuers may even shut off your card if they suspect fraudulent activity.
Cash in on quarterly rewards categories. Planning a road trip later this summer? Be sure to sign up for 5 percent quarterly rewards on cash-back cards before you hit the road.
Both Discover and Chase Freedom are offering 5 percent cash back on up to $1,500 in combined purchases between July 1 and Sept. 30, 2014, but you'll need to activate in order to get 5 percent on these purchases. Sign-up for the Discover quarterly offer begins June 1. Sign-up for the Chase Freedom offer kicks off on June 15.
More from CardRatings.com:
DATA PROVIDERS
Copyright © 2014 Microsoft. All rights reserved.
Fundamental company data and historical chart data provided by Morningstar Inc. Real-time index quotes and delayed quotes supplied by Morningstar Inc. Quotes delayed by up to 15 minutes, except where indicated otherwise. Fund summary, fund performance and dividend data provided by Morningstar Inc. Analyst recommendations provided by Zacks Investment Research. StockScouter data provided by Verus Analytics. IPO data provided by Hoover's Inc. Index membership data provided by Morningstar Inc.