Protecting military consumers
The nation's servicemen and women protect the country, but they are often targets of fraud at home.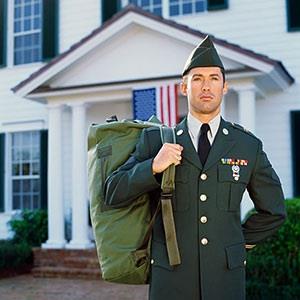 Members of the U.S. armed forces not only have a target on their backs when they're in hostile territory, they're frequent targets of scams right here at home -- taken advantage of by con artists who understand the unique challenges they face.

Those who identified themselves as part of the military filed more than 62,000 complaints with the Federal Trade Commission last year. The top category in which military members were victimized, by far, was identity theft. Others include problems with debt collectors, so-called imposter scams, as well as scams involving phony prizes that often demand payment in advance to collect the "winnings."
To help prevent victimization of military members and help members better manage their finances, Wednesday has been named
Military Consumer Protection Day
. The day is being backed by the FTC, Department of Defense, Consumer Financial Protection Bureau, and Military Saves, along with about two dozen other groups and government agencies.
The effort that starts tomorrow is supposed to carry on throughout the following year.
"Military Consumer Protection Day gives us an opportunity to focus on the service members, veterans, and families who sacrifice so much for our country," said FTC Consumer Protection Director Jessica Rich.
There are some aspects of the military life that make members more vulnerable to scams.
"They are targets for fraud because they relocate frequently, and many are living on their own and earning a steady paycheck for the first time," Rich said.
On a regular basis, federal agencies -- including the FTC and CFPB -- regularly provide consumer protection information to try to help military members avoid becoming victims, as well as to manage their unique circumstances. Deployment, for instance, presents a series of challenges that can tempt service members into making poor financial decisions.
When a military member deploys, it can be difficult to pay bills. Those with families leave their spouse behind to deal with all the finances. And, sometimes, the desire to take care of certain financial obligations prior to leaving can draw some to borrow at high interest rates from payday and title lenders. The military's
Military OneSource
has guides for how service members can deal with situations peculiar to their careers.
An abundance of resources have been developed to allow any military member to do some homework and find out more about how to handle certain situations and challenges, including how to avoid scams specifically aimed at service members.
Among the resources:
More from MSN Money:
DATA PROVIDERS
Copyright © 2014 Microsoft. All rights reserved.
Fundamental company data and historical chart data provided by Morningstar Inc. Real-time index quotes and delayed quotes supplied by Morningstar Inc. Quotes delayed by up to 15 minutes, except where indicated otherwise. Fund summary, fund performance and dividend data provided by Morningstar Inc. Analyst recommendations provided by Zacks Investment Research. StockScouter data provided by Verus Analytics. IPO data provided by Hoover's Inc. Index membership data provided by Morningstar Inc.