Shopaholic? Blame mom and dad
Difficult early family experiences may lead to future problems with shopping and debt, according to one study.
This post comes from Kimberly Palmer at partner site U.S. News & World Report.

Here's one more thing for parents to feel guilty about: According to a new paper published in
The Journal of Consumer Affairs,
certain types of childhood experiences might put kids at risk for growing up to become compulsive shoppers.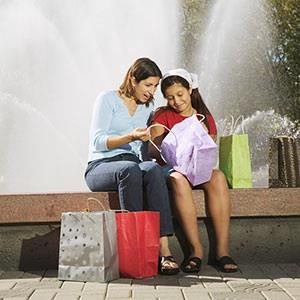 While compulsive buying is often the subject of late-night jokes and movie plots, it's a serious condition that can have disastrous consequences, including depression and out-of-control debt. Like other types of impulse-control disorders, including alcoholism, it can ruin lives.
In an attempt to better understand what causes the compulsive behavior, the paper's authors applied a theory known as a 'life course paradigm,' which emphasizes the role of earlier life experiences in later behavior. For example, a compulsive buyer might have experienced a difficult childhood, including parental divorce or absence, which led them to seek comfort with excessive purchases. The authors wanted to know if difficult experiences earlier in life are, in fact, connected to later out-of-control spending.
"When children are growing up, they might experience disruptions like divorce, or not living with both parents, and because of these experiences, their development and day-to-day life gets impacted, which can eventually impact their compulsive buying behavior," explains Anil Mathur, professor of marketing at Hofstra University and one of the paper's co-authors.
At the same time, the authors explored whether parents who emphasize obedience and conformity versus autonomy and self-expression in their communication with their children might also increase the chances of compulsive buying later. The authors note that children growing up in disrupted families are more likely to experience the former style of communication.
"Parents in non-disruptive families are likely to have a higher level of commitment and involvement in their child's life," the authors note, as well as the communication style that encourages autonomy and self-expression. That method of communication can help deter impulse-control problems, the authors say, because it encourages self-control and the ability to process information and make rational decisions. "Research findings show that controlling family environments are likely to rear children who are oriented toward hedonically gratifying behaviors," the authors write.
To test their theories, the authors enlisted more than 300 young university students to fill out anonymous questionnaires. The students answered questions about family stress, family communication style, disruptive family events and their own compulsive buying tendencies. Some of the questions focused on the teenage years because that's when the part of the brain that controls impulsive behavior is developing, and it's also when compulsive tendencies often begin.
The authors' findings confirmed some of their theories: Disruptive family events created stress and were associated with compulsive buying. Subjects who experienced disruptive family events were also more likely to have experienced a communication style that emphasized obedience and conformity over self-expression. The authors also found that young people who experienced disruptive family events were more likely to see their socioeconomic status go down, which was associated with an increase in conversations with friends about consumption. That, in turn, led to an increase in compulsive buying behavior.
"The stress contributes to children looking for alternative means to relieve stress, like communication with peers. If the family situation is tense, then they go to friends to talk to them, and among various things, they talk about buying. That can contribute to compulsive buying,"Mathur says.
In other words, the authors find that the connection between a disruptive family life and later compulsive buying is indirect, appearing to operate largely through communication styles of parents and conversations with peers. A lower socioeconomic status as a result of the disruptive events also seems to play a big role in communication styles.

More from U.S. News & World Report:
DATA PROVIDERS
Copyright © 2014 Microsoft. All rights reserved.
Fundamental company data and historical chart data provided by Morningstar Inc. Real-time index quotes and delayed quotes supplied by Morningstar Inc. Quotes delayed by up to 15 minutes, except where indicated otherwise. Fund summary, fund performance and dividend data provided by Morningstar Inc. Analyst recommendations provided by Zacks Investment Research. StockScouter data provided by Verus Analytics. IPO data provided by Hoover's Inc. Index membership data provided by Morningstar Inc.