Spam texters pursued by feds
The FTC's action shows how costly these sorts of scams can be to consumers.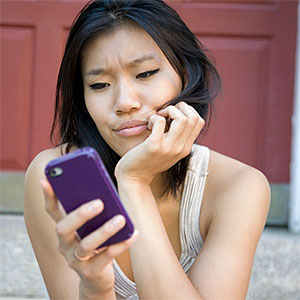 A text chimes in on your phone. A friend? Hardly. It's a message that you've won a gift card or some other prize at a major retailer, including Best Buy, Wal-Mart or Target.
These text messages are elaborate schemes intended to dupe recipients into revealing personal information as well as to sign up for services in order to get what was supposed to be a free gift card, according to the Federal Trade Commission.
Expanding on action the agency took earlier this year, the FTC went after a group of companies that also capitalized on the consumers who bit on their shady offers of free gifts by getting them to agree to be contacted -- opening the door to waves of robocalls.
Those who followed along in order to get the gift cards were led on an elaborate journey from site to site, completing forms before being led to the next set, the FTC said in its complaint.
"The consumer usually must complete a total of 13 offers in order to qualify for the promised free merchandise," the FTC said. "Clicking on each offer reveals what the consumer must do to complete or participate in the offer. In most cases, completing an offer entails paying money or incurring some other obligation, such as applying and qualifying for credit cards."
Ultimately, it was difficult for anyone who kept trying to earn the cards to avoid paying something, the FTC said. "In most, if not all, instances, it is impossible for a consumer to qualify for the promised free merchandise without spending money."
And, the FTC said, the information collected from those trying to get the gift cards was then sold to marketing companies, which targeted the consumers with sales pitches for anything from satellite TV to home security systems.

Earlier this year, the FTC went after 29 companies that sent more than 180 million text messages.

The latest complaint includes charges against nine defendants. The agency is asking a judge to shut down the operations and repay those who were taken. Those named in this case are Acquinity Interactive, LLC of Deerfield Beach, Fla.; 7657030 Canada Inc. of Kirkland, Quebec, (also doing business as Acquinity Interactive); Garry Jonas, an officer of Acquinity Interactive; Revenue Path E-Consulting Pvt Ltd, of Pune, India; Revenuepath Ltd of Nicosia, Cyprus; Worldwide Commerce Associates, LLC of Las Vegas, Nev.; Sarita Somani, an officer of the Revenue Path defendants and Worldwide Commerce Associates; Firebrand Group S.L., LLC of Las Vegas, Nev.; and Matthew Beucler, an officer of Firebrand.
Text message spam is illegal, the FTC warns, and can lead to other problems beyond those in this case. One issue, for those without unlimited texting, is having to pay for each of these messages that are received.
Here are some tips about text messages spam from the FTC:
Delete text messages that ask you to confirm or provide personal information: Legitimate companies don't ask for information like your account numbers or passwords by email or text.

Don't reply, and don't click on links provided in the message: Links can install malware on your computer and take you to spoof sites that look real but whose purpose is to steal your information.

Treat your personal information like cash: Your Social Security number, credit card numbers, and bank and utility account numbers can be used to steal your money or open new accounts in your name. Don't give them out in response to a text.

If you are an AT&T, T-Mobile, Verizon, Sprint or Bell subscriber, you can report spam texts to your carrier by copying the original message and forwarding it to the number 7726 (SPAM), free of charge.

Review your cell phone bill for unauthorized charges, and report them to your carrier.
More on MSN Money:
DATA PROVIDERS
Copyright © 2014 Microsoft. All rights reserved.
Fundamental company data and historical chart data provided by Morningstar Inc. Real-time index quotes and delayed quotes supplied by Morningstar Inc. Quotes delayed by up to 15 minutes, except where indicated otherwise. Fund summary, fund performance and dividend data provided by Morningstar Inc. Analyst recommendations provided by Zacks Investment Research. StockScouter data provided by Verus Analytics. IPO data provided by Hoover's Inc. Index membership data provided by Morningstar Inc.