Telematics: Big Brother or tool for good?
You can drive, but you can't hide from telematics, the system in your car that tracks your every move. Is this a good thing? Insurance companies think so.
This post comes from Ed Leefeldt of partner site Insure.com.

Remember the opening sequence of "The Sopranos?" Mob boss Tony Soprano drives out of the Lincoln Tunnel, stops at a tollbooth and grabs a ticket. Why didn't he just use E-ZPass and keep on driving?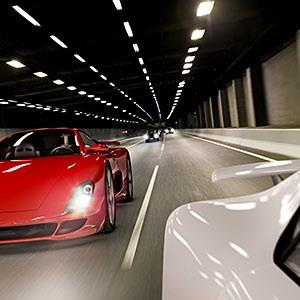 The answer: Telematics, the high-tech marriage of telecommunications and computers. An E-ZPass transponder on the windshield of Soprano's SUV would send the time and location to a billing center, but it could also inform the FBI of his whereabouts.
Tailing me
A mob boss should be paranoid about telematics, but what about the rest of us? The NSA is logging who we call, computer punks are accessing our Twitter accounts, and hackers are opening our car-door locks. But do we know who's watching us when we drive?
Each time you are in your car -- and we drive an average of 37 miles per day -- you enter into what a Rutgers University study calls a "sensor-rich" environment. And the number of devices that watch when, where and how you drive is multiplying.
Devices like E-ZPass are "dynamic." They record and transmit information from the car to a hovering satellite and then to a databank -- often on a second-by-second basis -- allowing the vendor to obtain information. A global positioning system (GPS), such as OnStar, is another, as is LoJack, which reports the position of a stolen vehicle to police.
Other devices provide "static" information, such as license plate and Vehicle Identification Numbers (VINs). They don't transmit data, but meter maids or retailers scan this information and send it. In Los Angeles, license plate readers on both the front and back of police cars can take pictures of every license plate and run it through a database to check for criminal activity.
Insurance companies say that the more you drive, the more likely you are to have an accident. Many state insurance regulators agree that this is a legitimate way to rate drivers.
The black box
At the heart of most car monitoring systems is the so-called "black box," which is installed in every newer car whether the driver wants it or not and is almost impossible to remove.
Carmakers prefer the term "diagnostic port," because warning lights tell you about the operation of your car. But it also monitors how a driver steers, brakes, speeds and even if he or she wears a seat belt. By inference, it can even tell who is at the wheel, since driving styles are as individual as handwriting.
Many car owners welcome these devices. They help drivers get to their destinations, prevent breakdowns and offer protection in the event of an accident or vehicle theft.

The Tesla files
New York Times
reporter John Broder found out how much a car knows about you when he test drove the new electric Tesla Model S and claimed it stranded him on the road.
Not so, said Tesla Motors chairman Elon Musk, who downloaded the Tesla's onboard computer data, which showed the car's actual logs and speeds -- minute by minute -- to prove that Broder had deliberately mishandled the Tesla and lied about the breakdown.
Good and bad drivers
Car insurance companies like Progressive and State Farm view telematics -- and the black box in particular -- as a powerful tool to differentiate good and bad drivers and insure only the former. Critics point out that Progressive retains this information rather than allowing the driver to use it to negotiate his or her own discount, perhaps even with another insurer.
State Farm advertises that its In-Drive device offers tow truck assistance and help in finding your car, whether it's been stolen or out with your teenager who missed curfew. But to get the perks you have to trade your personal driving data.
Insurers are well aware of the value of telematics, and most of the big ones are participating in a September conference in Chicago at which privacy will be a major topic of discussion.
"It's a huge debate," says Justin Parker, project director of London-based Telematics Update, which is sponsoring the conference. "As technologies advance, new challenges emerge in protecting consumers' data privacy."
Know it all
Supposedly the black box in your car is under your control, but the fact that it exists causes information-hungry insurers to want what's contained inside. The same is true for all other GPS transmitting devices in your vehicle.
Any information can easily be accessed by law enforcement. Police reports often show up on CARFAX. In other words, while the data theoretically is yours, it goes public if you're in an accident, if law enforcement is involved, or if it is wanted by a family member.
This means that your car, or at least its location at a particular time, could become evidence in a divorce. Some insurance policies require car owners to allow the insurer to plug into the black box, according to Scott Palmer, CEO of Injury Sciences in San Antonio. And if your car is totaled in an accident, then the insurer who purchases it probably has access to the black box.
If you drive a company car, courts have ruled that you generally have no right to privacy.
These cars and trucks contain even more sophisticated systems that tell the owner how long the vehicle has been on the road and if it is making unscheduled stops. The same may be true of leased cars, so read your contract carefully.
Big data
Europe has even more sophisticated tell-all telematics, including some which beam the data back to the insurance company via smart phone apps.
Eventually insurance companies will accumulate huge amounts of "big data" that they can use in predictive models which will -- like credit scoring -- enable them to cherry-pick certain classes of drivers and raise rates for others.
A Verisk Analytics' GeoMetric program is already collecting this data for insurers. So your information is likely to be in someone's database for years if not forever and, while the insurer may promise to encrypt it or even "scrub" it of personal information, this probably won't deter hackers.
In defense of telematics
Telematics can sometimes work in favor of the driver. Michael Beard, a 28-year-old nurse's aide, was accused of murdering his 7-month-old daughter. But the timeline from Progressive's Snapshot telematics device showed that he arrived at her home and only turned off his car for three minutes before turning it back on to rush his daughter to the hospital -- not enough time to commit the crime. Beard was acquitted.
More from Insure.com:
DATA PROVIDERS
Copyright © 2014 Microsoft. All rights reserved.
Fundamental company data and historical chart data provided by Morningstar Inc. Real-time index quotes and delayed quotes supplied by Morningstar Inc. Quotes delayed by up to 15 minutes, except where indicated otherwise. Fund summary, fund performance and dividend data provided by Morningstar Inc. Analyst recommendations provided by Zacks Investment Research. StockScouter data provided by Verus Analytics. IPO data provided by Hoover's Inc. Index membership data provided by Morningstar Inc.