That 'post' might be an ad in disguise
That online article you just read might actually be paid advertising. The Federal Trade Commission is taking a hard look at 'sponsored content.'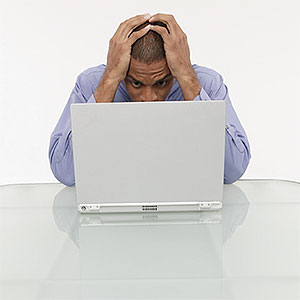 Looking for guidance on personal finance, or travel, or strength training? You might find useful information on a personal website.
Then again, you might not. As more and more bloggers turn to "sponsored content" -- articles they're paid to publish -- consumers run the risk of getting advertorials instead of advice.
Although the Federal Trade Commission requires that such articles be identified as paid ads, not all bloggers comply. As a result, their readers may construe an undisclosed ad to be personal testimony and/or professional authority.
"Consumers easily recognize a regular print, broadcast, or Internet ad for what it is --
and know to be appropriately skeptical
," says Jeff Blyskal of Consumer Reports.
"But a sponsored blog post that doesn't look like an advertisement at all can catch consumers off-guard. No wonder advertisers covet and court the endorsement of bloggers, and studies show that bloggers influence purchase decisions."
The FTC is taking a harder look at sponsored content -- and is seeking your input, for a workshop that will take place on Dec. 4 in Washington, D.C. 
Members of the public are invited
 to request participation as panelists, and to submit potential topics, original research and examples of misleading blog posts. The workshop is also open to those who want to attend without being panelists.
Publishing and advertising reps, academics, government regulators and consumer advocates will discuss whether consumers can really tell the difference between ordinary articles and advertising.


Paid to praise?
Sometimes it's fairly obvious. When a frugality website suddenly runs a post about the joys of trekking through the United Kingdom -- an article that's chock-full of hyperlinks for a single U.K.-based travel company -- it's a safe bet that this is sponsored content (also known as word-of-mouth or native content).
But what if you're a first-time visitor and thus can't identify the sudden shift in tone? Or suppose you're a trusting soul who thinks,
if Blogger X says this is the best tour company, I should buy my ticket now
?
Some bloggers review products on their sites. In fact, some actually specialize in reviews, receiving free books, food, toys, clothing and even big-ticket items like the use of an automobile.
Is an impartial opinion possible when someone is paid to produce it? Blyskal doesn't think so: "The bloggers are supposed to write whatever they want about the product -- pro or con -- but the payments put into question whether they would be inclined to seriously bite the hand of a 'friend' lending a car or giving other valuable goodies or cash."
In this case, the "review" is more like an advertisement -- and that's why the FTC requires bloggers to disclose their relationships with the companies providing the goods.


Moving toward consistency
Analysts warn that both writers and advertisers need to self-police
lest "regulatory repercussions" be forthcoming
. Pam Horan, president of the Online Publishers Association, told Adweek that "labeling is paramount."
"Publishers and advertisers need to be extremely transparent," says Horan, who notes that more than 50% of OPA members publish sponsored content.
"This is in the early innings, but ultimately, we should move toward some consistency."
Adweek points out that TV infomercials and food marketers were pushed to "adopt guidelines or risk enforcement under (FTC) authority to protect consumers from unfair or deceptive ads."
But the government can't do it all. Consumers also need to look more closely at what they're watching and reading. Infomercials aren't evil as such; they're just another form of advertising. The viewer simply needs to keep in mind that those glowing endorsements or testimonials are bought and paid for by the people who want to sell you stuff.
Ditto sponsored content. If you want to read about trekking in the U.K., remember that a blogger might have his own best interests in mind -- not yours -- by recommending a particular travel agency.
Worst-case scenario: Suppose you came down with a serious disease and started seeking information. The last thing you need is to run into a snake-oil salesman in the guise of "native content" blogging.
Be your own advocate and read with a critical eye. The dollars -- or the life -- you save may be your own.


More on MSN Money
:
DATA PROVIDERS
Copyright © 2014 Microsoft. All rights reserved.
Fundamental company data and historical chart data provided by Morningstar Inc. Real-time index quotes and delayed quotes supplied by Morningstar Inc. Quotes delayed by up to 15 minutes, except where indicated otherwise. Fund summary, fund performance and dividend data provided by Morningstar Inc. Analyst recommendations provided by Zacks Investment Research. StockScouter data provided by Verus Analytics. IPO data provided by Hoover's Inc. Index membership data provided by Morningstar Inc.