The 10 best ways to save royally on your baby
The Duke and Duchess of Cambridge won't need these tips for frugally bringing up their new prince, but they'll come in handy for your little royal.
This post comes from Angela Colley at partner site Money Talks News.

Prince William and his wife Kate, Duke and Duchess of Cambridge, are the proud new parents of a baby boy, their first child and third in line to the British throne.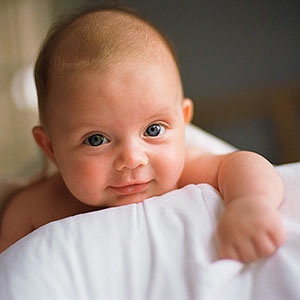 CNN reports any baby born in the United Kingdom on the same day as the royal baby will receive a special coin from the Royal Mint to mark the occasion -- a silver penny in a blue or pink pouch.
While babies born here in the U.S. won't receive anything special from the government to start their nest egg, their parents can start saving their own pennies right from the delivery room. Here are the 10 best ways to save on your little prince or princess.
1. Ask for free swag
Baby product manufacturers want your business from the moment your child is born. To get it, many stock hospital maternity wards with freebies, samples and coupons, hoping the nurses will hand them out to new mothers. But nursing is a busy job and passing out free binkies and diaper bags isn't a top priority, so you may not get a goodie bag. If you don't, ask your nurse and score free swag.

2. Host a hand-me-down party
Before my friend's daughter was born, she threw a party at her home and asked other parents to bring their gently used baby gear instead of food or drinks. Some people arrived with trash bags full of barely-used or new clothes. She also scored toys, shoes, unused baby bottles and even a stroller.
Know other parents? Get them together, see what they're no longer using, and get free stuff.
3. Shop secondhand
As an avid garage sale shopper, I see baby gear and clothes at nearly every garage sale I attend. Check out a few before you head to Target. And don't discount thrift stores. If you're willing to dig through the racks, you can find baby clothes with the tags still attached.
However, play it safe and check Parents magazine's
Toy and Product Recall Finder
before using any secondhand product.

4. Get coupons in your inbox.
Coupons can save you a ton on diapers and formula but new parents don't always have time to root around for deals in the newspaper or Internet. Instead, sign up for manufacturer's newsletters and automate the process -- like:
5. Buy diapers in bulk
You'll save money on diapers buying in bulk. For example, Target has a 92-pack of Pampers' Swaddlers for $25.00, or $0.27 a diaper. Sam's Club has a 162-count of Swaddlers for $39.98, or $0.25 a diaper. And you'll save even more if you buy generic brand disposable diapers.
6. Get free samples from your doctor
Pharmaceutical companies and baby gear manufacturers stock doctor's office with free samples. Any time you visit your pediatrician, ask for samples. You could score free formula, ointments, lotions or medicines.

7. Chose double-duty
Many baby-related furniture pieces are dual-purpose. For example, you may want that gorgeous antique crib, but you'll save money in the long run with a crib that doubles as a toddler bed when your baby grows.
8. Bring in an expert for shopping trips
The baby care aisles are overwhelming for new parents. If this is your first baby, don't shop alone and end up buying the wrong things. Instead, ask a family member or friend with kids to shop with you. An experienced parent can tell you what you really need, what you can skip, and what brands to avoid.

9. Join online shopping clubs
Daily deal sites aren't just for tech gadgets and restaurant gift certificates; you can find great deals on baby gear too. Just sign up (it's free) for baby-specific sites like:
    •   
Modnique Kids
    •   
Zulily
    •   
Gilt
    •   
Amazon Mom
-- Not a deal site, but you'll get discounts on diapers and free shipping.
10. Don't shop early
Finally, resist the temptation to "have everything ready for baby." If you stock the nursery before the baby is born, you might end up with clothes that don't fit and supplies you don't need. Instead, just stock up on the basic necessities ahead of time and buy everything else as you need it.
More from Money Talks News:
DATA PROVIDERS
Copyright © 2014 Microsoft. All rights reserved.
Fundamental company data and historical chart data provided by Morningstar Inc. Real-time index quotes and delayed quotes supplied by Morningstar Inc. Quotes delayed by up to 15 minutes, except where indicated otherwise. Fund summary, fund performance and dividend data provided by Morningstar Inc. Analyst recommendations provided by Zacks Investment Research. StockScouter data provided by Verus Analytics. IPO data provided by Hoover's Inc. Index membership data provided by Morningstar Inc.