The holiday shopping gender gap: We spend differently
Men are more likely than women to pay for their holiday gifts with credit cards, survey results suggest.
This post comes from Gerri Detweiler at partner site Credit.com.

When it comes to holiday spending, it turns out men and women shop differently. Not just in what they buy, but in terms of how they pay for those purchases.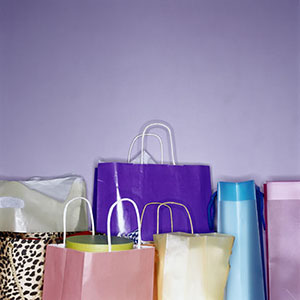 Men are more likely than women to put holiday purchases on a credit card, and they plan to pay for more of their purchases that way than women do. Hopefully they won't have trouble paying off those bills; while the majority of people of either sex plan to spend $500 or less this holiday season (60.31% of men and 57.73% of women), 16.49% of men plan to spend $1,000 or more, while only 10% of women expect to shell out that much.
That's according to the results of Credit.com's 2013 Holiday Shopping Survey, which found that nearly two-thirds of men surveyed (62.37%) say they plan to use a credit card to pay for at least some of their purchases, while just slightly more than half of women (54.09%) surveyed said the same. Men were more likely than women (42.78% versus 33.19%) to say they will use credit cards for more than half of their holiday purchases.
And 30% of women say they will use credit cards (including store cards) less this holiday season than last, compared to 22% of men.
Putting purchases on credit cards can help you rack up rewards, and they provide more consumer protections than purchases made with cash or debit cards. Of course, the flip side is they can make it easy to overspend and leave cardholders with debt they have to find a way to repay in the new year.
Where we see eye to eye
In other ways, men and women are similar in their payment preferences. Roughly the same percentage of female and male respondents -- about a quarter of each group -- said they would pay for less than 10% of their purchases using debit cards or cash, while about half of each group reported they would pay for more than 50% of their purchases that way.
As for retail or "store" credit cards, the numbers were pretty close when it came to their plans to use those cards to make holiday purchases (18.8% of women versus 15.46% of men). The numbers were also similar when asked about whether they would pay cash for some of their holiday purchases: 59.09% of women said they would, versus 53.09% of men).
The Credit.com 2013 Holiday Shopping Survey was based on data collected online from 426 US consumers from Nov. 18-19.
More from Credit.com:
DATA PROVIDERS
Copyright © 2014 Microsoft. All rights reserved.
Fundamental company data and historical chart data provided by Morningstar Inc. Real-time index quotes and delayed quotes supplied by Morningstar Inc. Quotes delayed by up to 15 minutes, except where indicated otherwise. Fund summary, fund performance and dividend data provided by Morningstar Inc. Analyst recommendations provided by Zacks Investment Research. StockScouter data provided by Verus Analytics. IPO data provided by Hoover's Inc. Index membership data provided by Morningstar Inc.