1 born every minute: Many can't spot scams
A study by an investment regulatory group finds that a large percentage of Americans can't spot even obvious attempts at separating them from their money.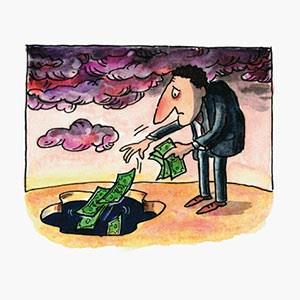 Hey consumers and investors, it's time to get your game on. The FINRA Investor Education Foundation made some disturbing findings about your ability to figure out when someone is trying to rip you off.
First, let's be clear. People are trying to rip you off. More than 80% of those surveyed said they had received solicitations to buy into a potential scam. Given how many shady emails pepper our email in-boxes that shouldn't come as too much of a surprise.
But, the survey also found that more than four in 10 Americans can't spot what should be obvious warning signs that someone is trying to rip them off. When presented with the idea that they could get "guaranteed" returns on an investment or promises of returns in excess of 100% a year, that group gave its thumbs-up.
"One of the most disturbing findings is that many Americans can't identify the classic red flags of fraud," said Gerri Walsh, president of the foundation, which is the educational arm of the Financial Industry Regulatory Authority.
In the investment world, there is no such thing as a sure thing. And certainly, no one can promise you an enormous return. If they did, you need to ask yourself why are they telling you? If they had such a great investment, why share it with people they don't even know? Truth is that they will be making money from you -- not the investment.
Seniors are even more susceptible to falling for fraud. Those 65 and over are more than 30% more likely to buy into a scam than those in their 40s.
"When it comes to financial fraud, America is a nation at risk," Walsh said. "Fraudsters are very effective at reaching and enticing vulnerable populations into turning over their money, and far too few Americans are able to detect likely fraudulent sales pitches."
Those who have been taken advantage of also tend to be very reluctant to report what happened to them, the study found. But Walsh said that more than the embarrassment or shame, victims decided against telling the authorities because they didn't think there was anything they could do.
She urges victims to report the crimes as soon as they suspect something is awry. FINRA has a fraud investigation unit and other agencies -- including the Consumer Financial Protection Bureau, FBI, Securities and Exchange Commission, and Federal Trade Commission -- all investigate various types of financial scams.
The key is to avoid becoming a victim in the first place and use restraint when presented with an opportunity to make money.
FINRA has an
interactive tool to help consumers
figure out if they're being scammed. Give it a try.

More from MSN Money:
DATA PROVIDERS
Copyright © 2014 Microsoft. All rights reserved.
Fundamental company data and historical chart data provided by Morningstar Inc. Real-time index quotes and delayed quotes supplied by Morningstar Inc. Quotes delayed by up to 15 minutes, except where indicated otherwise. Fund summary, fund performance and dividend data provided by Morningstar Inc. Analyst recommendations provided by Zacks Investment Research. StockScouter data provided by Verus Analytics. IPO data provided by Hoover's Inc. Index membership data provided by Morningstar Inc.