Where to find stylish prom attire on a budget
These online and brick-and-mortar sources carry prom dresses and gowns and tuxedos for less than $150.
This post comes from Elizabeth Sheer at partner site Cheapism.com.

Last year the average cost of attending a prom exceeded $1,100, according to Visa, Inc. Not surprisingly, the biggest expense is the dress.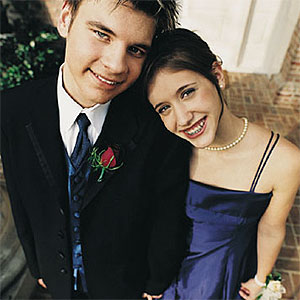 For girls determined to have a red carpet moment, the price tag could easily hit $400. Guys don't get off cheaply, either -- tux rentals commonly run $170-$200 for a basic get-up.
But don't panic. With a little savvy, some ingenuity, and a few coupons, the cost of prom attire can be held below $150.
Although prices vary by location and the selection may be iffy, the best places to start searching for cheap prom attire are vintage and consignment shops. Also try eBay for vintage duds, where both dresses and tuxes from the '50's through the '80's are likely to fetch prices in the double-digit range. And remember, dirt-cheap prom wear means funds left over for alterations.
Dresses and gowns
Generally speaking, a long gown costs more than a snazzy short dress while embellishment and a designer name boost prices substantially. Be wary of cheap prom dresses produced in China, however. Blogs have reported that they may never arrive in time for the prom and the dress itself may be of questionable fit and quality.
For an indie/retro look,
ModCloth
, one of the hipper clothing retailers, offers a sweet selection of short styles and long gowns for less than $100. The number of gowns at this price is small and they sell out quickly, but there are loads of short dresses in strapless and spaghetti-strap styles full of beading and shimmer, tulle and chiffon, lace and overlays.
Department stores such as Macy's and Nordstrom may be a tad less fashion-forward but they carry a wide assortment of cheap prom attire: long, short, and  high/low (long in back, short in front); one-shoulder, halter, and strapless; beaded, metallic, and chiffon; with plenty of glitter (or not), cut-out backs (or not), and so on. David's Bridal also stocks a very large selection of inexpensive prom gowns that don't stint on fashion or bling. The size selection may be limited for some items, especially those on sale or clearance; many frocks come in large sizes.
A desire for designer duds on a modest prom budget is likely to mean renting rather than buying. Link here to a post we did on renting fancy clothes. Rent the Runway uses filters for price, color, size, and length. The site stocks oodles of red carpet-worthy gowns and dresses that would retail for $300-$600 but rent for less than $100. Rentals run for four days and a second size is sent free in case the first doesn't fit.
Tuxedos
Tuxes are usually rented because a good one costs at least $800 (and that's just for the jacket and pants). Rental prices depend largely on the fabric -- wool costs more than polyester -- and the tux rental package consists of many parts: jacket, pants, shirt, tie, and cummerbund or vest. 
It can be hard to find a prom rental for less than $150, although Jos. A. Bank is promoting prom tuxedo rentals starting at $69.99. Other retailers, such as Men's Wearhouse (900 locations nationwide) and Al's Formal Wear (Texas and other southern states), offer deals for customers who refer several friends in need of cheap tuxes for the prom: a free rental, perhaps, or a $30-off coupon. These clothiers also maintain websites that let customers "build" a tux, reserve the selection, and pick it up at a nearby store.
Deals on tux rentals also pop up at smaller chains and locally-owned stores, such as JP Tuxedo Warehouse in Chicago, which is promoting a $79 rental or $145 used-tux purchase with a Groupon. Online tuxedo rental sites, such as Sarno and Son, rarely list prices because tuxedos need to be fitted and the affiliated brick-and-mortar store sets the final price.
For all that, it's possible to buy a cheap prom tuxedo from an online vendor.
Tuxedos Online
 sells polyester/rayon tuxes with all the trimmings, including shirt, cummerbund, bowtie, cufflinks, and shirt studs for less than $150. A representative is available over the phone to walk customers through an at-home measurement session. Another source for prom attire is Overstock.com, which offers several classic-looking tuxedos in black, white, grey, and red in the budget price range.
More from Cheapism.com

DATA PROVIDERS
Copyright © 2014 Microsoft. All rights reserved.
Fundamental company data and historical chart data provided by Morningstar Inc. Real-time index quotes and delayed quotes supplied by Morningstar Inc. Quotes delayed by up to 15 minutes, except where indicated otherwise. Fund summary, fund performance and dividend data provided by Morningstar Inc. Analyst recommendations provided by Zacks Investment Research. StockScouter data provided by Verus Analytics. IPO data provided by Hoover's Inc. Index membership data provided by Morningstar Inc.