Best time to use holiday gift cards
Get the most value from the cards you received by waiting until the items you want are at their lowest prices. Here's when to look for sales.
This post comes from Emily Dovi at Dealnews.

As you bask in the glory that is your Christmas haul of 2012, you may be pawing over a gift card or two. And after-Christmas sales might seem like an extremely tempting place to start redeeming them.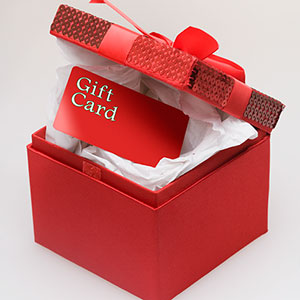 But depending on what you're looking for, you might get the most value out of your card if you wait to shop. From consumer electronics to apparel, to MP3s and beyond, we've combed the Dealnews archives to offer the best time frames in which to spend your holiday gift cards.
High-end HDTVs
Best time to buy: Late December and early January.
Potential discount: Up to 50% off.
While the typical Black Friday onslaught of all-time low HDTV prices is long gone, we will soon see steep discounts on brand-name HDTVs, which are usually absent during the post-Thanksgiving shopping holiday. So far we've seen 42-inch and 47-inch LCD and plasma HDTVs from LG at all-time lows available at the likes of Amazon, Newegg, and TigerDirect, but many more are sure to follow, if you patiently wait for a deal.
TV prices generally continue their slow decline through the year and bottom out in the summer before Black Friday slashes them again even further.
Fitness equipment
Best time to buy: January and February.
Potential discount: 15% to 60% off.
January is also a good time to look into fitness equipment. A popular New Year's resolution is to get in shape, and both gyms and fitness gear manufacturers aim to lure shoppers into using their services or products to accomplish this goal. As a result, we saw several special coupons and sales online for equipment, including bikes, treadmills, elliptical trainers, complete home gyms, and training accessories and DVDs.
Travel
Best time to buy: January to April.
Potential discount: Up to 30% off.
Last January saw the highest number of Editors' Choice vacation packages of any month, which means several flight and hotel combo deals were at their lowest price of the year. Top destinations included Jamaica, Dominican Republic, and the Bahamas.
Just note that many of these prices are for March and early April travel, the latter of which is a great time to book cruises. Look to Carnival Cruise Lines for the best deals. If your gift card is for airfare travel exclusively, remember that the best time to book a cheap flight is six weeks in advance.
Winter apparel
Best time to buy: Late January and February.
Potential discount: Up to 80% off with stacking coupons.
Winter apparel saw excellent discounts immediately after Christmas, especially if you don't mind redeeming a printable coupon in-store. But judging from the offers we saw on Dec. 26 last year, several of those sales will become even better in January. For example, Old Navy took an additional 15% off sale and clearance items in early January last year. But just two weeks later we saw an additional 50% off clearance items, making for an Editors' Choice deal.
Consumer electronics
Best time to buy: February.
Potential discount: 20% to 60% off.
In January numerous manufacturers will announce new products at the Consumer Electronics Show, which means retailers will begin trying to move old inventory to make room for new releases. Tablets, MP3 players, and gadgets like GPS units will thus start to see clearance price cuts. But, if it's specifically a new digital camera you're after, keep in mind that November sees more than twice as many Editors' Choice-caliber camera deals as any other month.
Home goods
Best time to buy: February and March.
Potential discount: Up to 75% off.
While we'll see a number of "white sales" in January, bedding and linens will see deeper discounts come Presidents Day courtesy of sitewide discounts at various department stores, with discounts of up to 75% off bedding and furniture. Make note, though, that office furniture specifically will actually see more Editors' Choice deals in April and May.
Jewelry
Best time to buy: Late February and March.
Potential discount: Up to 50% off.
Valentine's Day is the next buying holiday on the horizon, but it's rare to find any outstanding jewelry deals in the weeks immediately preceding. That said, LivingSocial and other daily deals sites may offer credits to BlueNile and other jewelry merchants at up to 50% off in the coming weeks. Securing that added value will pay off even more beginning Feb. 15 and throughout March, as the best time to buy jewelry is between Valentine's Day and Mother's Day in May.
Laptops
Best time to buy: August.
Potential discount: Up to 50% off.
Typically the best time to get a laptop is around Black Friday, but you might not want to wait another 11 months to use your gift card. The next closest opportunity when we see notebook prices consistently sink to impressive lows occurs over the summer, specifically in the form of back-to-school sales in August.
MP3 downloads
Best time to buy: Varies.
Potential discount: 70% to 90% off.
Amazon's monthly $5 album sale brings with it the best of the bargain bin. From pop favorites like Lady Gaga to well-known indie darlings like Arcade Fire, you can load up every gig on that iPod. However, periodically throughout the year, the mega store will offer a sale that discounts such albums to as low as $1 to $3. ITunes can be a little bit more difficult to predict as far as music sales go, because they don't openly advertise markdowns.
More on Dealnews and MSN Money:
DATA PROVIDERS
Copyright © 2014 Microsoft. All rights reserved.
Fundamental company data and historical chart data provided by Morningstar Inc. Real-time index quotes and delayed quotes supplied by Morningstar Inc. Quotes delayed by up to 15 minutes, except where indicated otherwise. Fund summary, fund performance and dividend data provided by Morningstar Inc. Analyst recommendations provided by Zacks Investment Research. StockScouter data provided by Verus Analytics. IPO data provided by Hoover's Inc. Index membership data provided by Morningstar Inc.