6 tips to avoid gift card scams
Gift cards are hassle-free, practical gifts. But use these tips to ensure your recipients don't end up with worthless pieces of plastic.
This post comes from Linda Doell at partner site Money Talks News.

A gift card may seem like the perfect gift, especially in these last hectic days of holiday shopping. But if you're not careful, your recipient could be left with a worthless present, and you could be left with egg on your face.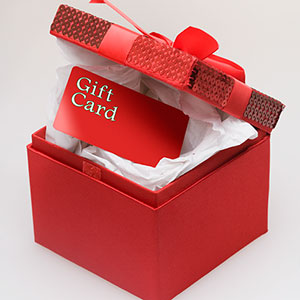 The FBI recently warned shoppers to be wary of scams when buying gift cards through auctions or classified ads.
According to the National Retail Federation, nearly 60% of those surveyed said they wanted gift cards as presents this year. The NRF estimates Santa's helpers will spend a whopping $28.8 billion this holiday season fulfilling gift card wishes.
Just make sure you don't fall for a gift card deal that's too good to be true. Here are tips to avoid scams:
Be wary of steep discounts
When shopping for gift cards online, be cautious of cards listed well below retail prices -- especially if you're perusing online auction sites or classified ads. There's a good chance those cards were bought with a stolen credit card and could be deactivated by the time you get them -- if the seller bothers to send the cards at all.
The FBI recommends you check the seller's ratings on the auction site or with the Better Business Bureau before purchasing.
Look for buyer protection policies
Online resellers like Gift Card Granny and Plastic Jungle allow sellers to list used or new gift cards, and offer buyer protection policies guaranteeing cards are worth what the seller claims.
"If shoppers are concerned about buying used gift cards, they should purchase them from gift card resellers that offer a purchase guarantee," said Gift Card Granny's Kendal Perez. "This protects consumers from buying cards that do not have the advertised value or do not work at the store for which they purchased it."
Gift Card Granny works as a search engine for gift cards, listing available cards and discounts. According to the site, you can find cards up to 80% off, with an average discount of about 9%.
Plastic Jungle buys unwanted gift cards and resells them, backing their value with a promise of fines and legal action against any seller who tries to pass off depleted cards.
Stick to major retailers
If you're stumped on which gift card to buy, a good rule of thumb is to stick to major retailers, Perez said. Gift Card Granny recently released survey results showing cards from Wal-Mart, Target and Amazon.com were the most popular cards on its site.
Make sure the retailer is financially sound
The Federal Trade Commission also suggests looking at the retailer's financial status before buying.
If a retailer files for bankruptcy or goes out of business, its cards might not be honored or may be worth less than face value. In some cases, cards from bankrupt stores can be redeemed at a later date or honored at a competitor's store. But the best way to avoid issues is to avoid stores on shaky financial footing. When in doubt, do an online search for news.
Never pick the first card off the top
When buying gift cards from store racks, never pick the card on top. That's because someone could have written down its numbers, said John Ulzheimer, the president of consumer education at SmartCredit.com.
A thief knows that during the holidays, a card will be bought in advance but not given until Christmas. After copying the card's numbers, the crook will call the company, see if the card is active, then use it online, Ulzheimer warned on Mint.com.
Inspect the gift card and read the fine print
The Better Business Bureau recommends:
Buying from trusted businesses and staying away from online auctions because of counterfeits.
Checking the fine print to learn about any fees associated with the card.
If buying from a store rack, checking to see if security stickers were removed or peeled back, and checking the back of the card to make sure the  surface wasn't scratched to reveal the PIN code.
Including the card's receipt so the recipient can verify it was paid for should the card be lost or stolen.
More from Money Talks News and MSN Money:
DATA PROVIDERS
Copyright © 2014 Microsoft. All rights reserved.
Fundamental company data and historical chart data provided by Morningstar Inc. Real-time index quotes and delayed quotes supplied by Morningstar Inc. Quotes delayed by up to 15 minutes, except where indicated otherwise. Fund summary, fund performance and dividend data provided by Morningstar Inc. Analyst recommendations provided by Zacks Investment Research. StockScouter data provided by Verus Analytics. IPO data provided by Hoover's Inc. Index membership data provided by Morningstar Inc.