Travel site tracks steep price drops
Las Vegas' best hotels are a bargain right now, and Toronto airfares are 25% lower than they were a year ago.
This post comes from MSN Money contributor Tanya Mohn.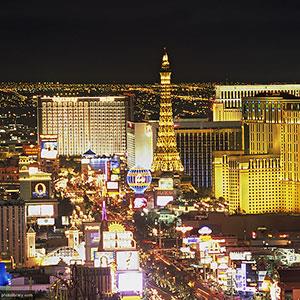 Travelers planning getaways often consult lists -- for inspiration as well as tips for obtaining great deals. And there are lists for everything: best beaches, hottest dining spots, worst cities, cheapest hotels, even offbeat topics like where to find the world's best street food.
Hotwire.com, a discount travel website, produces a monthly Travel Savings Indicator, which features the five destinations in North America where hotel, airfare and car rental rates have dropped the most compared with the same time last year.
The biggest changes from a year ago:
Las Vegas had the steepest price cut for hotels, which fell 16%. The average five-star room this month is $114 a night.
Toronto airfares dropped by 25%. The average round-trip ticket to or from the city is $312.
Jackson, Miss., rental cars can be had for an average rate of $18 a day, down 42% from February 2012.
"This report helps guide travelers to the best destinations to maximize their travel dollars," said Pierre-Etienne Chartier, vice president of Hotwire.com. "By looking at a year-over-year comparison, the data is a much better representation of what is truly a good deal. It takes normal, natural seasonality out of the equation."
Chartier said the company's database gives confidence that the values are significant. "We aren't just cherry-picking destinations or price examples," he said. "Those are real numbers, and should be representative of the market."
Many factors -- some unpredictable  -- come into play when a destination's prices fall, he said. For example, a destination like Las Vegas may experience a hotter-than-average summer, resulting in lowered rates "to entice travelers fearful of the heat," he said.
"One of my favorite examples was Vancouver back in the spring of 2010," he said. "After the hotel buildup to host the Winter Games, the halo effect on tourism that the area was hoping for didn't really materialize, and prices around that amazing city were simply astoundingly low for several months."
Do lists like these actually benefit consumers?
"Absolutely," said Sharr Prohaska, a clinical associate professor at the Preston Robert Tisch Center for Hospitality, Tourism and Sports Management at New York University. "It's all about 'one-stop shopping' and trying to find the best value for the dollar without having to spend a great amount of time searching for each individual item on the Internet," she said. Consumers appreciate that "experts are doing the comparison shopping."
Lists have proliferated because the trend is for prospective travelers to look for the best value for the money, whether booking a luxury vacation or a less-expensive one, Prohaska said. "It's a service to the customer to be able to refer to a site with quality information that is reputable and dependable."
In addition, "lists create a sense of urgency that you must visit the destination," she said. "It's all part of the fun travel game called tourism."
More on MSN Money:
DATA PROVIDERS
Copyright © 2014 Microsoft. All rights reserved.
Fundamental company data and historical chart data provided by Morningstar Inc. Real-time index quotes and delayed quotes supplied by Morningstar Inc. Quotes delayed by up to 15 minutes, except where indicated otherwise. Fund summary, fund performance and dividend data provided by Morningstar Inc. Analyst recommendations provided by Zacks Investment Research. StockScouter data provided by Verus Analytics. IPO data provided by Hoover's Inc. Index membership data provided by Morningstar Inc.