Warning issued over Boston Marathon scams
It doesn't take long before scammers try to take advantage of people after a tragedy.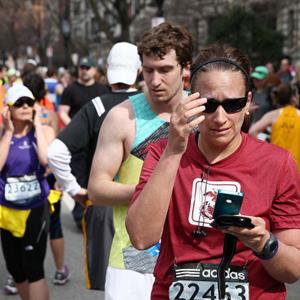 While America was watching news of the horrific bombing at the finish line of the Boston Marathon, scams intended to prey on people who wanted to do something to help had already started.
The Better Business Bureau's
Wise Giving Alliance
and the
BBB Serving Eastern Massachusetts, Maine, Rhode Island and Vermont
issued a warning on Tuesday about scams tied to the marathon attack. It is common to see scams spawned from tragedies of all sorts.
"Tragedies inspire people to give," said H. Art Taylor, president and CEO of the BBB's charitable giving arm, "but, tragedies –- whether natural disasters or man-made catastrophes –- also inspire scammers to take advantage of that generosity."
Misinformation is common in the wake of tragedy and gets accelerated via social media. It can be hard sometimes to sort out the truth from the fiction, particularly given that the incident itself defies imagination.
Taking advantage of the public's thirst for information and eagerness to help, a scam will often come via social media, where it can also get a boost if the pitch is particularly believable.
"Social media, in particular, makes it very easy to reach a lot of people quickly, when emotions are running high and people feel the need to take action, any action, to help," Taylor said.
An example came the day of attack when a fake Boston Marathon Twitter account promised a $1 donation for every retweet of its message and quickly received more than 50,000. While that was more prank than scam, it demonstrated how eager people can be to show their commitment. (Similarly, malware attacks attached to supposed video of the bombing were
identified by the Internet security
company Sophos Labs, which warns not to click on emailed links.)
It's important to be sure you're giving to a legitimate charitable organization and that you understand what your money would be used for
before
making a donation.  
The BBB offers the following 10 tips to those who want to make a donation that could benefit victims and avoid pitches that are scams: 
1. Thoughtful giving: Take the time to check out the charity to avoid wasting your generosity by donating to a questionable or poorly managed effort. The first request for a donation may not be the best choice. Be proactive and find trusted charities that are providing assistance.
2. Help spread the Wise Giving word: Remind your friends and family to be cautious about giving requests in the wake of such a tragedy and ask them to spread the word as well. People are emotionally moved by events like these and may react before they have time to carefully consider.
3. State government registration: About 40 of the 50 states require charities to register with a state government agency (usually a division of the state attorney general's office) before they solicit for charitable gifts. If the charity is not registered, that may be a significant red flag.
4. Respecting victims and their families: Organizations raising funds should get permission from the families to use either the names of the victims and/or any photographs of them. Some charities raising funds for the Colorado movie theater and Newtown school victims did not do this and were the subject of criticism from victims' families.
5. How will donations be used? Watch out for vague appeals that don't identify the intended use of funds. For example, how will the donations help victims' families? Also, unless told otherwise, donors will assume that funds collected quickly in the wake of a tragedy will be spent just as quickly. See if the appeal identifies when the collected funds will be used.
6. What if a family sets up its own assistance fund? Some families may decide to set up their own assistance funds. Be mindful that such funds may not be set up as charities. Also, make sure that collected monies are received and administered by a third party such as a bank, CPA or lawyer. This will help provide oversight and ensure the collected funds are used appropriately (e.g., paying for funeral costs, counseling, and other tragedy-related needs.)
7. Online cautions: Never click on links to charities on unfamiliar websites or in texts or emails. These may take you to a lookalike website where you will be asked to provide personal financial information or to click on something that downloads harmful malware into your computer. Don't assume that charity recommendations on Facebook, blogs or other social media have already been vetted.
8. Financial transparency: After funds are raised for a tragedy, it is even more important for organizations to provide an accounting of how funds were spent. Transparent organizations will post this information on their websites so that anyone can find out and not have to wait until the audited financial statements are available sometime in the future.
9. Newly created or established organizations: This is a personal giving choice, but an established charity will more likely have the experience to quickly address the circumstances and have a track record that can be evaluated. A newly formed organization may be well-meaning but will be difficult to check out and may not be well managed.
10. Tax deductibility: Not all organizations collecting funds to assist this tragedy are tax-exempt as charities under section 501(c)(3) of the Internal Revenue Code. Donors can support these other entities but keep this in mind if they want to take a deduction for federal income tax purposes. In addition, contributions that are donor-restricted to help a specific individual/family are not deductible as charitable donations, even if the recipient organization is a charity.
More from MSN Money:
DATA PROVIDERS
Copyright © 2014 Microsoft. All rights reserved.
Fundamental company data and historical chart data provided by Morningstar Inc. Real-time index quotes and delayed quotes supplied by Morningstar Inc. Quotes delayed by up to 15 minutes, except where indicated otherwise. Fund summary, fund performance and dividend data provided by Morningstar Inc. Analyst recommendations provided by Zacks Investment Research. StockScouter data provided by Verus Analytics. IPO data provided by Hoover's Inc. Index membership data provided by Morningstar Inc.