Google, Amazon fight over your wallet
The two tech giants are colliding as they fight for customers in areas far from their original core businesses.
The post comes from Summar Ghias at
Dealnews
.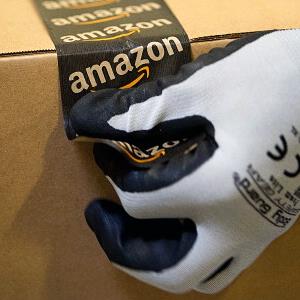 Amazon.com and Google are not the first tech conglomerates to duke it out, but the search engine and e-commerce giant have notably ventured far beyond their original services -- sometimes in ways you might not expect.
These two powerhouses now compete head-to-head in a variety of markets, including online shopping, hardware and cloud computing.
And while we can't declare a winner, we have been keeping score. Here's a snapshot of the arenas in which the two are battling it out.

Express delivery
On March 28, Google put the rumors to rest and officially announced it would be testing local, same-day delivery in San Francisco. Google's foray into such a service is a concerted effort to compete with other same-day shipping retailers, perhaps most notably Amazon, which has offered its Prime members 2-day shipping since 2005, and earlier this year launched an expedited same-day delivery service in 10 cities.

To compete, Google Shopping Express aims to offer local Bay Area residents same-day delivery for orders placed with participating retailers. Local Toys R Us, Staples, Target and Walgreen stores, and even regional shops like Blue Bottle Coffee, are taking part in Google's day-of delivery program, which is made possible in part by Google's acquisition of Bufferbox. Not only are orders filled same-day, Bufferbox also offers storage lockers for deliveries, so shoppers never miss a delivery. Similar to Amazon Lockers, Bufferboxes make it easy for customers to pick up their goods at their convenience.

Online shopping
Founded in 1995, Amazon.com started as an e-commerce website; its name is now nearly synonymous with online shopping. With Amazon's position as a megastore and platform for nearly 2 million third-party retailers, 30% of America's online shoppers look to the e-tailer before searching Google. This certainly poses a threat to Google as it vies to remain a relevant search engine in the retail realm. In a renewed effort to do so, Google Shopping was revamped last year to include sponsored links and paid product listings; notably absent in shopping results were Amazon listings. The new Google Shopping sent 96% more traffic to retailers than Amazon did in the last quarter of 2012, making it a hot contender for merchants looking to direct traffic to their own websites.

Hardware
The Nexus 7 and Kindle Fire HD are direct competitors in the land of 7-inch tablets, and both are built around the content of their respective brands. While the Kindle Fire (and its iterations) may be a top-selling item on Amazon -- and a possible Amazon smartphone could bring a similarly large market share to the company -- Google already has its feet firmly planted in the smartphone industry. The Google Nexus 4 isn't perfect, but the company's partnership with LG makes this Android smartphone a contender for the anti-iPhone crowd.
Digital content
According to The Economist, Amazon.com was the source of about two-thirds of all digital book downloads in the U.S. last year. With an environment flush with digital music, TV shows and movies available on demand (and other content free to Prime members), Amazon boasts a broad range of streaming content. Google, too, offers similar content via Google Play, and it's the parent of YouTube, but its digital offerings are much smaller and lackluster in comparison.
Cloud computing
Amazon launched cloud computing back in 2006 and now offers 30 related services, including its Cloud Player, which can scan and match music that you didn't even buy with Amazon, and Amazon Elastic Compute Cloud, which provides easier web-scale computing for developers and plenty of storage space. Similarly, Google Compute Engine lets customers run large-scale computing workloads atop virtual machines that use the same infrastructure that runs Google Search, Gmail, and Ads. It also stores and allows remote access to user information via Google Drive.

Daily deals
Both companies jumped on the daily-deal bandwagon in 2011, with the launch of Google Offers and AmazonLocal. Despite Groupon rejecting Google's billion-dollar acquisition offer last year, Google Offers promotes deals arranged by other daily deal sites (like Gilt City) in addition to its own locally sourced offers. As for Amazon, the company owns nearly a third of LivingSocial, allowing it to strategically source LivingSocial deals within its own service. Still, both daily deal iterations have failed to beat out the original heavyweight, keeping Groupon at the head of the pack.
In this battle of tech giants, there is no clear knockout. With a wide variety of directly competing initiatives to call their own, Amazon and Google possess strongholds that could potentially cut deeply into each other's revenue. And while Amazon does seem to more clearly have an advantage in cloud computing and digital content, Google's ad wizardry, online shopping threat and hardware expansion leave this throwdown up for grabs -- with consumers standing to benefit.

More from Dealnews and MSN Money:
DATA PROVIDERS
Copyright © 2014 Microsoft. All rights reserved.
Fundamental company data and historical chart data provided by Morningstar Inc. Real-time index quotes and delayed quotes supplied by Morningstar Inc. Quotes delayed by up to 15 minutes, except where indicated otherwise. Fund summary, fund performance and dividend data provided by Morningstar Inc. Analyst recommendations provided by Zacks Investment Research. StockScouter data provided by Verus Analytics. IPO data provided by Hoover's Inc. Index membership data provided by Morningstar Inc.