5 easy fixes for screen-weary eyes
With a few simple no- or low-cost steps, you can give your eyes the rest they need from all that screen time.
This post comes from MSN Money contributor Michelle V. Rafter.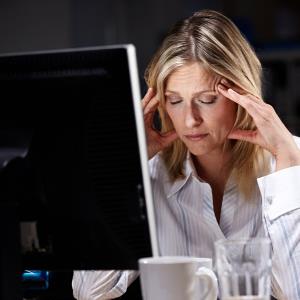 You check email and text messages on your smartphone before getting out of bed, sit in front of a computer all day at work, and unwind at night with an e-book, movie on the iPad or Xbox360 game.
No wonder your eyes are shot.
All those hours spent looking at screens is turning you and a lot of other people like you into Mr. Magoo.
It's no joke. Between 64% and 90% of computer users experience eyestrain, headaches, dry eye, blurred vision or other symptoms of a condition that in recent times has been recognized as computer vision syndrome (CVS), according to a 2011 study in Ophthalmic & Physiological Optics.
Four in 10 people in the United States are myopic, or nearsighted, according to the Optical Society, and in some Asian countries, nearsightedness in children is increasing in near epidemic proportions. Though medical researchers have yet to establish a direct link between screen time and deteriorating eyesight, "it sure looks suspicious," says Gary Heiting, an optometrist and senior editor of AllAboutVision.com, a consumer information site.
The 20-20-20 rule
Given how important digital devices have become to work, learning and play, it's unrealistic to think anyone's going to swear off screens. But it is possible to minimize the effects of all that screen time on the eyes.
One of the easiest remedies, according to Heiting, is following the 20-20-20 rule. After 20 minutes of time on any type of screen, look away at least 20 feet for at least 20 seconds. Looking at a screen forces the eyes to focus and turn slightly inward. "When you look away, they go back to parallel and the muscles that converge your eyes can relax," he says.
Research has shown that when people look at screens they blink up to one-third less often, so glancing up periodically also increasing blinking, which remoistens the eyes, Heiting says.
Here are some other simple no-cost or low-cost steps to prevent computer vision syndrome and protect your eyes from screen burnout:
1. Adjust the brightness. Regardless of the device, the background of the screen you're looking at should match the ambient brightness of the surrounding area, to cut down on the contrast between the two, which can cause eyestrain. If you work in a brightly lit office, adjust the brightness of your computer screen so it's the same, Heiting says. If you work with a lot of paper on your desk, adjust the brightness to match the brightness of the papers, he says.
2. Adjust the font size. Most computers, smartphones, e-book readers and software programs have controls for adjusting the size of the font that words, numbers or symbols appear in. Use the controls to reset the default to a larger type size.
3. Switch to a different background color. If you prefer reading e-books, Heiting recommends switching the background color on your reader from stark white to a sepia tone. "The bluer the light, the more likely the light will scatter and cause eyestrain," he says.
4. Use devices with higher-resolution displays. Heiting likes high-resolution liquid crystal displays such those found in the newest iPhones and iPads, which have Apple's Retina Display. The pixels in such high-resolution displays are so dense the human eye can't make them out at normal viewing distance, which makes images more comfortable to view, he says.
5. Get computer glasses. Optometrists and ophthalmologists can prescribe middle-distance or "computer" glasses to use when working at a desktop or laptop. The lenses on computer glasses are fitted based on how far away you sit from the computer. Measure the distance from your nose to the screen and give the information to your doctor. Eye-care specialists can make up bifocals, trifocals or progressive lenses to accommodate screen use. "Sometimes someone who sits at a computer and does paperwork will make the top part for distance and the intermediate part for computer use and the lower part for reading," says Dr. Lee Duffner, an ophthalmologist with Eye Surgery Associates in Hollywood, Fla.
Also: Don't bother with eye drops. "It's questionable whether eye drops do any real good," Duffner says. "They do moisten your eyes a little, but there's no data that indicates they have a good physical effect on your eyes."
More on MSN Money:

DATA PROVIDERS
Copyright © 2014 Microsoft. All rights reserved.
Fundamental company data and historical chart data provided by Morningstar Inc. Real-time index quotes and delayed quotes supplied by Morningstar Inc. Quotes delayed by up to 15 minutes, except where indicated otherwise. Fund summary, fund performance and dividend data provided by Morningstar Inc. Analyst recommendations provided by Zacks Investment Research. StockScouter data provided by Verus Analytics. IPO data provided by Hoover's Inc. Index membership data provided by Morningstar Inc.